Winners in 41st Annual NEA Regional Math Contests
03/08/2019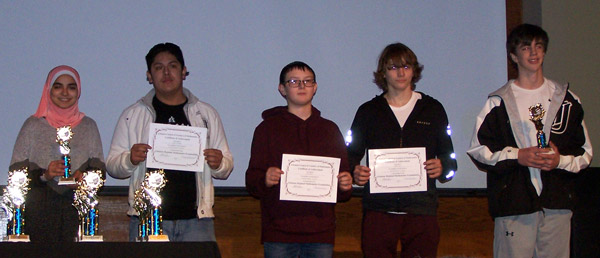 Geometry contest winners: Salma Abdel-Karim, Kenny Hernandez, Devin Brown, Maddox Trail and Rykar Acebo.
JONESBORO – Arkansas State University's Mathematics and Statistics Department along with the Arkansas Council of Teachers of Mathematics hosted the 41st annual Northeast Arkansas Regional Math Contest. Dr. Amanda Lambertus, department chair, directed the contests.
About 140 students representing 14 schools throughout the region participated in the various competitions: algebra I, geometry, algebra II, trig/pre-calculus, calculus or statistics.
Those who placed first, second or third have been invited to participate in the State Math Contest on April 27 in Conway. Participants in the state contest placing first, second and third in algebra II, pre-calculus, calculus, and statistics will receive scholarships for $600, $400 and $300, respectively.
Honorable mentions went to students that lost out on placing first, second, or third, by a tie breaker question.
The regional winners were:
-- Algebra I: Isaac Koizumi, first; Kira Rich, second; and Noah Bryant, third (all three attend MacArthur Junior High); and Caitlyn Foley, HM, Annie Camp Junior High.
-- Geometry: Salma Abdel-Karim – Annie Camp Junior High, first; Rykar Acebo – Annie Camp Junior High, second; Matt Hughes – MacArthur Junior High, third; Devin Brown, Rector High; Kenny Hernandez, Annie Camp Junior High, and Maddox Trail, Rector High, HM.
-- Algebra II: Jacob Holmes, Rector High, first; Annika Acebo, Jonesboro High, second; and Elise Knight, Valley View High, third.
-- Trigonometry/Pre-Calculus: Riya Mittal, KIPP Collegiate High, first; Yutian Lie, Ridgefield Christian, second; and Eric Richardson, Jonesboro High, third.
-- Calculus: Matthew Sherman, Jonesboro High, first; Lucas King, Jonesboro High, second; and Graham West, Walnut Ridge High, third.
-- Statistics: Victoria Nichols, Nettleton High, first.
# # #