Weather Cooperates to Help A-State Complete Morning Ceremony
05/08/2021
JONESBORO — Despite a one-hour delay because of rain, Arkansas State University's spring 2021 commencement ceremony continued without a hitch Saturday morning on the playing field at Centennial Bank Stadium.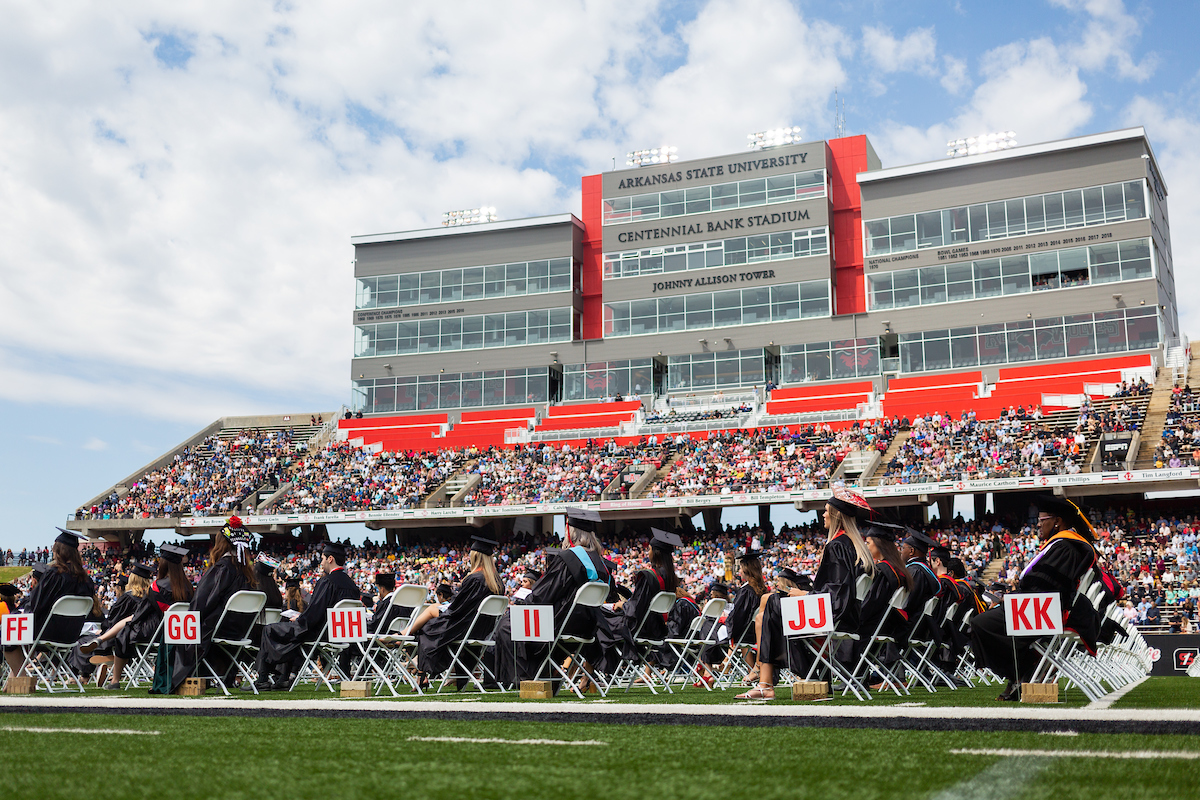 The event was originally scheduled to begin at 10 a.m., but rain forced A-State officials to start at 11 a.m. By that time, the rain passed and the skies cleared for graduates to sit from end zone to end zone with administrators and faculty while parents and guests filled the stadium seating.
"Commencement is always a time of excitement here at Arkansas State as we celebrate along with you a milestone achievement," Chancellor Kelly Damphousse told the graduates. "Like me, many of you are the first in your family to achieve and earn a college degree. Others among you represent the second, third or fourth generation in your family to attend Arkansas State."
In addition to Dr. Charles Welch, president of the ASU System, three board members were in attendance. Present were Dr. Tim Langford of Little Rock (secretary) and two of the three newest appointees, Bishop Robert G. Rudolph Jr. of Bryant and Paul Rowton of Harrisburg.
"All of you had to work very hard to get here today, overcoming challenges while balancing your studies and other responsibilities," Damphousse told the graduates. "As you sit here today, I know you are thinking about the people in your life who made your graduation possible. Your family and friends have been very important partners in your educational success. Today is not only a celebration for you, but for them as well."
Rashad Kirksey of West Helena, winner of the 2021 R. E. Lee Wilson Award, addressed the gathering on behalf of the graduating class.
"The class of 2021 survived and from where I stand victory looks good on you," said Kirksey who graduated magna cum laude. "We have endured the most challenging times and circumstances that any student or person has endured in over a century."
Kirksey noted that while COVID-19 drastically affected lives, people can use it as an opportunity to grow. He continued by sharing his keys to a life of fulfillment.
"We must have a heart of service to others, know our worth and every day remind yourself who you are and what you were put on this earth to do, and persevere and keep the faith."
Four Army officers were commissioned during the ceremony, including Caleb Flynn of Mammoth Spring, Haddon Hodget of Joiner, Hannah Simmons of Gosnell and Lacy Obregon of Smackover.