Theatre Opens 2020-21 Season with 'The Wolves,' Oct. 2-4
09/29/2020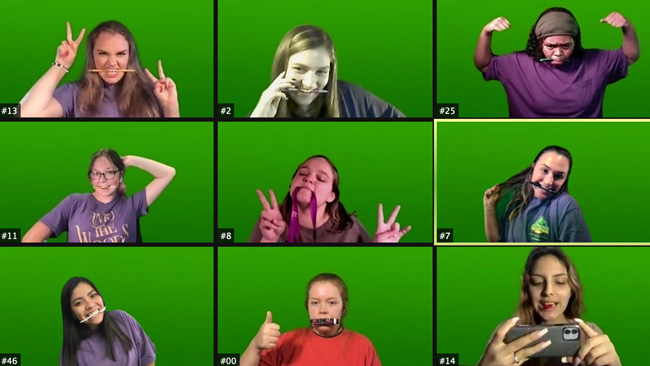 Cast members include (top, from left) Skyla Conger, Allie Jones, Angela Lovelace; (middle) Kori Denison, Hayley Murry, Anna Handloser; (bottom) Fernanda Posadas, Madison Stewart and Miraya Gerardo-Munguia.
JONESBORO – Arkansas State University Theatre opens the 2020-21 season this week with "The Wolves," a play by Sarah DeLappe.
Taking student and community safety into consideration, the Theatre will present virtual performances at 7:30 p.m. Friday and Saturday, Oct. 2-3, and at 2 p.m. Sunday, Oct. 4. Patrons will view the performance through a Zoom webinar, but will not need a camera or a microphone.
"The Wolves" is a love letter to coming-of-age war films, except DeLappe translated the battlefield into a soccer field and an all-male platoon into a team of teenage girls. As the name suggests, the gender change has no bearing on ferocity for this pack; this kaleidoscope of young women tackle politics and periods, racism and relationships, eating disorders and equality, and a thirst for victory with equal measure in this timely show.
The cast includes Madison Stewart of Trumann, as #00; Allie Jones of Jonesboro, as #2; Anna Handloser of Sheridan, as #7; Hayley Murry of Beebe, as #8; Kori Denison of Batesville, as #11; Skyla Conger of Haskell, as #13; Miraya Gerardo-Munguia of Fairfield, Calif., as #14; Angela Lovelace of Indianapolis, as #25; Fernanda Posadas of North Little Rock, as #46; and Sarah Mayberry Scott, assistant professor of communication studies, as Soccer Mom.
The director is Virginia Hirsch, instructor of theatre, with Caelon Colbert of Little Rock as assistant director. Scenic design is by Jeff McLaughlin, assistant professor of theatre. Costume design is by Claire Abernathy, associate professor of theatre. Lighting design is by Elizabeth Escobedo of Russellville. Sound design is by Caisa Sanburg, assistant professor of theatre.
The stage manager is Katelyn Stanton of Trumann. Assistant stage managers are Michael Joseph of Poplar Bluff, Mo., and Allison Peavy of Collierville, Tenn.
Sound and video operator is Jonathan Clark of Batesville. The house manager is Joshua Pryor of Clinton. The publicist is Mason Covey of Jonesboro.
All students in the cast and crew are majoring in theatre except for Handloser and Covey, who are strategic communication majors.
"The Wolves" contains adult themes and language that may be upsetting to younger viewers.
Tickets for "The Wolves" can be purchased at AState.edu/marketplace under the "virtual theatre tickets" store or by clicking the link The Wolves tickets. Tickets range from $6-$8 with a family purchase option for $15.
# # #