Ten Inducted Into Kappa Tau Alpha
05/02/2017
JONESBORO – Ten Arkansas State University students were recently inducted into the Kappa Tau Alpha (KTA) honor society in a ceremony in the Cache River Room of the Carl R. Reng Student Union.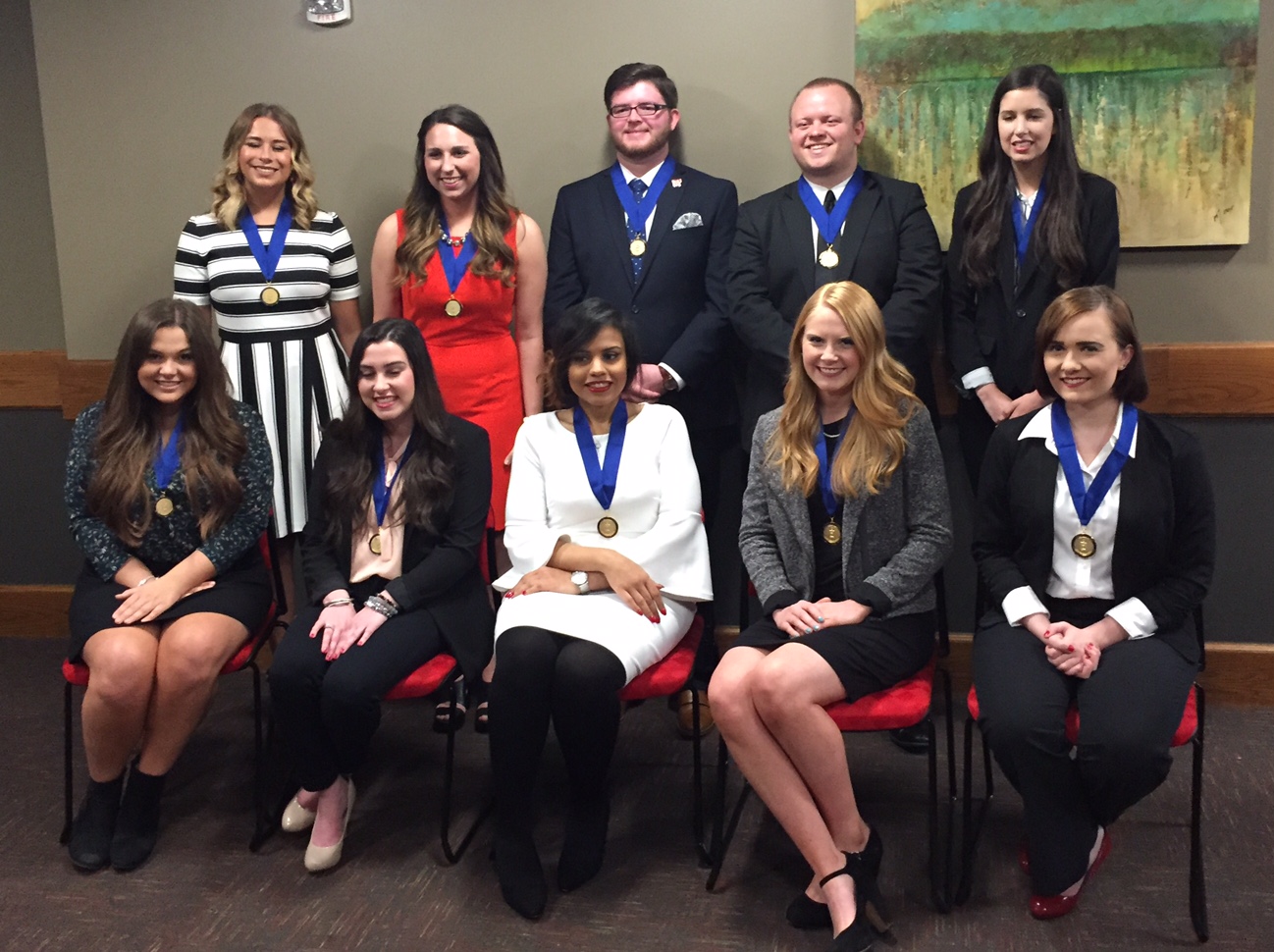 First row seated from left: Shelby O'Brien, Molly Frakes, Maha Alshareef, Haley Stotts, Heidi Sohl. Second row standing from left: Sarah Handler Gracie Hicks, Tucker Crain, Robert Morris and Katherine Vaughan.

KTA is a college honor society that recognizes academic excellence and promotes scholarship in journalism and mass communication. Membership is a mark of high distinction and honor.
The students are Maha Ahmad Alshareef of Saudi Arabia; Shelby O'Brien of Marion; Tucker Crain of Jonesboro; Molly Frakes of Portageville, Mo.; Sarah Handloser of Sheridan; Gracie Hicks of Walnut Ridge; Robert Anthony Morris of Jacksonville; Heidi Marie Sohl of Alexander; Haley Stotts of Little Rock; and Katherine Vaughan of Rogers.
Morris was named the top undergraduate scholar and Alshareef the top graduate scholar for the 2017 class.
Only students majoring in journalism and mass communication are eligible. Membership is by invitation only from one of the society's 96 campus chapters and is based solely on scholarship and character. The seventh-oldest national honor society, Kappa Tau Alpha was founded at the University of Missouri in 1910 at the world's first school of journalism.
Dr. Holly Hall, associate professor of strategic communication, serves as the A-State chapter adviser. Information about Kappa Tau Alpha can be found at http://www.kappataualpha.org/.