Summer Bridge Program Students Present Research Projects
08/07/2014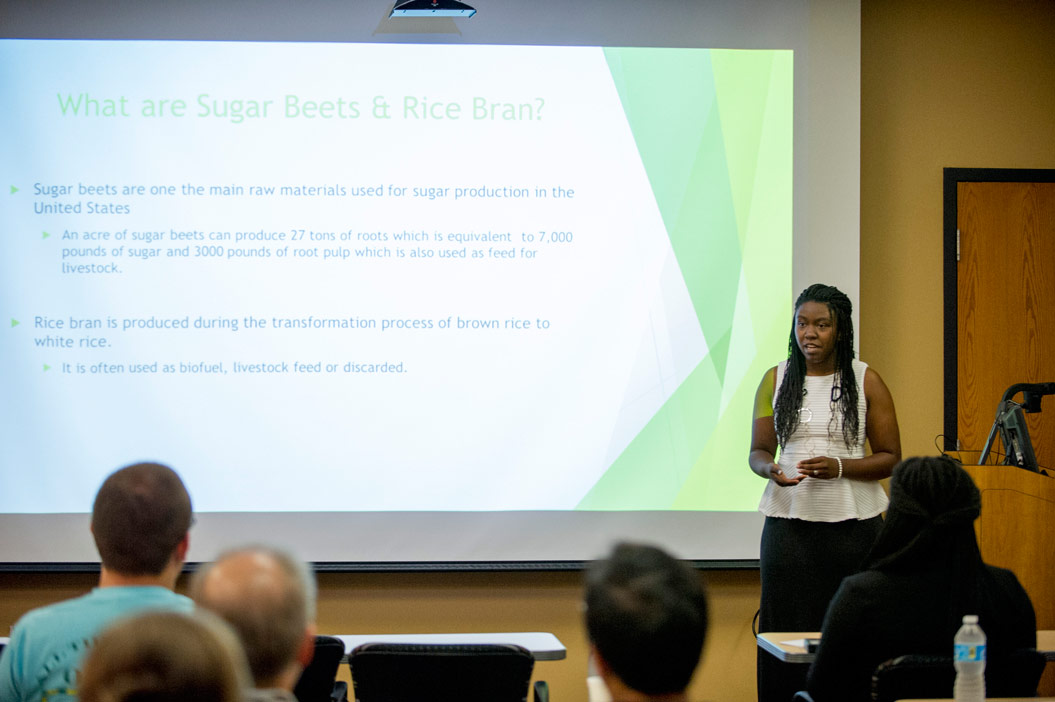 Victoria Davis presents "Recombinant Expression of a Thermostable Arabinase in Yeast"
JONESBORO -- Seven student participants in the summer bridge program at Arkansas State University made oral presentations about their research projects during an afternoon symposium today at the Arkansas Biosciences Institute.
The program, which is supported by funding from the National Science Foundation and the College of Sciences and Mathematics at A-State, is titled "Bridging the Divide: Program to Increase Ph.D.s in STEM Fields." STEM refers to the academic disciplines of science, technology, engineering and mathematics.
The students are Victoria Davis and Denzel McGregory of Arkansas State University, and Ji'Vone Freeman, Breiona Hamilton, Toria Holland, Zana Robinson and Leneea Warner of Philander Smith College.
Dr. Malathi Srivatsan, director of the summer bridge program, is assistant director of ABI and professor of neurobiology at A-State.
Faculty mentors for the students are Dr. Elizabeth Hood, Dr. Argelia Lorence, Dr. Tanja McKay, Dr. Fabricio Medina-Bolivar, Dr. Jianfeng Xu and Srivatsan. Several other faculty members have worked with the students and also were in attendance.
More information about the students and their projects is available here.
# # #