Students in 'Up 'til Dawn' Now Leading Fundraiser Nationally
03/11/2021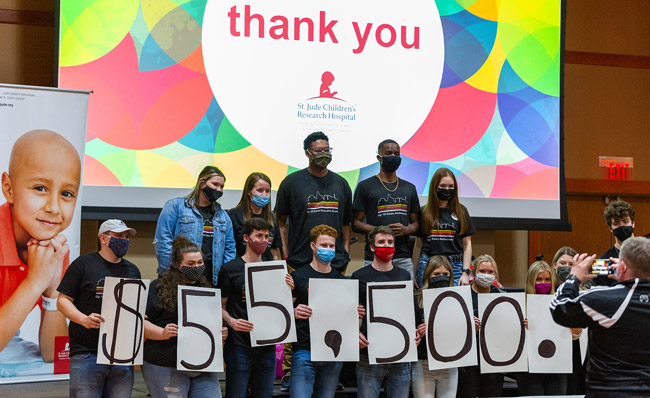 UTD executive board and ambassador team celebrates fundraising achievement.
JONESBORO – Arkansas State University students, working in the "Up 'til Dawn" fundraising competition among colleges and universities for St. Jude Children's Research Hospital in Memphis, capped off a highly productive evening Tuesday to move into first place nationally.

The 40 students working Tuesday evening represented just a portion of almost 250 who have helped fundraise this year through their involvement on 16 teams. The Up 'til Dawn executive board of six and the ambassador team of nine led A-State's highly successful effort, which stood at $55,500 Tuesday.

An initiative beginning in the Greek Life program at A-State, Up 'til Dawn has netted thousands to benefit the children who receive treatment at St. Jude. After starting in 2014, the students raised $36,003 in 2015, $60,000 in 2016, $73,271 in 2017, $105,530 in 2018, and $100,068 in 2019, and $74,751 last year. By today, the total for this year had climbed to $55,850.

"The circumstances of the past year definitely were not in our favor. The aftereffects of the tornado on our community and small businesses, being in the midst of a pandemic, it would've made more sense for us to give up," recalled Allysa Weaver, Up 'til Dawn executive director at A-State. "The thing that kept me motivated was knowing that no matter what the circumstances were of our community, our country, or the world there was still a little boy or a little girl walking through the doors of St. Jude for treatment. If they had the will to get up and fight every day, then so should we. The Lord blessed me with an amazing team and I couldn't be more proud or thankful for them. I'm thankful I got to serve the last four years alongside some of the best students and friends at the best university."

Katey Provence, adviser to the Up 'til Dawn board and associate director of the Leadership Center, noted highlights of the students' success.

"A couple of our most successful events this year would be benefit days with Shadrach's Coffee and Lost Pizza and the virtual 'Cooking for a Cure' bake-off with Chancellor Kelly and Beth Damphousse. We were also so thankful to Focus Bank for being the presenting sponsor of last night's finale event with a $5,000 donation."

St. Jude representatives were well pleased with A-State students' performance, as well, despite the challenges presented by the pandemic.

"I couldn't be more proud to work with this amazing group of students who didn't let anything get in the way of their passion to help the kids of St. Jude and build their legacy," commented Mariangeles Grear, development specialist for ALSAC/St. Jude Children's Research Hospital. "Today, we celebrate a new school record and their legacy. I couldn't have asked for a better group to work with."

St. Jude posts the national rankings for all participating schools at www.stjude.org/utd.
# # #