Students Celebrate 'Order of the Pack' on Thursday
08/28/2019
JONESBORO – The 23rd annual Order of the Pack pep rally will be held Thursday, Aug. 29, at Centennial Bank Stadium, leading up to the Red Wolves first home football game of the 2019 season.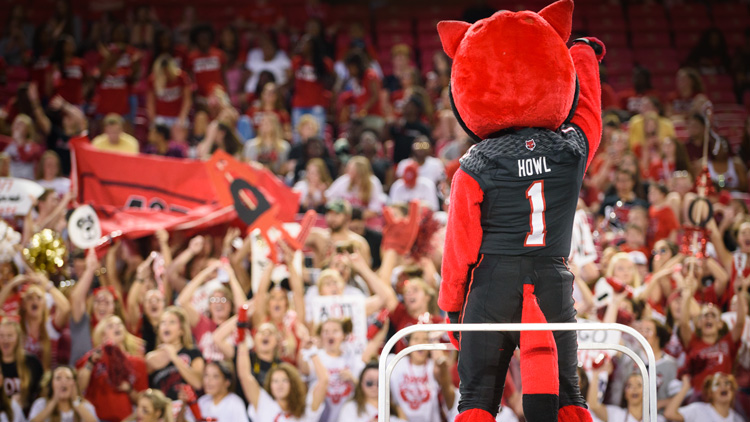 Gates to the stadium will open at 7 p.m. with the program beginning at 7:30 p.m.
Order of the Pack, a campus tradition, is conducted annually to welcome a new class into the Red Wolves family. Alumni and friends are welcome to join A-State students on the west side of the stadium to re-live their own Order of the Pack experience. Sections D, E, and F will be designated for student organizations participating in the competitions. Everyone is asked to wear red to make it a "red-out."
Order of the Pack sponsors work together to emphasize the traditions of Red Wolf athletics and Pack Pride. First-year students will receive a free "I count" t-shirt.
During the evening, students and campus leaders will speak, the Spirit Squads will perform, the Homecoming theme will be revealed, and student athletes will be recognized. Music during the program will be courtesy of student DJ Trey Cooper, DJ Entree.
At the end of the evening, a spirit competition will be held for the following three divisions: Fraternity/Sorority Life; Residence Halls; and Registered Student Organizations.
The overall most spirited organizations in each of the three divisions will receive a Golden Wolf award, with this being the third year for this award at Order of the Pack. The Golden Wolf awards focus on school spirit, creativity, and sportsmanship. Overall awards will be presented for the organizations with the most A-State school spirit, the best signs, and the loudest.
At the conclusion, all students will go on field for a group photograph, then they will pick up their choice of a Red Wolves t-shirt or a clear Red Wolves tote bag. The stadium is implementing a clear bag policy for this football season.
The winner of the campus office decorating contest, which takes place Thursday, also will be announced during Order of the Pack, with the winner receiving a sponsored breakfast from Sodexo.
Kickoff for the game with Southern Methodist University will be at 6 p.m. Saturday, Aug. 31. In the event of rain, Student Activities Board and the A-State Leadership Center will make a rain change location announcement on social media.
For more details, contact sab@smail.AState.edu or follow the Student Activities Board and A-State Leadership Center on social media, @astatesab and @astate_lc.
# # #