Students Capture Awards at Collegiate Model UN Conference
11/18/2015
JONESBORO – Five students from Arkansas State University recently garnered awards at the Collegiate Model United Nations Conference held at Arkansas Tech University in Russellville. The five are Anthony Bassey of Nigeria, Philip Cureton of Arbyrd, Mo., Chase Newman of Warren, Donte Barker of Atlanta, Ga., and Tim Daley of Little Rock.

The A-State representatives received awards for Most Honorable Delegation (first committee, Syrian Arab Republic), Most Honorable Delegation (third committee, Saudi Arabia) and honorable mention for Most Honorable Delegation overall (Syrian Arab Republic).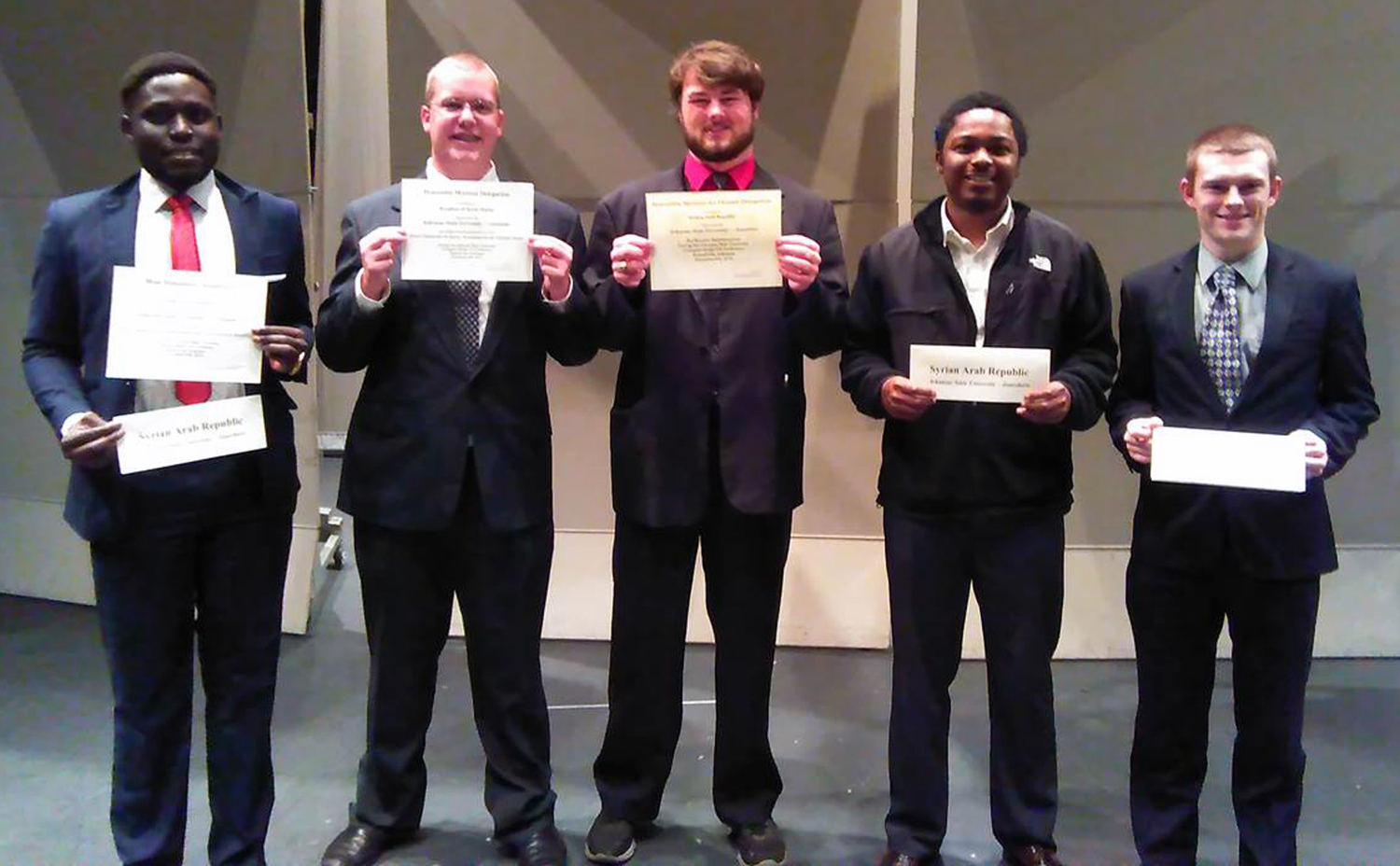 Model United Nations delegation (from left): Anthony Bassey, Philip Cureton, Chase Newman, Donte Barker and Tim Daley.

"Students must come prepared to discuss their country's position on the issues, listen to the views of other countries and cooperate with other countries on writing resolutions," explained Dr. Jacob Ausderan, assistant professor of political science and faculty adviser of the group. "The conference was an all-day event. Students worked in their committees for two and a half hours before breaking for lunch, with another two and a half hours of committee work afterward.
"For first-time participants, a full slate of committee sessions can be a daunting experience. This requires—and helps improve—students' negotiation, strategic thinking and public speaking skills. The students at Arkansas State University were up to the task, receiving several awards for their efforts, and are already looking forward to applying what they have learned to the Midwest Model UN Conference in St. Louis in February 2016."
The Model United Nations is an educational and academic simulated exercise that places students in the roles of global leaders and diplomats who attempt to resolve real world issues. These delegations consisted of three to six members and were assigned a country to research and represent. The Syrian Arab Republic and the Kingdom of Saudi Arabia were assigned to the A-State delegation.
"I'm proud of my delegations. Every committee that we participated in we brought home an award, and I was honored to lead such articulate and skilled delegates to the conference," stated Newman who served as the leader of the groups. "Doing well at these conferences requires knowledge of geopolitics, diplomacy, current events and extensive research leading up to the conference, and I can say that all of my delegates demonstrated great tact and ability on all of these topics. They have made me very proud."
Questions presented to the first committee on disarmament and international security included, "What can the United Nations do to better respond to the escalation conflict in and around Syria?" and "What can the UN do to better protect historical and religious sites during conflicts and wars?"
The second committee on economics and finance were challenged with the questions, "What can the UN do to better promote sustainable development for landlocked developing countries?" and "What can the UN do to better promote post-conflict reconstruction and economic development in countries emerging from revolutions or civil wars?"
And, questions posed to the third committee on social, humanitarian and cultural affairs were, "What can the UN do to ensure the right to expression when it comes to religion and religious ideas in the digital age?," "What can the UN do to alleviate or solve the worsening Syrian and Middle Eastern refugee crisis?" and "What can the UN do to better facilitate travel and safety during religious observances?"
All delegations used parliamentary procedures and wrote problem-solving proposals as they debated the assigned topics. Then, delegation members voted in hopes of enacting the proposals into law.
Other competing universities were Central Arkansas, Arkansas Tech, Arkansas State-Beebe, Arkansas-Fayetteville and Arkansas-Monticello.