Student Winners Announced for First-Year Academic Expo
11/18/2022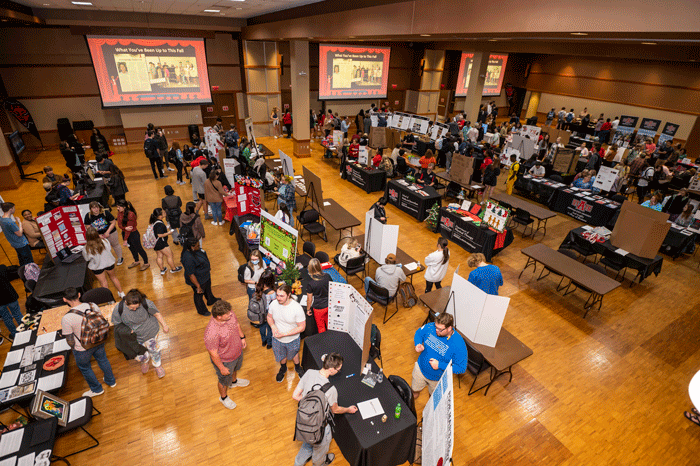 Students attend the First-Year Academic Expo
JONESBORO – Arkansas State University students recently competed in the First-Year Experience (FYE) Academic Expo. This is a showcase of first-year student research, campus and community projects and creative works.
Every fall, first-year students can participate in this event through their Making Connections courses. "Students work through class-sized group projects, possibly the largest group projects they'll do in their time at A-State and then present their findings at the Academic Expo" said Kelli Listenbee, director of learning support services and coordinator of first year experience.

Listenbee said at this event, students participate in conference-style poster projects. The best-in-show winner was the class of biology instructor Chris Thigpen. The project, "Continued Efforts to Clean Up Pavilion Pond," included participation of 22 students.

"This project was part of a continuation from a project my FYE class did last fall. This semester we continued the efforts to remove trash and used the data to make some comparisons between the years," said Thigpen.

There are three categories that students can compete in: philanthropy, connections and research. Students doing projects conducted under the philanthropy category develop and execute a service project on campus or within the community. Connections project students develop and execute a project that helps them connect with their major or a campus resource. Students in the research category tackle a research-based project that falls under their major.

Thigpen said this was a very rewarding project for his students. "The project for the students was a nice change of pace from all the classwork and gave them something else to focus on. This helped them with time management and task delegation and avoiding getting bogged down on one assignment." Listenbee said more than 500 people came out to participate and view the presentations.

First place in philanthropy went to the class of Dr. Argelia Lorence, professor of metabolic engineering. Second place winners are the class of pre-professional adviser Ashley Walls. Third place goes to the class of Dr. Stacy Walz, chair and associate professor of clinical laboratory sciences.

The class of Katherine Baker, associate professor of art history and the class of Danny Vivar, academic success coach in transitions studies tied for first-place in the connections category. The second-place winning class is that of Jeff McLaughlin, associate professor of theatre. Dr. Loretta McGregor, professor of psychology, led the third-place winners.

The research category first-place winners were led by the class of John Artim, instructor of biology. Arianne Pait, assistant professor of communication disorders led the second-place winners. Third-place winners were led by Dr. Justin Castro, department chair and professor of history.
First through third place winners in each category received certificates of achievement from FYE. The best in show winners received a certificate of achievement and a class prize of $250 to be used at their discretion.