Strube Crowned Miss Arkansas State University
10/26/2022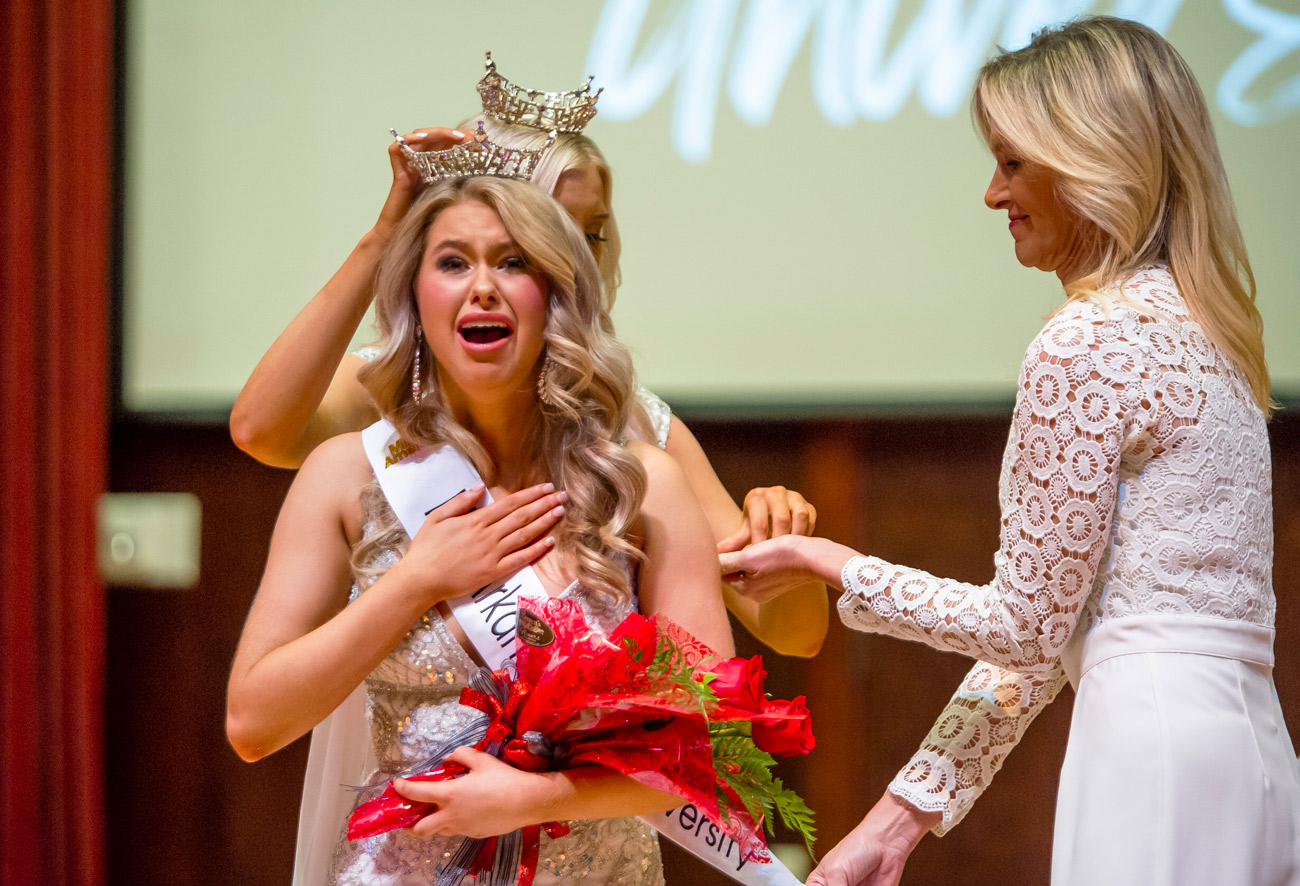 Riley Strube is crowned Miss Arkansas State University by 2022 Queen Riley Roberts and Karen Shields, wife of A-State Chancellor Todd Shields.
JONESBORO – Riley Strube, a sociology, criminology and psychology major from Cabot, Ark., was crowned Miss Arkansas State University in the 48th edition of the scholarship competition, held Wednesday evening in Riceland Hall at Fowler Center on the A-State campus and presented by Pi Kappa Alpha Fraternity.

The sophomore captured the title with her tap dance performance of "Dr. Jazz," and her social impact statement of "Time to Talk," which aims to make Arkansas a safer place for those struggling with mental illness. She is the author of Sami Smile Starts to Frown, written to teach children about mental health awareness. She won the individual competitions for both talent and on-stage interview.

A member of Zeta Tau Alpha fraternity, Strube is also an A-State representative at the Disney College Internship program and a student recruiter for the Red Wolves football program. Among her prizes, Strube received a $5,000 scholarship from Arkansas State University.

The first runner-up was Erica Parker, a sophomore majoring in strategic communication from Jonesboro.

Her social impact initiative is "VIP – Volunteering is Priceless." For the talent segment, she performed a jazz dance to "Living on a Prayer."

Erin Davis of Bono, Ark., was second runner-up and the recipient of the Miss Congeniality Award. Davis is a sophomore, majoring in mid-level education.

Others in the top five were:

-- Kennedy Combs, of Fayetteville, a senior business marketing major, third runner-up; and

-- Natalie Horner, an exploratory studies major from Paragould, fourth runner-up.

In addition, Combs won the Social Media Promotions Award, and Katie Everett, a nursing major from Dewitt, Ark., won the People's Choice Award.

The contest is an official Miss America Preliminary, so Strube will begin preparations immediately to compete in the upcoming Miss Arkansas competition.

The Pi Kappa Alpha chapter at A-State began sponsoring the Miss Arkansas State University competition in 1975.