Steel Bridge Team from College of Engineering Earns Trip to National Competition in Washington
04/03/2013
JONESBORO – A trip to the national competition in Seattle, Wash., will be the next step for the Arkansas State University student chapter of American Society of Civil Engineers (ASCE).
The Arkansas State students recently returned from successfully competing in the Deep South Conference held at Southern University and A&M College in Baton Rouge, La.
The Student Chapter entered in the Steel Bridge, Concrete Canoe, Technical Paper, Mystery Event and Surveying competitions, and came back with second place overall in the conference, being edged out only by Mississippi State University.
The A-State students captured a first place finish in the Steel Bridge and Mystery events, and a third place in the Technical Paper category.
"These students worked hard to learn the fundamentals of engineering we teach at ASU," according to Dr. Tom Parsons, professor of civil engineering and the primary faculty advisor for the ASCE student branch at Arkansas State. "Their hard work showed at the Deep South conference."
The Deep South is composed of 14 universities including Memphis, Mississippi State, Ole Miss, LSU, New Orleans, Louisiana Tech, and Louisiana-Lafayette.
For many years, Parsons has worked with engineering students to get them ready for the Deep South competition each spring. This is the fourth time since 2000 that Arkansas State has won the steel bridge competition.
The Steel Bridge Team included Jarrett Cooper of Jonesboro, Eric Romero of Hot Springs, Eugene Uekman of Quitman, Chris French of Evening Shade, and Steven Rollins of Paragould.
The Mystery Event Team consisted of James Ruthven of Jonesboro, Matthew Rowe of Beech Grove, Taylor Clark of Evening Shade and Nick Dail of Black Rock. The Technical Paper was written and presented by Matthew Rowe.
The Arkansas State team will now go to the national competition to be held at the University of Washington in Seattle, May 31-June 1. This will be A-State's 10th trip to the national competition in the last 14 years.
"Our teams are very competitive, and have been for a long time," added Dr. David Beasley, dean of the College of Engineering. "We out-compete a number of larger schools from our part of the country. The competitions are intended to be fun, but are also intended to be real world learning experiences. I am very proud of all of the Deep South team members and am looking forward to our students competing in the National Steel Bridge Contest."
# # #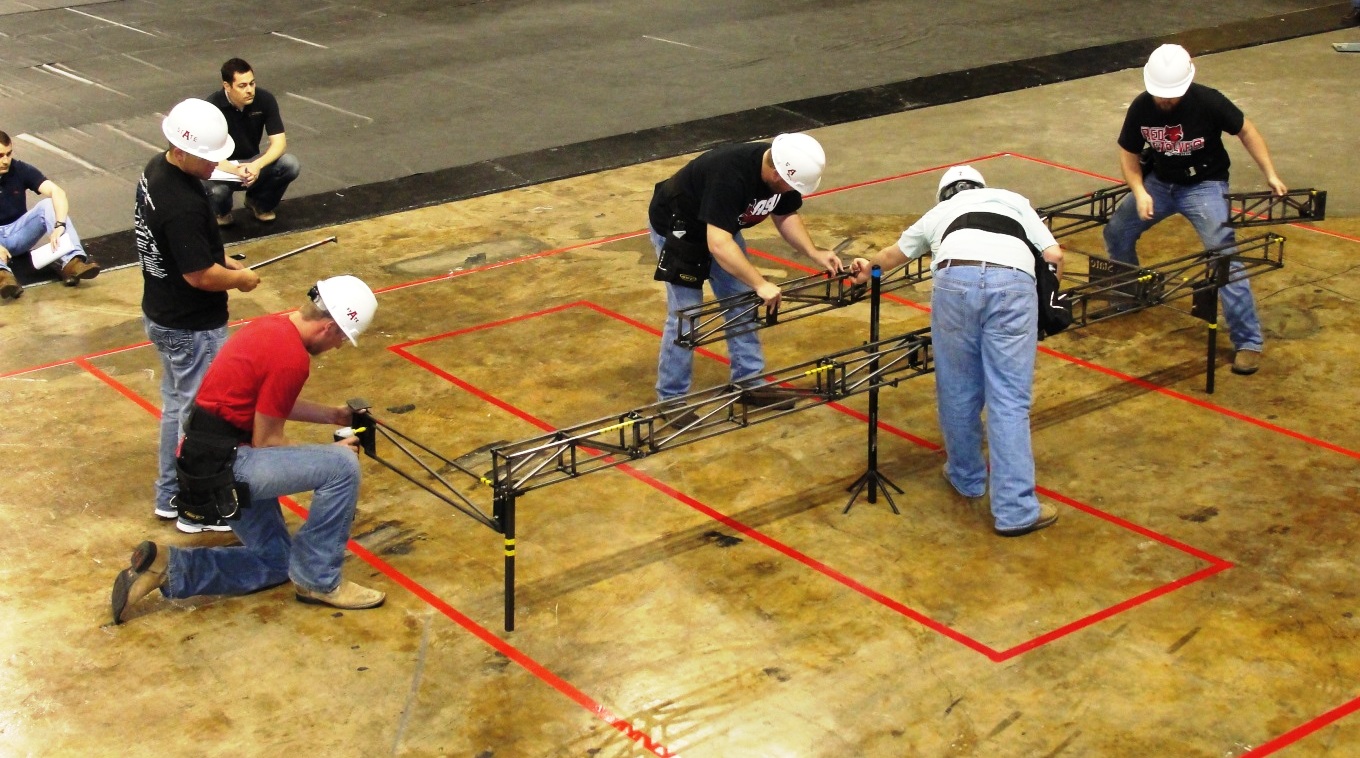 Steel Bridge Team in Competition at Deep South.