State of Arkansas Observes First Johnny Cash Day
03/17/2022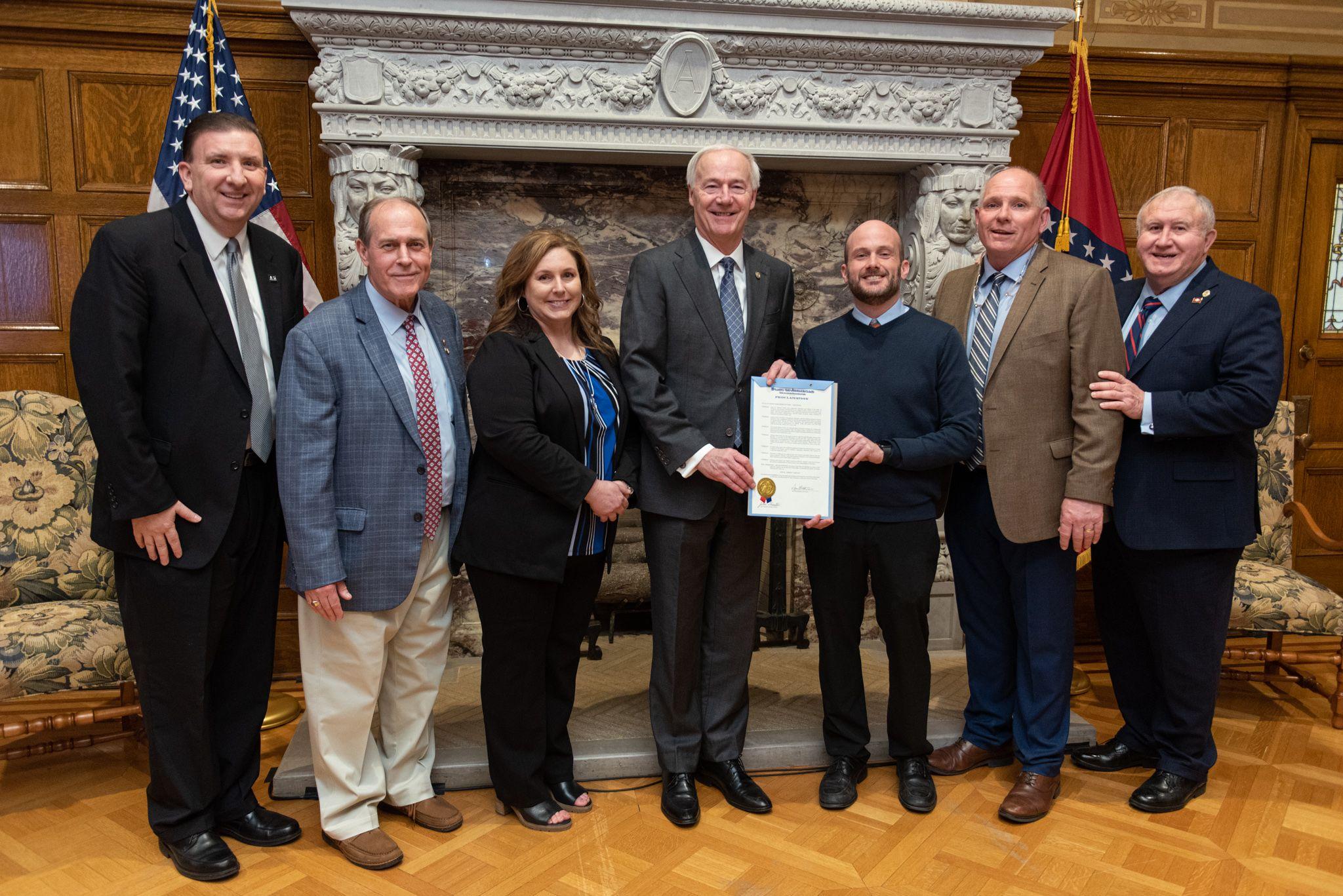 Gathered at the State Capitol are (from left) Shane Broadway, vice president, Arkansas State University System; State Rep. Johnny Rye; Penny Toombs, director, Dyess Colony: Johnny Cash Boyhood Home and Southern Tenant Farmers Museum; Gov. Asa Hutchinson; Dr. Adam Long, executive director, Arkansas State University Heritage Sites; State Rep. Jon Milligan; and State Sen. David Wallace. (photo credit: Randall Lee, photographer, Office of the Governor)
JONESBORO – While winter weather delayed the ceremony, it could not stop the celebration of the first official Johnny Cash Day for the state of Arkansas.
The world-famous native son was born on Feb, 26, 1932, in Kingsland, then in 1935, the Cash family moved to Dyess in Northeast Arkansas and began sharecropping. Thanks to the efforts of Representative Johnny Rye of Trumann and Senator Trent Garner of El Dorado, Act 916 passed the Arkansas General Assembly in 2021 and was signed into law by Governor Asa Hutchinson.
Ice and sleet across the state delayed the inaugural recognition at the state capital until Wednesday, March 2, as the key legislators and members of the Arkansas State University Heritage Sites gathered to mark the first Cash Day. In upcoming years, Johnny Cash Day will be celebrated on his Feb. 26 birthday at the Historic Dyess Colony, which is also the site Johnny Cash Boyhood Home.
It was at farm number 266 at Dyess Colony where the future Grammy-award winning artist grew up until he departed home to serve in the military. His time there influenced many of Cash's songs, such examples include the 1937 flood and the Great Depression.
The A-State Heritage Site has fully restored Cash's home, and each year also holds the Johnny Cash Heritage Festival. Stars such as Kris Kristofferson, Willie Nelson and Jamie Johnson have performed during the yearly event, hosted by Rosanne Cash and John Carter Cash.
Along with his own prolific, decades-long career, Cash's music influenced artists such as Bob Dylan, Bruce Springsteen, and the Byrds.
The naming of an official state day coincides with Cash's selection to become one of the two statues representing the state of Arkansas at the United States Capitol rotunda.
To learn more about the Historic Dyess Colony: Johnny Cash Boyhood Home, visit the A-State Heritage Site on the internet at DyessCash.AState.edu. The museum is located in Dyess, Ark., and is open Monday-Saturday, with tours on the hour from 9 a.m. – 3 p.m.
# # #