Spring Commencement Scheduled for Saturday, May 8, at Centennial Bank Stadium
05/03/2021
Update (5/8/21): Due to rainy conditions, the start of the Spring 2021 Commencement has been pushed to 11 a.m.
JONESBORO — Arkansas State University will hold its 2021 Spring Commencement Saturday, May 8, with a few changes. Like the ceremonies last year, the spring event will be in Centennial Bank Stadium beginning at 10 a.m.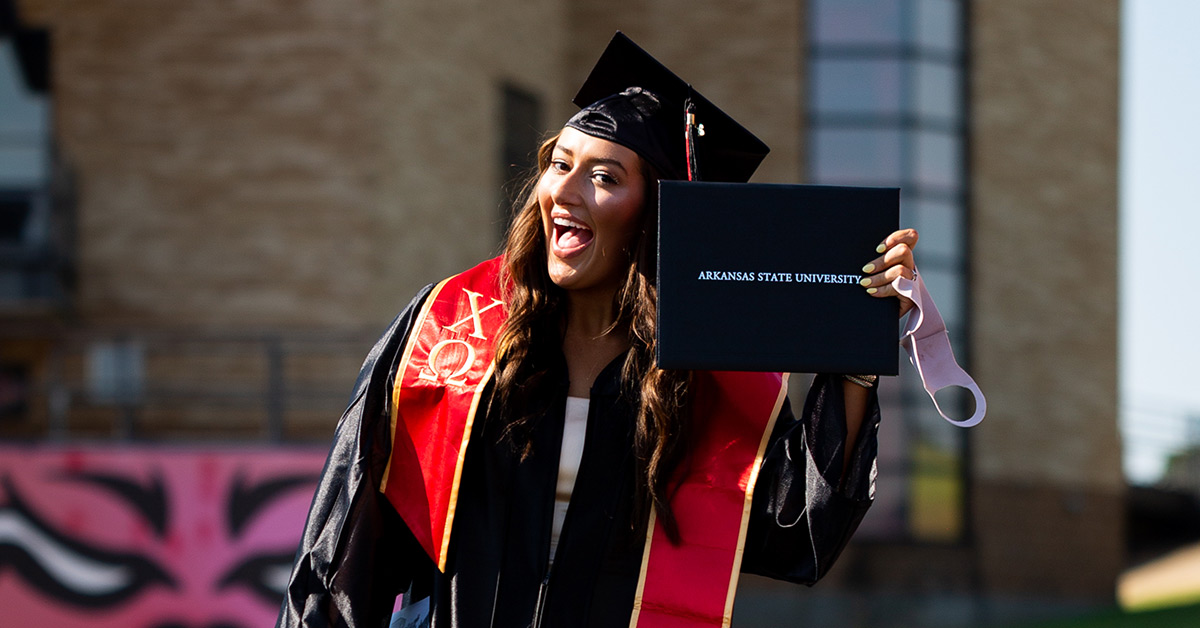 A graduate poses with her diploma cover at our Spring 2020 Commencement
Unlike commencements last year, A-State has announced that tickets will not be required for parents and guests who can attend. It is recommended that family groups space themselves out while seated in the stadium. Individuals are asked to wear a face covering while entering and exiting, walking around the stadium and while standing in lines. Graduates were required to RSVP to indicate they will be attending.
Unlike previous Centennial Bank Stadium commencement ceremonies, graduates will check in at the Student Activity Center (SAC) located on the north end of the stadium facility starting at 8 a.m. Gates for seating in the stadium also open at 8 a.m.

A-State's standard clear bag policy will be in effect, and no outside food and drink will be allowed. Sodexo will have water, coffee and soft drinks for sale on both sides of stadium. Free water will be provided to students on the field courtesy of the Chancellor's Office. Also, umbrellas, ponchos and blankets will be permitted in the stands.
Rashad Kirksey of West Helena, who was announced as the 2021 R.E. Lee Wilson winner Thursday evening, is the featured speaker on behalf of A-State graduating class. Kirksey will graduate in May with a Bachelor of Arts degree in political science with a 3.80 grade point average.
Chancellor Kelly Damphousse will confer degrees upon graduates from seven colleges including Agriculture, Neil Griffin College of Business, Education and Behavioral Science, Engineering and Computer Science, Liberal Arts and Communication, Nursing and Health Professions, and Sciences and Mathematics, along with the Graduate School and University College. Graduates will receive doctoral, specialist, master, bachelor and associate degrees.
For those who cannot attend in person, live streaming of the commencement ceremonies will be available online at AState.edu/Livestream.
In case of inclement weather, the alternate date is the following day, Sunday, May 9, beginning at 1 p.m.
More details about commencement are available on the university's commencement webpage.
Due to recent rainfall, there will be NO parking on grass surfaces on campus. All residential parking near Centennial Bank Stadium will be available, with the gates up. Consult the online parking map for locations not normally available during football season.