Spring Commencement Ceremonies Set for Morning and Afternoon on May 6
03/15/2023
JONESBORO – Arkansas State University will hold its 2023 Spring Commencement on Saturday, May 6, at First National Bank Arena, 217 Olympic Drive.
Ceremonies are scheduled at 10 a.m. and 2:30 p.m. Chancellor Todd Shields will present diplomas to graduating students representing the university's eight colleges.
The morning ceremony is for students who have earned degrees through the Neil Griffin College of Business; the College of Liberal Arts and Communication; the College of Nursing and Health Professions; and University College.
The afternoon event includes those who have earned degrees through the College of Agriculture; the College of Education and Behavioral Science; the College of Engineering and Computer Science; and the College of Sciences and Mathematics.
Both of Arkansas State's commencement ceremonies will be streamed live at AState.edu/live.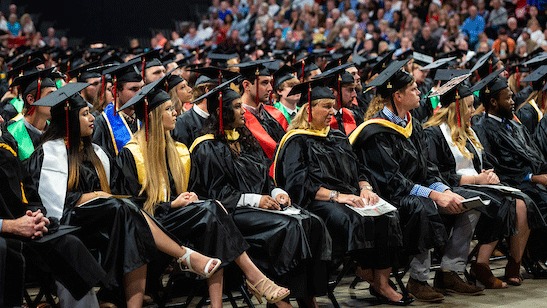 Commencement in First National Bank Arena, August 2022