Softball Team to Open World Series Pool Play Thursday With Virginia Tech
05/18/2021
JONESBORO —Arkansas State University's club softball team is preparing for its eighth year of postseason play in the 2021 National Club Softball Association (NCSA) World Series, Thursday through Sunday, May 20-23, at the South Commons Softball Complex in Columbus, Ga. This year's tournament has been extended to four days.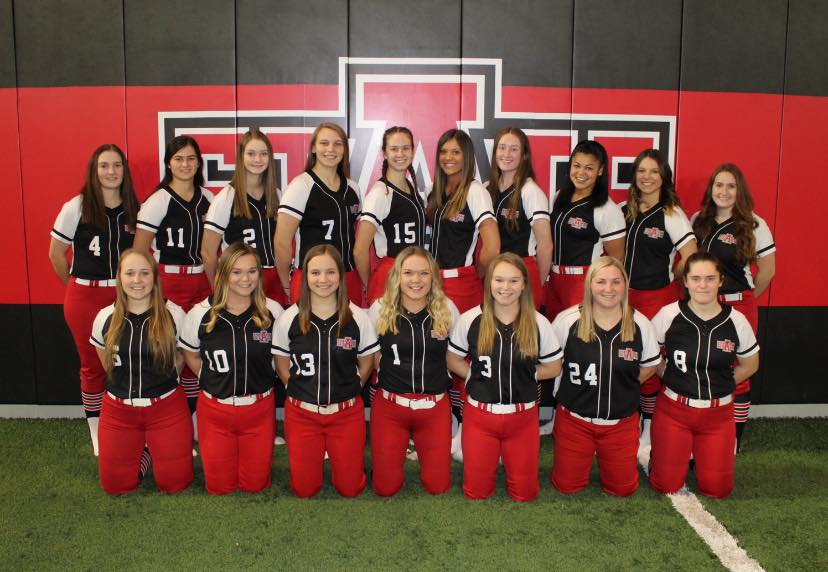 2020-21 Arkansas State University Softball Team


The seeding round schedule was announced last week by the NCSA with the Red Wolves coming in as the ninth seed and will face sixth-seeded Virginia Tech, Thursday, May 20, at 11 a.m. A-State's second game of the day will be against North Carolina State, the seventh seed, at 2 p.m.

Friday's play includes a showdown between the Red Wolves, ranked ninth in the latest Rawlings Top 10 poll, and 11th-seeded East Carolina at 11 a.m., followed by a matchup with Clemson, the second seed, at 2 p.m.
"This has been a tough year because of Covid and weather cancelations," said Head Coach Keith Hinson. "We only have one senior so we have a young team, and we only have three players that have been to Georgia. There are some powerhouse teams that will be there. Navy and Clemson always bring good teams. We have the athletes to make a deep run. We just need to get off to a good start."

All games will be available to watch live via the SportsChannelMedia page by selecting "South Commons, Columbus, Ga.," and then the field number (Field#) from the dropdown menu.

Hinson said the pandemic is having a direct effect on the series causing the cancelation of a regional tournament. A-State is the only team in the Mid-America East Conference who received approval to compete, thus earning an automatic bid to the World Series.

A-State's Courtney Foreman of Crossett, who graduated two weekends ago, leads her team in pitching with an earned run average of 1.14, while Shelby Thornton of Bauxite and Keely Curtis of Harrisburg pace the team in hitting. Curtis owns 16 hits and seven runs with one double, a triple and five RBIs.

The program's last postseason appearance was in 2019 when A-State was eliminated from the World Series with a loss to the U.S. Naval Academy. Overall, since the start of softball at Arkansas State in 2011, the team has made series appearances in 2013-19, winning a national title in 2017 and finishing as runner-up in 2018. The Red Wolves have also won six conference championships during the same time period.

In addition to Arkansas State, club teams competing in the 2021 World Series include Illinois, Clemson, Florida State, Sacred Heart, Iowa State, Virginia Tech, North Carolina State, Air Force Academy, Naval Academy, East Carolina, Pittsburgh and Michigan.

Following a pair of games with Crowley's Ridge College and a doubleheader with National Park College to close out this year's regular season a couple of weeks ago, outfielder Curtis and pitcher Lexi Betts of Camden were selected as players of the week in the Mid-America East Conference by the NCSA.

Curtis was a key player in both of Arkansas State's non-conference series last week. Batting .538 and making a diving catch to save three runs, the senior made a statement on the field. Going seven for 13 over the four games, she picked up a double, an RBI and scored three runs herself.

Betts, a sophomore, had a solid five-inning against National Park, allowing only four earned runs on seven hits and walked one and delivered one strikeout.