Softball Prepares for Play in Fifth World Series
05/17/2017
JONESBORO – Arkansas State University's softball team will pursue a national title for the fifth consecutive time at the 2017 National Club Softball Association (NCSA), Friday through Sunday, May 19-21, at the South Commons Softball Complex in Columbus, Ga.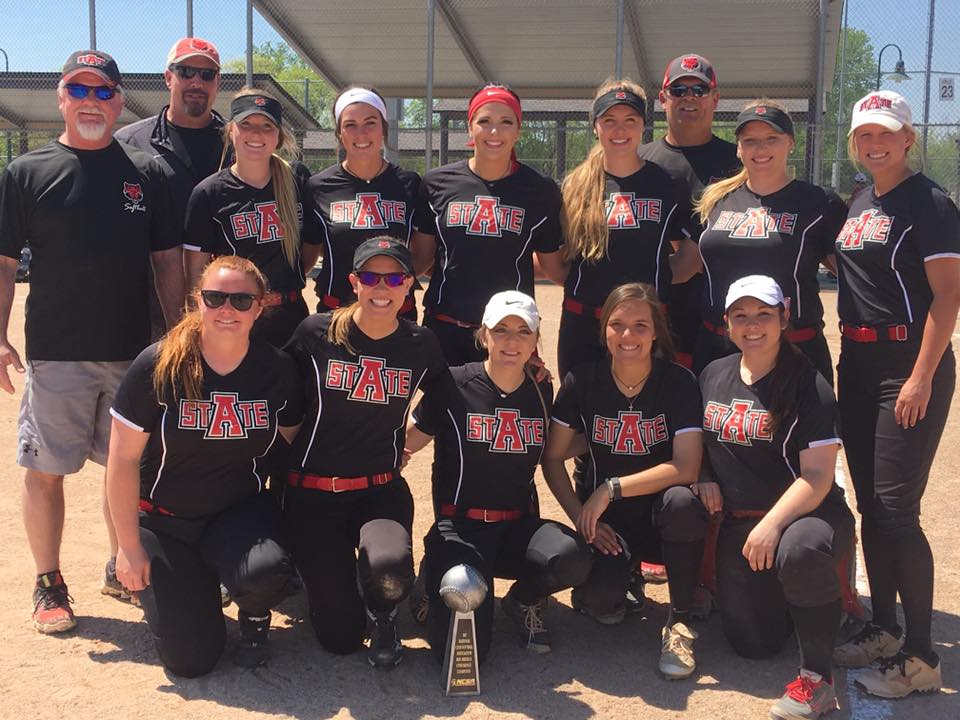 (Front row from left) Jerri Mathis of Jonesboro, Bailey Bradley of Imboden, Mackenzie Powers of Paragould, Madison Carr of Armorel and Kiana Cole of Paragould. (Second row) Coach Chris Powers, Erin Eckert of Cabot, Sabrina Luttrell of Armorel, Shea Cothren of Paragould, Rachel Hinson of Vilonia, Chloe Vaught of Morrilton and Mabry Watson of Marion. (Back row) Coach Todd Clifford, Coach Keith Hinson.

The World Series will begin on Friday, May 19, with Pool Play. After the conclusion of pool play, teams will be re-seeded and the Double-Elimination portion of the tournament will begin Saturday, May 20, and continue until a national champion is declared on Sunday, May 21.
Fourth-seeded Arkansas State, one of only two university programs in the nation making a fifth consecutive appearance in the national championship, will face 12-seeded Sacred Heart at 10 a.m. to open pool play, followed by a game with Florida State at 1 p.m. and defending champion James Madison at 4 p.m.
A-State, winner of the Mid-America-East Conference for the fifth straight year, is undefeated in league play with a 12-0 mark and stands 24-8 overall. The Red Wolves, ranked second nationally, participate in a conference with the Southern Illinois University-Edwardsville, St. Louis University, Maryville University and Southern Illinois University-Carbondale.
"We've really had great contribution from everyone up and down the lineup," said head coach Chris Powers, who is in his 19th season. "That's what makes this team so special. I really like the makeup of this team. They've developed into as good as any team I've had since we started the program."
Headlining the roster is veteran pitcher Shea Cothren with an earned run average of 1.88. The senior from Paragould has an 11-3 record on the year and was selected as the NCSA National Pitcher of the Week twice. She is a first team All-America pick as a pitcher from 2016. Also, freshman Mabry Watson of Marion received honors as NCSA National Player of the Week following the regional playoffs.
"Shea is healthy this year and having another good season," added Powers. "And, for Arkansas State to get both player and pitcher of the week for that weekend is pretty impressive.
"Mabry has a strong bat. She has been somewhat inconsistent at the plate through the year, but had a great weekend at the regionals, including three home runs with 10 RBIs in three games. Sometimes, it takes the younger ones some time to settle in and get comfortable. I really think she is going to have a great World Series. If she does, we are going to be a tough out."
Powers also praised senior Jerri Mathis of Jonesboro who leads the Red Wolves in batting average with .440. She has six doubles, two triples, two home runs and 23 runs batted in.
"The success of the program is a direct result from the support of the campus recreation department, the university, the local and surrounding communities and all those that volunteer their time," Powers added. "That's what attracts the kids. You have got to have that core support, and we have that here at Arkansas State."
The championship game will be streamed live on https://www.facebook.com/groups/NCSAClubSoftball/ and https://www.facebook.com/CollClubSportsRadioNetwork/?ref=nf. Game updates are available on the NCSA Twitter at https://twitter.com/TheNCSA?ref_src=twsrc%5Egoogle%7Ctwcamp%5Eserp%7Ctwgr%5E.