Sinta Saxophone Quartet to Perform in Lecture-Concert Series
03/09/2016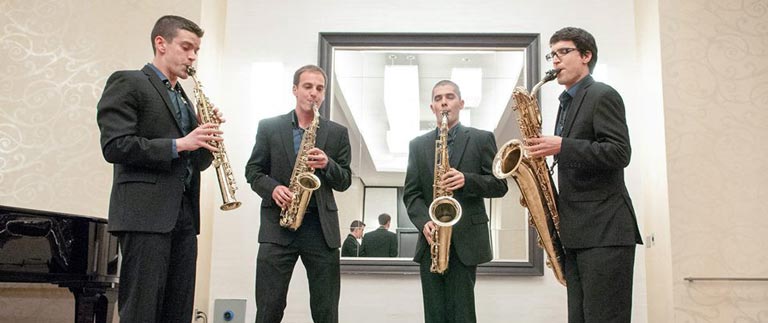 JONESBORO – The Donald Sinta Saxophone Quartet will bring its engaging stage presence and energetic performance to Arkansas State University on Monday, March 14, starting at 7:30 p.m. in Riceland Hall of Fowler Center, 201 Olympic Dr.
The Lecture-Concert Series is presenting the group, with generous funding support from the A-State Department of Music, the College of Fine Arts, the Society of Composers, Inc., chapter, and A-State Bands. Students, faculty, staff and the community are welcome to attend; admission is free.
Since forming in November 2010, The Donald Sinta Quartet has quickly achieved international renown for their recitals, concerto performances, completely memorized presentation, and championing of the very latest repertoire from emerging young composers.
"Taking their name from the legendary saxophone artist Donald Sinta, the Donald Sinta Quartet represents chamber music performance at the very highest level," says Dr. Kenneth D. Carroll, director of jazz studies in the Department of Music. "The four artists have performed together literally all over the world since 2010."
The group bases the theme for their concert series on their international experience.
"Their current program, 'Around the World in 80 Minutes,' provides exciting, energetic saxophone music which will entertain all audiences," Carroll continued. "From Ligeti's 'Six Bagatelles for Wind Quintet' to Annika Socolofsky's 'Bulgarity,' each piece of music demands a level of musicianship not common in today's music industry. The Donald Sinta Quartet is an amazing ensemble, and we are proud to have Arkansas State University as a stop as they tour the World."
In addition to the public concert, Carroll said the quartet members are providing a masterclass for A‑State saxophone students.
On the competition circuit, the group is the first saxophone quartet ever to win the Elmaleh First Prize in the Concert Artists Guild International Competition. The group also received the Alice Coleman Grand Prize at the 2013 Coleman International Competition in Los Angeles, and First Prize at the North American Alliance Saxophone Quartet Competition in Arizona.
DSQ's repertoire spans centuries and encompasses the great string quartet repertoire of Dvorak, Schubert, and Shostakovich, as well as numerous saxophone standards and several new commissions and premieres by today's emerging young composers.
The Lecture-Concert Series serves Arkansas State and the surrounding communities by bringing notable guest speakers and performers of diverse backgrounds and wide appeal to the campus. Many of the Lecture-Concert Series events include additional campus activities, such as the masterclass.
For more details about the series, interested individuals may visit the Lecture-concert Series website, http://www.astate.edu/lectureconcert, or contact series chair Dr. Tim Crist, tcrist@astate.edu, (870) 972‑2094.
# # #