Seven Schools Involved in Artificial Intelligence Campus Demonstrations
02/19/2019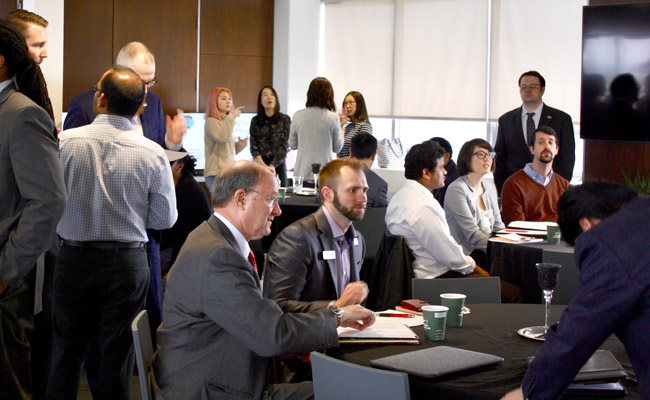 Artificial Intelligence (AI) Campus Demonstration Showcase at ASU System Office in Little Rock
LITTLE ROCK – Representatives of seven Arkansas universities came together Friday to discuss and demonstrate their work at the Artificial Intelligence (AI) Campus Demonstration Showcase.
The showcase took place at the Arkansas State University System Office in Little Rock, with demonstrations during the morning and afternoon.
"The AI Campus has brought students, postdoctoral fellows and junior faculty together in teams with coaches across the state, with each of the projects starting at the frontier of the artificial intelligence discipline," according to Dr. Xiuzhen Huang, director of AI Campus, professor of computer science at Arkansas State, and Arkansas Research Alliance Fellow.
The AI Campus represents seven Arkansas institutions, with 30 students in the first class. The participants are from Arkansas State University, Arkansas Tech University, Philander Smith College, University of Arkansas, Fayetteville, University of Arkansas for Medical Sciences, University of Arkansas at Little Rock and University of Arkansas at Pine Bluff.
The class has been meeting weekly with AI coaches while working on projects relevant to current industrial and research-based needs. Some of the projects involve medical imaging, natural language processing, genomics, agricultural data analysis, web service systems, and self-driving cars/transportation. Project descriptions are available online.
The student teams demonstrated their projects at this event for institutional representatives and news media.
By institution, here are the participants in the AI Campus project teams:
Arkansas State University: Ariful Hasan, John Clay Heern, Tomonori Yoshino, Jacob Goodwin, Hayden Joyce, Brandon Cole and Asraf Siddiquee.
Arkansas Tech University: Reza Hamidi and Zeng Kaiman.
Philander Smith College: Oluwafunmilayo Adediwura, Timothy Itodo and Timi Adebesi.
UAMS: Mahanazuddin Syed, Sohrabuddin Syed, Matthew Windsor and Kulsoom Shaikh.
UA Little Rock: Brian Delavan and Xiangwen (Evan) Liu.
UAPB: Laura Hildreth, Bradford House, Tyler Johnson, Kennedi Brown, Trenton Sudduth, Jordan Alfred and Malik Gatson.
University of Arkansas: Wei Zhou, Laxmi Poudel, Alejandro Torrico, Molla Hafizur Rahman and Matthew Brownell.
# # #