Sen. Robert Thompson Presents $100,000 Check Toward Hemingway-Pfeiffer Project
11/04/2013
PIGGOTT, Ark. — State Sen. Robert Thompson, D-Paragould, presented a check for $100,000 to Arkansas State University officials at a special ceremony Monday, Nov. 4, on the lawn of the Hemingway-Pfeiffer Museum and Educational Center. Thompson also was honored for his ongoing service to Arkansas State and the Arkansas Heritage Sites program.
The legislative funding secured by Thompson will be used to expand the existing educational facility at the Hemingway-Pfeiffer site to meet immediate programming needs.
"We're grateful to the Arkansas General Assembly and particularly Sen. Thompson for this funding," said Arkansas State Chancellor Tim Hudson. "Our heritage sites are Arkansas treasures, and his commitment and support have been critical to their ongoing success, as well as to the development and growth of our Heritage Studies Ph.D. program."
For the past six years, legislative funding has been received largely through Thompson's efforts. Working with other area senators and representatives, he has secured more than $3 million for the overall Arkansas Heritage Sites program and was successful in amending Arkansas State University's budget in 2009 to create the first permanent operating funds for the sites. In addition, Thompson has directed funds specifically to the Hemingway-Pfeiffer Museum and Educational Center for special needs.
"Without Robert Thompson's support, we would have closed the doors on all of our heritage sites," said Dr. Ruth Hawkins, director of Arkansas Heritage Sites. "Senator Thompson has been our most vocal and aggressive champion in these difficult economic times, and he truly understands how these sites can make a difference in our region."
The museum and educational center, which opened in 1999, was established through a private donation from Sherland and Barbara Hamilton of Rector, leadership from former State Rep. Richard Simmons, D-Rector, in securing legislative funds, and grants from the Arkansas Natural and Cultural Resources Council.
According to Dr. Adam Long, director of the Hemingway-Pfeiffer Museum and Educational Center, the new support will have a major impact on achieving museum goals. "We currently offer after-school programs for area students, adult writers retreats, and other special seminars and workshops," Long said. "The long-range goal is to offer credit and non-credit classes, concurrent classes, and meeting and conference space in a facility on the adjacent former school grounds, dependent on funding and demonstrated community interest and need."
Thompson serves as state senator for District 20 that includes Clay, Greene and Lawrence counties as well as part of Craighead County. He also serves as the chair of the Retirement committee and vice chair of the Judiciary committees as well as being a member of the State Agencies and Governmental Affairs, Children and Youth, Rules, Joint Budget committees and the Legislative Council.
He served a two-year term in the Arkansas House of Representatives representing District 78 from 2005-06 before being elected to the Senate in 2007. His wife Tori is a member of the newly formed Hemingway-Pfeiffer Museum and Educational Center Advisory Council.
The Hemingway-Pfeiffer Museum and Educational Center in Piggott includes a barn-studio associated with Ernest Hemingway and the family home of his second wife, Pauline Pfeiffer. Pauline's parents, Paul and Mary Pfeiffer, were prominent citizens of Northeast Arkansas and owned more than 60,000 acres of land. During the 1930s, the barn was converted to a studio to give Hemingway privacy for writing while visiting Piggott. Portions of one of his most famous novels, "A Farewell to Arms," and several short stories were written in this studio.
Both the home and the barn studio were named to the National Historic Register in 1982. The properties have been renovated, focusing on the 1930s era. Areas of emphasis for the museum and educational center include literature of the period, 1930s world events, agriculture and family lifestyles, family relationships, and development of Northeast Arkansas during the Depression and New Deal eras.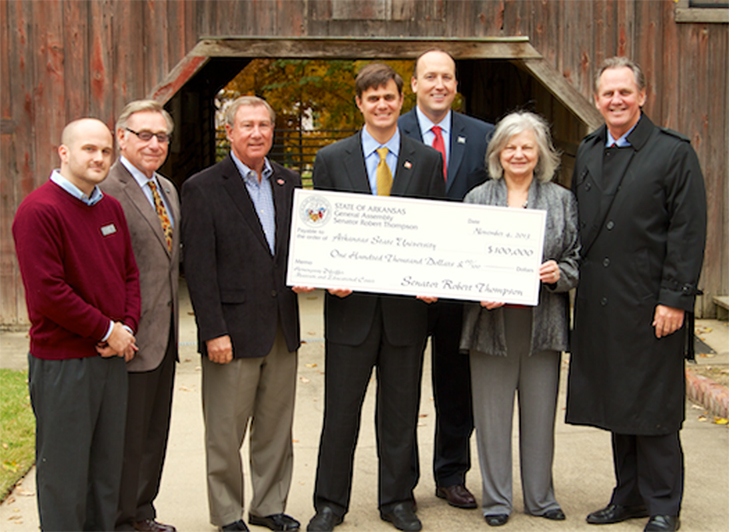 (From left) Dr. Adam Long, director of the Hemingway-Pfeiffer Museum and Educational Center; Charles Luter, Board of Trustees; Mike Gibson, Chairman of Board of Trustees; Sen. Robert Thompson; Dr. Charles Welch, Arkansas State University System President; Dr. Ruth Hawkins, director of Arkansas Heritage Sites; and Dr. Tim Hudson, Arkansas State University Chancellor.