Second Women's Business Leadership Conference Set for March 31
03/18/2016
JONESBORO — Following a successful and fulfilling inaugural event, professional women and female students will have a chance to participate in interactive discussions and workshops as well as listen to a panel of women business leaders at the second Women's Business Leadership Conference hosted by the College of Business at Arkansas State University, Thursday, March 31.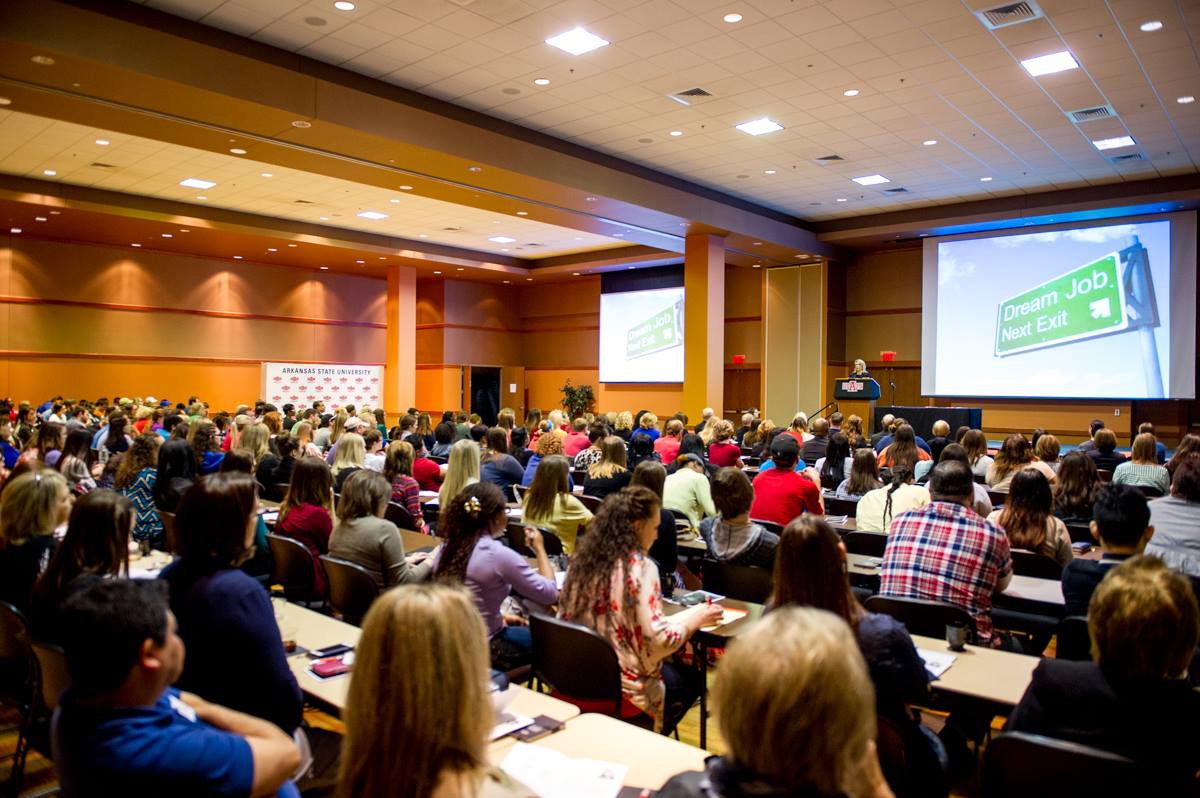 A full house for the 2015 inaugural Women's Leadership Conference
The conference runs from 9:30 a.m.-3:30 p.m. in Centennial Hall and surrounding breakout rooms on the third floor of the Carl R. Reng Student Union, 101 N. Caraway Road, on the A-State campus. This free event is open to the public. Registration opens at 9:30 a.m.
This one-day conference is a forum for leadership and professional development created to inspire and motivate women in the business community and features keynote addresses by women leaders, workshops designed to hone skills in key areas, and interactive discussions to engage students and professionals on important issues.
"The Arkansas State College of Business is thrilled to host this energizing opportunity for both female students and professional women in business roles to connect and thrive," said Dr. Shane Hunt, dean of the College of Business. "This conference is intended to cultivate and enrich the academic experience of our students, enhance career and mentorship networks for women, and celebrate the remarkable strengths women bring to corporate America. We bring together motivated students, alumni, successful corporate businesswomen, and thriving entrepreneurs from all over the country to connect, discuss and learn more about issues facing women."
Keynote speakers include Kathy Brittain White Loyd, who has served as an executive, corporate officer and chief information officer for several Fortune 500 companies, launched both the Horizon Institute of Technology and Rural Sourcing Inc., and is executive in residence at Bryan School of Business and Economics, University of North Carolina at Greensboro, and Claire Babineaux-Fontenot, executive vice president and treasurer for Wal-Mart Stores, Inc. Other speakers are Erica Swallow, vice president of product at Noble Impact; Dawn Prasifka, president and chief executive officer for Girl Scouts—Diamonds of Arkansas, Oklahoma and Texas; Dina Mason, president and general manager for MOR Media, Inc. of Paragould; Melissa Myers Hendricks, director of development for Vera Lloyd Presbyterian Family Services; Donna Townsell, senior executive vice president of Homebanc Shares, Inc. in Conway; Kenya Clark, supervisory special agent, IRS—Criminal Investigation in Little Rock; and Tasabah Malone, auctioneer and principal broker of SoldASAP, LLC .
Following a 9:30-10 a.m. check-in, Loyd is the first speaker, followed by Swallow and Prasifka. In the afternoon, Hendricks and Mason will host workshops, and at 2 p.m., and the second keynote speaker, Babineaux-Fontenot, will address the group. Townsell, Clark and Malone are featured in a panel discussion at 2:30 p.m. Scholarships and door prizes will be awarded throughout the day.
Erica Swallow is currently helping reimagine America's education system as vice president of product at Noble Impact, an Arkansas-based social enterprise that aims to provide every student with a relevant and purpose-driven education.
At Noble, Swallow leads the charge of building products that empower students to pursue the unknown with confidence and purpose. She believes that understanding the needs of students, parents, teachers and their communities is the only way to drive real change in schools.
Alongside her work in education, Swallow is passionate about discovering and telling stories worth knowing through her writings in Forbes, Fortune, and The Wall Street Journal, among other publications. She also makes it a point to share and consume good content and has spoken to South by Southwest conferences and festivals (SXSW,) Web Summit, and WOMMA Summit, among other notable forums.
She previously served as the director of community for tech startup Contently, where she managed online and offline community building. She also previously managed the highly successful supported content program for tech news site Mashable and assisted in developing and implementing the social media marketing strategy for The New York Times. Beyond her roles at these organizations, she has worked on a number of high-energy projects with teams at TechStars, WeHostels, Saatchi & Saatchi, and New York University, and is the co-founder of peer-to-peer delivery application Deliverish.
A Paragould native, Swallow is a first-generation college student and holds a Master of Business Administration from the MIT Sloan School of Management and a Bachelor of Science degree in marketing and international business from New York University's Leonard N. Stern School of Business. She believes that education is the key to opportunity.
Claire Babineaux-Fontenot is executive vice president and treasurer for Wal-Mart Stores, Inc., and serves as chief tax officer with responsibility for investor relations, capital markets and treasury operations.
Claire joined the company in 2004 as vice president of audits and tax policy. In 2007, she was promoted to senior vice president and chief tax officer.

Prior to Walmart, Babineaux-Fontenot was partner at the law firm of Adams & Reese, where she was leader of the firm's tax practice and partner-in-charge of the Baton Rouge office. Previously, she served as dispute resolution practice group leader for PricewaterhouseCoopers, where she was responsible for state tax controversies for the Southwest region of the United States.

She began her career as a tax attorney for the Louisiana Department of Revenue and subsequently received a gubernatorial appointment to serve as assistant secretary of the office of legal affairs, where she had responsibility for all tax litigation at the state level. She went on to be an administrative law judge for the Louisiana Department of Civil Service.

Babineaux-Fontenot has been recognized throughout her career for her strong commitment to diversity. In addition to winning the Dave Jackson Trailblazer Award, in recent years she has been named a diversity champion by Diversity Edge magazine and was added to the "Women Worth Watching" list by Diversity Journal.
A native of Opelousas, La., she is a graduate of the University of Louisiana at Lafayette and earned her law degree from Southern University Law Center in Baton Rouge. She also holds a Master of Laws degree in taxation from Southern Methodist University's Dedman School of Law in Dallas.
Kathy Brittain White Loyd founded Horizon Institute of Technology in 2002 and serves as its president. White is also a founder of Rural Sourcing, Inc., and serves as its president. She served as the chief information officer and senior vice president of Allegiance Corporation from 1996-99. White was also corporate vice president and chief information officer of Baxter International from 1995-96, vice president of information systems for Allied Signal Corporation from 1993-95, and vice president of corporate services for Guilford Mills Inc., from 1991-93. White served as an executive vice president and chief information officer of Cardinal Health Inc., from February 1999 to February 2003.
White served as an associate professor of the Bryan School of Business at the University of North Carolina at Greensboro. She has been an independent director of Mattel, Inc. since 2001. She serves as a director of National Service Industries, Inc. and Certegy Ltd., and is a member of the advisory board of Southern Capitol Ventures. She has served as a director of Certegy Inc., since June 2001, and as director of Novell Inc., since 2003. She served as a member of compensation committee of Fidelity National Information Services Inc.
White holds Bachelor of Science in Education and Master of Business Administration degrees from Arkansas State University, and also an Ed.D. in Business Education from the University of Memphis.
Melissa Myers Hendricks has more than 20 years professional experience in public relations, communications, grant writing, fundraising and nonprofit management. She has worked in grant writing and fundraising at St. Vincent Foundation, Centers for Youth and Families and Pulaski Technical College. In those positions, she raised more than $25 million through government, private, corporate and family foundation grants.
Hendricks is currently the director of development at Vera Lloyd Presbyterian Family Services, which provides a safe home for close to 150 boys and girls each year who are either in foster care or have been adjudicated. She is responsible for all public relations and fundraising activities for the agency. She earned her accreditation in public relations from the Public Relations Society of America, and is a certified fundraising executive and past president of the Association of Fundraising Professionals (AFP), Arkansas chapter. In 2015, she was recognized as the outstanding fundraising professional by AFP-Arkansas.
She is the treasurer of the Little Rock Port Authority, a graduate of the Little Rock Regional Chamber of Commerce Leadership program and a past Arkansas Business' 40 under 40 honoree. Hendricks is also a member of the 1924 Society of the ASU Alumni Association.
She earned her degree in journalism/public relations from A-State, where she graduated magna cum laude and was one of six Distinguished Service Award recipients. She earned her graduate degree in journalism from the University of Arkansas in Little Rock.
Dina Mason is president and general manager for MOR Media, Inc., of Paragould. She earned a degree in marketing in 1991 from Cameron University in Lawton, Okla., after obtaining an associate's degree at the University of Maryland-European Division in Germany.
She is the past president and current board member of the Arkansas Broadcasters Association and has been associated with that organization since 2002.
Since living and working in Paragould, Mason has been named the Main Street Arkansas Hero in 2012 after volunteering and campaigning for an improved quality of life through a downtown revitalization plan for Paragould since 1998.
She also received the Paul Harris Fellowship from Rotary International and the Greene County Tech Citizen Award in 2007 from the Greene County Tech school district. She earned this award for going above her role as a media consultant for her own media company and helping the committee to pass a millage to improve the school district through marketing efforts.
The American Heart Association honored Mason with the Communications Award in 1998 and the Paragould Regional Chamber of Commerce recognized her as Member of the Year in 2007. She also earned the Rotarian of the Year in 2012 by the Paragould Rotary Club.
Donna Townsell was promoted to senior executive vice president of corporate efficiencies for Home BancShares, Inc. in October 2015. She has played a major role in the company's success in eight years and has proven to be an outstanding ambassador for the bank and a tremendous asset to the team. Townsell serves on several committees in the organization, including operations and strategic Planning. Prior to becoming vice president of corporate efficiencies, Townsell served as project manager for Centennial Bank and led the organization's Build-A-Better-Bank (B3) campaign.
She was the recipient of the 2012 Chairman's Award, chosen by chairman John Allison, and is a graduate of the University of Central Arkansas. She is very active in her community and with the American Childhood Cancer Organization of Arkansas. Along with her daughter, Riley, 10, Townsell resides in Conway.
Kenya Clark is a supervisor for the Internal Revenue Service - Criminal Investigation. She earned a Bachelor of Accounting degree and a Master of Business Administration degree from Arkansas State.

She began her career with IRS-CI in 2006 as a special agent, where she investigated domestic and international financial crimes. In 2014, she was promoted to supervisory special agent in the Little Rock post of duty. In this position, Clark manages a group of special agents who investigate financial crimes for the entire state of Arkansas.
Dawn Prasifka is the chief executive officer for Girl Scouts Diamonds of Arkansas, Oklahoma and Texas. She has over 25 years of experience with cause-oriented nonprofit organizations, including senior leadership roles of larger organizations as well as start-up entities.

Her professional accomplishments were recently recognized by the Arkansas Chapter of the Association of Professional Fundraisers as Arkansas' Outstanding Fundraising Professional of 2012. Additionally, she was recognized by Arkansas Business Publishing's June 2008 Soireé magazine as one of Little Rock's 26 power women and was selected as a High Profile by the Arkansas Democrat-Gazette in 2009.
Prior to joining Girl Scouts, Prasifka was the executive director of the Centers for Youth and Families Foundation in Little Rock. During her seven years at the Centers, which included one of the country's most severe economic recessions, she was directly responsible for an average increase in donations of nine percent annually. She secured the largest single cash gift as well as the largest gift of property in the history of the organization.
Prior to her work with the Centers, she was the director of operations at the Arkansas Children's Hospital Foundation. During her tenure, she was instrumental in the decision process leading to the selection of a comprehensive donor management software system. She managed this software implementation and the process of converting the records of over 200,000 constituents. She also was responsible for the training of the system's users.
At the request of its founder, during its start-up phase, Prasifka worked as volunteer coordinator for Arkansas Hospice, which is now the largest hospice program in the state of Arkansas. Requests for her knowledge and services from many nonprofit organizations led her to create her own consulting company. Her consulting services included sharing analytical skills along with her knowledge of donor cultivation and management, organizational governance and management, and processes and procedures.
Her love for children led her to be an elementary school teacher before she began working with other nonprofit organizations in 1997. Since then, she has worked with boards at all levels, developed strategic plans, has had responsibility for projecting and managing budgets, and managing the operational aspects of organizations.
She has served as a volunteer in many organizations and is currently a member of the Downtown Little Rock Rotary Club, Mount St. Mary's Alumnae Board Past President, and a graduate of Leadership Greater Little Rock. She received a Bachelor of Science degree from Southeast Missouri State University.

Tasabah (Tazzie) Taylor Malone graduated from Arkansas State University in 1991 with a degree in Speech Communication. She owns and operates SoldASAP, which is a live and online auction company. She conducts real estate, farm, estate and equipment auctions. Malone lives in Paragould with her husband (John) and son (Taylor).