Sō Percussion is Next Act in Fowler Center's Performing Arts Series
03/21/2022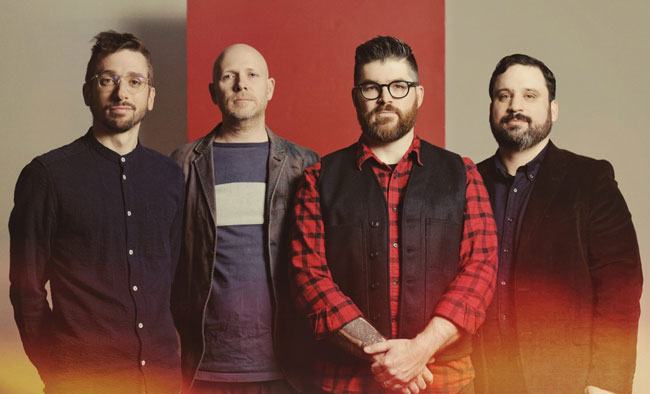 Sō is (from left): Eric Cha-Beach, Josh Quillen, Adam Sliwinski and Jason Treuting
JONESBORO – Arkansas State University's Fowler Center will present Sō Percussion in concert at 7 p.m., Saturday, April 2. The performance in Riceland Hall is part of Fowler Center's performing arts series.

For 20 years, Sō Percussion has redefined chamber music for the 21st century, concert reviewers have said. Members of the group are celebrated by audiences and presenters for a dazzling range of work in their live performances. Their vibrant percussion repertoire includes an array of collaborations in classical music, pop, indie rock, contemporary dance and theater.

Sō Percussion is also recognized for its work in education and the communities where they perform, such as a special opportunity for A-State music students. The group will be working directly with Craig Collison and students in his percussion studio.

Following a two-day intensive workshop, A-State students will perform a new piece with Sō Percussion during the concert in Riceland Hall.

"The percussion students at Arkansas State University are very excited about performing side-by-side with one of the premier percussion ensembles in the world," said Collison, associate professor of music. "They will be performing on an exciting communal-type composition by Jason Treuting called, 'Go Placid With Haste.' The piece can be performed with a variety of percussion and non-percussion instruments."

Underscoring the importance of the educational opportunities, the director of Fowler Center also emphasized the value of the experience.

"We are excited to be able to bring a group of this caliber to the region. I am particularly excited to offer students the chance to not only learn from but also perform with these amazing artists," said Garry Holstein, Fowler Center director. "I am grateful to Mr. Collison for facilitating this opportunity for our A-State community."

The Sō Percussion Summer Institute, which just completed its 13th year, is an intensive two-week chamber music seminar for percussionists and composers. SōSI features community performances, new work development and guest artist workshops.

Members of Sō Percussion also are devoted to a range of programs that advance goals and projects in diversity, equity, inclusion, and accessibility. These efforts include a studio residency program in Brooklyn; partnerships with other local music organizations, such as Pan in Motion; the donation of proceeds from album sales to Black-led organizations; fiscal sponsorship; and inclusive programming.

Fowler Center will follow safe-seating guidelines. Tickets, ranging from $18 to $33, are available through the A-State Box Office, AState.edu/tickets. For more details about this performance and other activities, one may contact Fowler Center at (870) 972-3687 or see the university calendar.