Rugby Turns Focus to Penn Mutual 7s; Tournament Tickets On Sale
04/06/2015
JONESBORO — Arkansas State University's rugby program will turn its attention to the Penn Mutual 7s Collegiate Rugby Championship after a 26-22 loss to Clemson University Saturday in the opening round of the Varsity Cup.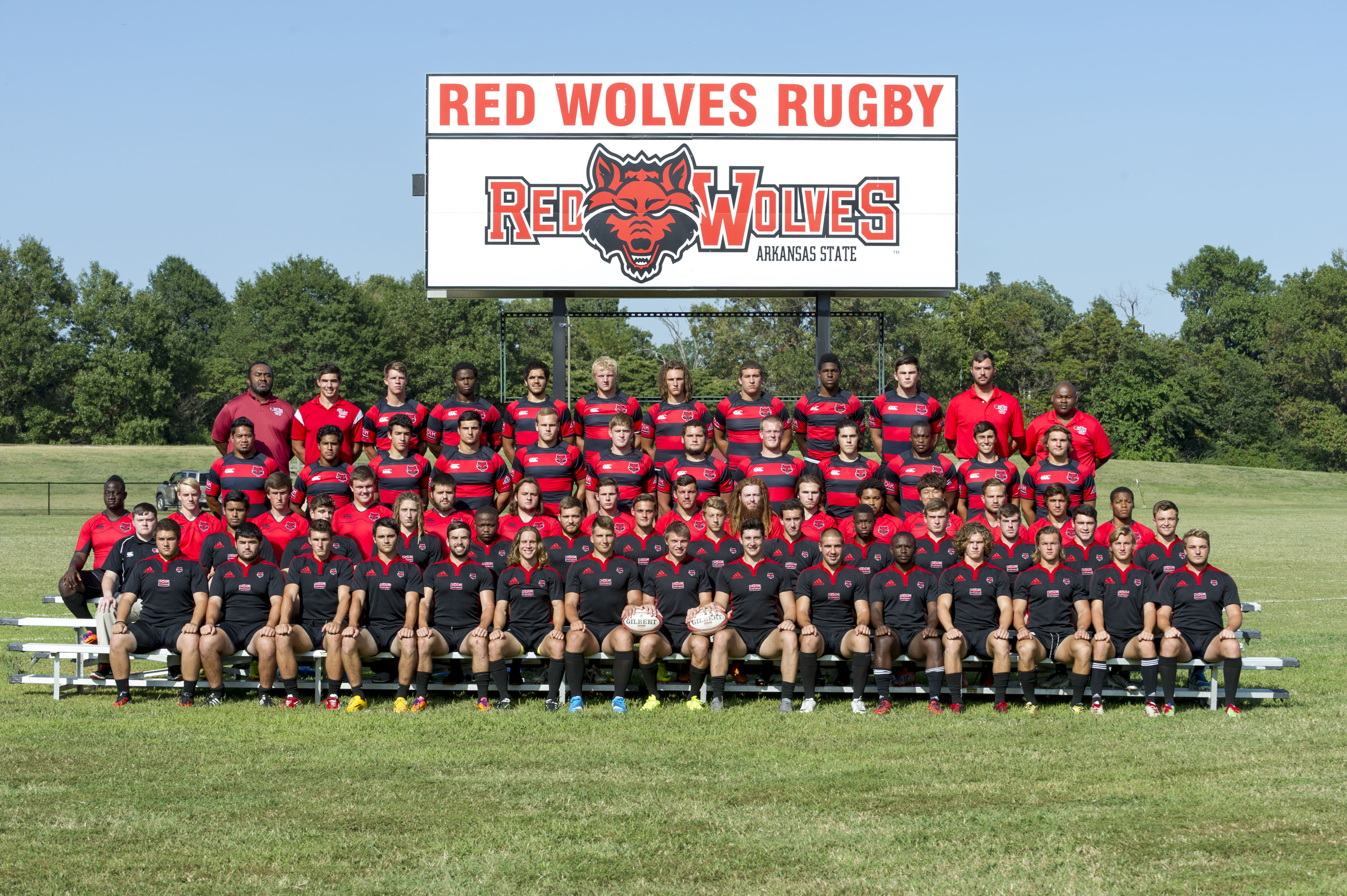 2014-15 Arkansas State University Rugby Team

The 2015 Penn Mutual 7s Collegiate Rugby Championship is in Philadelphia, Pa., Saturday and Sunday, May 30-31. The Red Wolves won back-to-back 7s national championships in 2012 and 2013.
Tickets for the 2015 championship, which will be played in Philadelphia's PPL Park, are available for purchase online at http://usasevenscrc.com/tickets/ArkansasState. Reserved seats are $48 and general admission tickets are $30. A two-day pass that allows admission for both days as well as free parking is $38.
The A-State rugby team is urging fans to assist with the purchase of their allotment of 300 tickets to support their play in the tournament
"We know many fans may not be able to make the trip, but by purchasing tickets and donating them to the team we can use them for recruits, local youth players and military families in the Philadelphia area," said Arkansas State Coach NeMani Delaibatiki.
The donated tickets will be given to community organizations in Philadelphia that will attend the tournament to be behind A-State's play. Mail donated tickets to ASU Rugby, P.O. Box 479, State University, AR 72467.
"The pools haven't been set yet for 7s, and details for the tournament will be set as we get closer to the tournament," said Delaibatiki. "For us, it's preparing the best way we can to allow us to be ready to compete at the highest level again the A-State way and continue our 7s rugby tradition."
Last weekend's Varsity Cup competition was the first for the Red Wolves as the program joined the elite group of collegiate teams playing traditional rugby 15s in July 2014.
"We had opportunities, but just didn't pick the right options at crucial times," said Delaibatiki. "It was a well deserved victory, and we congratulate Coach Justin Hickey and Clemson for the remainder of the Varsity Cup."
A-State opened up with a 7-0 edge over Clemson early in the game, but the Tigers began to settle down and penalties enabled the home team to carve out a 20-10 halftime lead.
In the final period, the Red Wolves rallied to lead, 22-20, before Clemson's Aaron Keers connected on two late penalty kicks to produce the final score. A-State tried another comeback run, but the Tiger defense denied the victory to the Red Wolves.
"We wanted to keep the ball in hand, have quick recycles of the breakdowns, and move the ball around to expose their defenses," continued Delaibatiki. "We had great plays from our offense when we read and executed the right option and some huge plays on defense, especially with Blace Walser and Connor Cook."
# # #