Rugby Team Makes Run For Third 7s National Championship
06/02/2017
JONESBORO – Arkansas State University's rugby team is looking to win its third 7s national title as the Red Wolves compete in the Penn Mutual 7s Collegiate Rugby Championship, Saturday and Sunday, June 3-4, in Talen Energy Stadium, Philadelphia. A tournament victory would give A-State its third 7s title after winning in 2012 and 2013.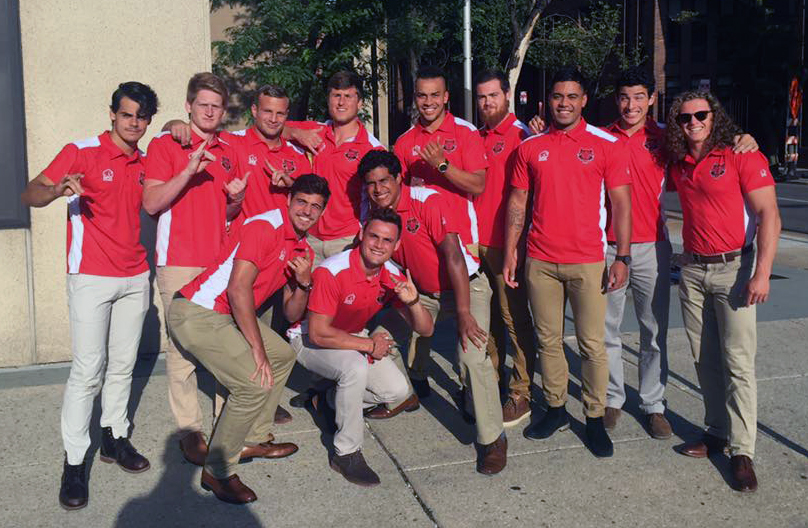 Members of Arkansas State University's rugby team prepare to attend the opening ceremony of the
2017 Penn Mutual Collegiate 7s Rugby Championship in Philadelphia.

Arkansas State, in Pool B with Life University, Wisconsin and Notre Dame, will open play Saturday morning at 9:20 CT against Notre Dame on Academy Field #2, then face Wisconsin at noon CT in Talen Energy Stadium before closing out pool play with Life at 2:49 p.m. CT in the stadium.
Pool play on Saturday will be televised from 2-4 p.m. CT on the NBC network and from 4-5 p.m. CT on NBC Sports Network (NBCSN). A 30-minute special, "Rugby Rising," will be aired, Sunday, June 4, from 11:30 a.m.-noon CT on NBCSN. The playoff rounds will follow from noon-2 p.m. CT on NBCSN, and 2-4 p.m. CT on NBC.
"The players have put in hard work over the past three weeks while still taking care of their bodies to stay healthy," said second-year head coach Shaun Potgieter, who played and was the team captain for the Arkansas State teams that won back-to-back titles in 2012 and 2013.
"The players are excited for the opportunity to play on the big stage. The few guys that were at the event last year know what to expect, but the newcomers will be opened to a new world of sevens and competition."
The last competition for A-State was May 6 in the Varsity Cup 15s national tournament in Santa Clara, Calif. The Red Wolves fell, 42-13, to California in the championship game. In last year's 7s tournament, the two teams clashed again twice, with Arkansas State losing 24-12 in pool play, and again, 24-14 in the quarterfinal matchup. In 2015, Arizona took advantage of Red Wolf penalties and managed to take the narrow 7-5 win to knock A-State out of contention.
"We have had multiple two-a-day practices on the pitch and in the gym during May," Potgieter added. "It has gone really well considering the short turnaround from 15's to 7's.
"The layoff was the shortest one we've had. It took a few training sessions to get the players into the sevens mindset and playing style. I'm happy with how much progress we've made as a team throughout this training period."
Twenty-four teams are playing in the CRC field, including, Arkansas State, American International College, Arizona, Army, Boston College, California, Clemson, Dartmouth, Indiana, Kutztown, Life, Lindenwood, Navy, Notre Dame, Penn State, St. Mary's, South Carolina, St. Joseph's, Temple, Tennessee, Delaware, UCLA, Virginia Tech and Wisconsin.
"The competition has become stronger and stronger every year at the Penn Mutual CRC," Potgieter noted. "The game of sevens rugby has grown tremendously in recent years, so more players are filtering through to the college level, which increases the level of competition. There are also new teams added to the competition every year that strengthen the field, too."