Rugby Opens 2019 Spring Season at Home Saturday
02/06/2019
JONESBORO – Arkansas State University's rugby team gets the 2019 spring season underway when the Red Wolves host Lindenwood University in a Mid-South conference matchup, Saturday, Feb. 9. The junior varsity squads will open play at 11 a.m., followed by the varsity teams at 1 p.m., at Curt Huckaby Field.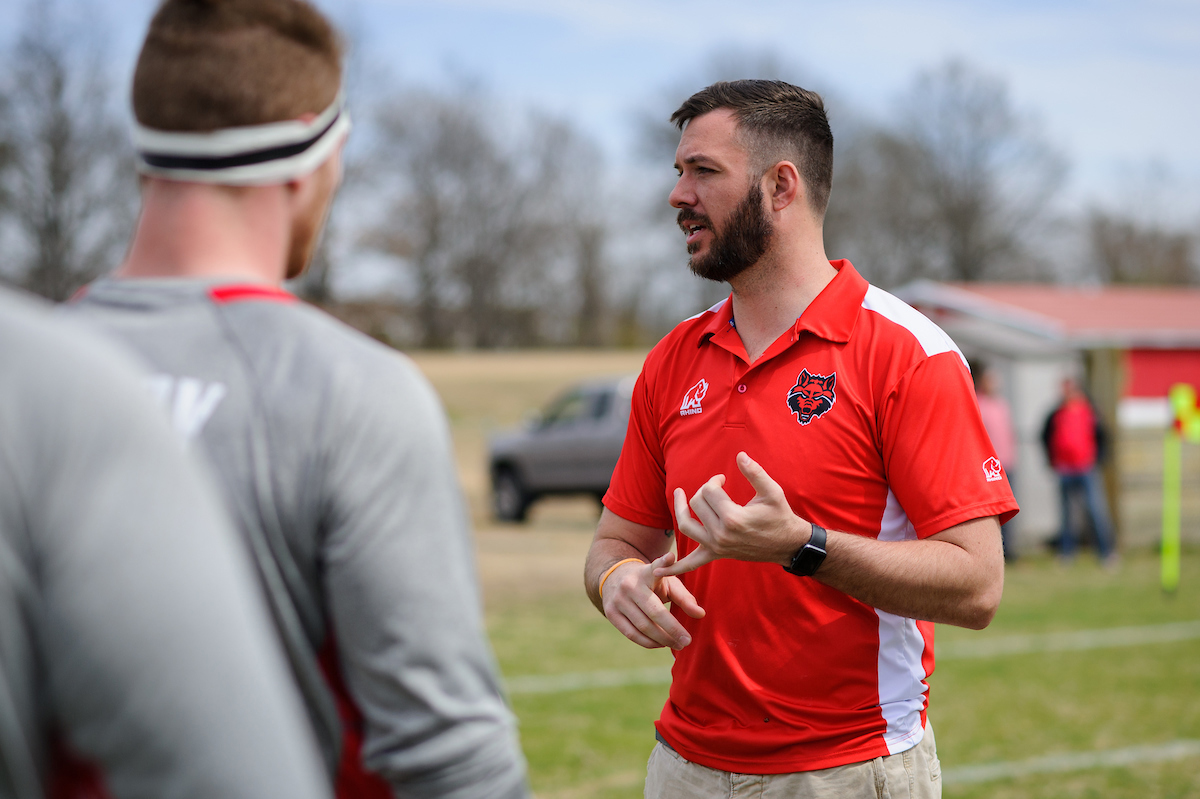 Head Coach Blake White discusses strategy with rugby players.
A-State is ranked tenth in the latest D1ARugby.com poll and Lindenwood is ranked fourth. The Lions are coming off a two-match road swing through Texas, defeating Texas A&M, 33-5, and the University of Texas, 95-3.
Blake White, in his second season as head coach, says his Red Wolves are ready to compete. "Training has been going well," he said. "We've got a great leadership group that has really led the way."
A-State finished the fall season in December with a 7-2 record, (including two JV losses). The Red Wolves outscored their opponents, 463-117, and recorded three shutouts.
Following a break, the team resumed work in the weight room and began preparation for the spring schedule. The program had to face rain, ice and frigid temperatures during the last weeks.
"We've been outside twice, which isn't ideal," continued White. "But, we're very fortunate to be able to use the Student Activity Center late evenings. We've got a well-rounded team with youth and experience. I'm really excited to see them compete against one of the best teams in the country."
Here is the 2019 men's rugby schedule:
Feb. 9 — Lindenwood University, Curt Huckaby Field, 11 a.m. (JV), 1 p.m. (Varsity)
Feb. 16 — Life University, Marietta, Ga., TBA (Livestream by FloRugby.com)
Feb. 23 — Clemson University, Clemson, S.C., TBA
March 2 — U.S. Naval Academy, Curt Huckaby Field, 1 p.m.
March 9 — *Lindenwood University, St. Charles, Mo., TBA
March 30 — +Davenport University, Curt Huckaby Field, 1 p.m.
April 13 — D1A College Rugby National Championship (First Round)
April 20 — D1A College Rugby National Championship (Quarterfinals)
April 27 — D1A College Rugby National Championship (Semifinals)
May 4 — D1A College Rugby National Championship (National Championship)
* Exhibition match
+ Alumni Weekend and Senior Day