Rugby Club Drops Narrow Decision to No. 2 Life University
04/10/2021
JONESBORO — Arkansas State University's rugby team fell, 35-25, to longtime rival Life University in what A-State head coach Jake Mizell called a "battle of the titans" Saturday afternoon at Curt Huckaby Field. The Red Wolves came into the match ranked No. 7 while Life is ranked No. 2 in D1ARugby.com.

"I'm really proud of these guys, especially our seniors," said Mizell who was named head coach in February. "They played lights out. I'm really proud of the heart they had, the aggression, the body were all there; I think our youth showed up at the end. There's just some gamesmanship and tactical stuff we need to fix, fine tune some of those things."

Things started rough early when Life scored a try just five minutes into play. The conversion was good to give the Running Eagles the quick 7-0 lead. A penalty kick four minutes later by Aidan Ridgway of Johannesburg, South Africa, put the Red Wolves on the board with Life still leading, 7-3. Another successful try by Life was followed by the try by Keelan Watkins, also from Johannesburg, to help pull the home team to within one, 14-13 at the half.

Life scored the try and conversion to open the second half with Mazvitaishe "Beefy" Nuamarebvu of Kadoma, Zimbabwe, following with a score four minutes later to pull A-State to within a point, 21-20. Mizell also praised the play of Dale Hartmann of Durban, South Africa, and Isaiah Poku of Daytona, Beach, Fla., who had returned from injury.

"Beefy played probably played the best game I've ever seen him play," continued Mizell. "Dale had amazing work right off the field, and it was great to have Isaiah and David Ige of Cape Town, South Africa back. They made a big impact."

Mizell also noted that the attendance at Curt Huckaby Field made a difference in the attitude of the Red Wolves.

"It was great to see such a good crowd," Mizell added. "Having the people there makes a difference with the team, especially the young players."

The Red Wolves will travel to Marietta, Ga., Saturday, April. 24, for a return match with Life at Lupo Family Field. Play gets underway at 11 a.m.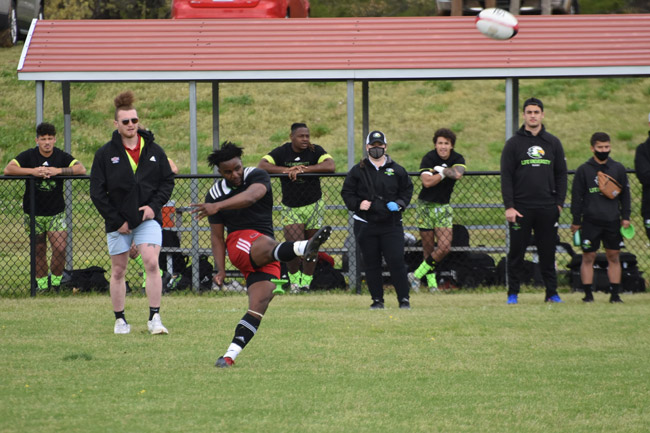 Beefy Nuamarebvu (Photo courtesy Rich Carvell)