Red Wolves Finish Runner-Up in National Collegiate Bowling Championship
04/12/2021
NORTH KANSAS CITY, Mo. (4/10/21) – Advancing to the national championship match for the second time in program history, the Arkansas State women's bowling team finished runner-up in the National Collegiate Bowling Championship that concluded Saturday at AMF Pro Bowl Lanes.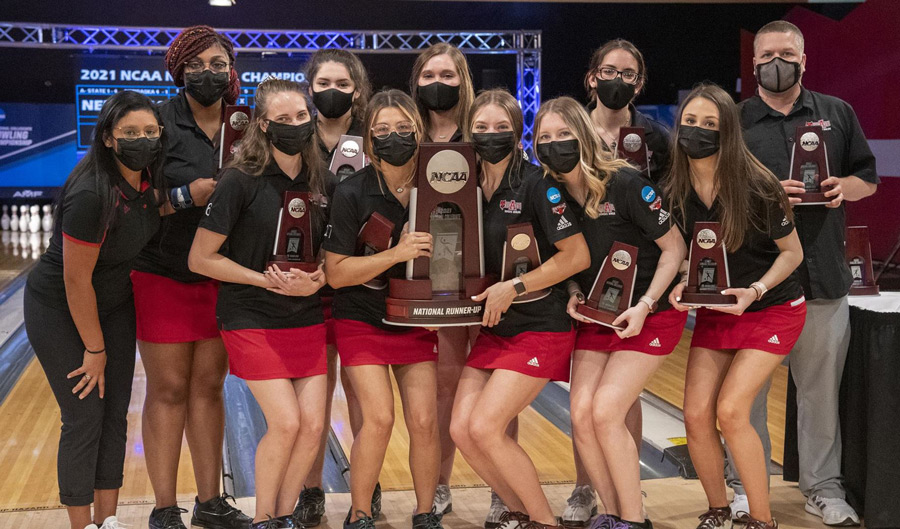 No. 2 overall seed Nebraska earned a 4-1 decision to win the national championship. Tying for the best finish in program history, the Red Wolves took runner-up honors for the second time and first since 2008.
"Obviously, when you get the opportunity to play for the national championship, you want the win," said A-State head coach Justin Kostick. "We have to build off this momentum and learn from this match tonight. When you put yourselves in this position year after year, good things will happen, but we have to work for it.
Over the last 11 seasons here, we've always been ranked at or near the top and hadn't gotten to this stage, so getting to the show was a good feat, but we didn't come here to get runner-up. I thought all year, we had the best team in the country. I feel like we let one slip away in that regard, but you have to credit for Nebraska on how they bowled tonight. The positive aspect of it is, the team showed a lot of resolve this week and we have a lot of this team coming back and hopefully that resolve will get us over the hump."
A-State got off to a good start, taking game one of the best-of-seven Baker match, but Nebraska took the next four games. The Red Wolves outscored the Huskers 224-217 in game one, but Nebraska got the victory with 235-194, 201-190, 179-162 and 198-170 margins in the next four games.
Senior Taylor Davis earned All-Tournament Team honors, adding to her illustrious career while at A-State. Davis bowled in the anchor position throughout the week for the Red Wolves.
"Taylor Davis is one of the best shot makers in the world and she is going to have a great career in bowling moving forward," Kostick said. "Taylor had a great week here and she earned the All-Tournament Team accolade."
Stay up to date on A-State Bowling on Twitter (@AStateBowling), Facebook (/AStateBowling) and Instagram (@redwolvesbowling).
# # #

— Courtesy A-State Sports Information