Presentations Continue at Johnny Cash Heritage Festival
10/20/2017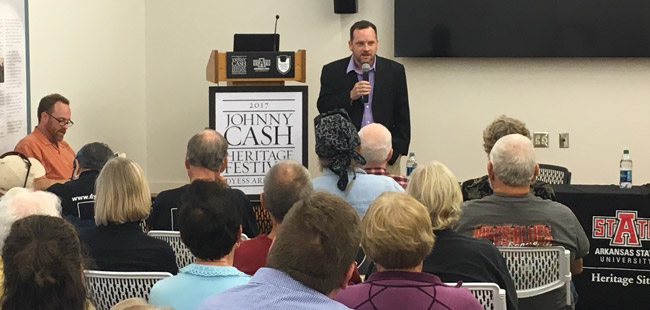 Colin Woodward, author of a manuscript in progress, Country Boy: The Roots of Johnny Cash, discusses "Ray and Johnny: How Johnny Cash's Father Influenced His Life and Career" during the final presentation of the second day of the Johnny Cash Heritage Festival in Dyess.

DYESS, Ark. – Presentations celebrating the Johnny Cash Heritage Festival continued all day Friday during the second day of the event held at the Dyess Colony Visitors Center. Seven presentations featuring speakers and panel discussions included information about life for Cash ancestors and friends in Mississippi County.
In addition, the Rivercrest Voices, made up of elementary and junior high students from Rivercrest School District, performed during the presentation lunch break. The group is under the direction of Candace Hawkins. Rivercrest serves students in the Dyess community and other nearby towns in south Mississippi County.
Among the afternoon presentation highlights was "He Was Just Plain J.R.," a panel discussion with members of the Dyess High School Class of 1950, recalling their class vice president, J.R. Cash, and memories of growing up in the agricultural resettlement colony. One of the panelists was Louise Nichols, Johnny Cash's first girlfriend.
Other presentations included "Arkansas in Me: Keeping It Delta," "Spiritual Connections to the Delta," "A Long Way Around to a Lonesome Sound," "Delta Themes in the Music of Johnny Cash," "Art by the People and for the People," and "Becoming Johnny Cash."
Five area bands perform tonight at KASU Music Nights, including Wil Maring and Robert Bowlin; The Creek Rocks; The Zyndall Wayne Raney Band; The Legendary Pacers; and Queen Ann Hines and the Memphis Blues Masters.
Saturday is the final day of the three-day event, with "Resurrecting Images from The Great Depression" by Bill McDowell and "American Culture and the Art of Johnny Cash" by Michael Streissguth from 9-11 a.m. Arkansas State University Chancellor Kelly Damphousse will moderate the discussion. Rosanne Cash, daughter of Johnny Cash, will introduce the presenters.
The afternoon cotton field concert gets underway at 12:15 p.m. with local country music artist Buddy Jewell, followed by Johnny Cash's brother and sister, Tommy and Joanne Cash. The concert closes out with headliners Rosanne Cash and Kris Kristofferson. Remaining tickets are on sale at the site for $28 on a cash-only basis.
# # #