Parking Lot Changes for Fall 2019
08/15/2019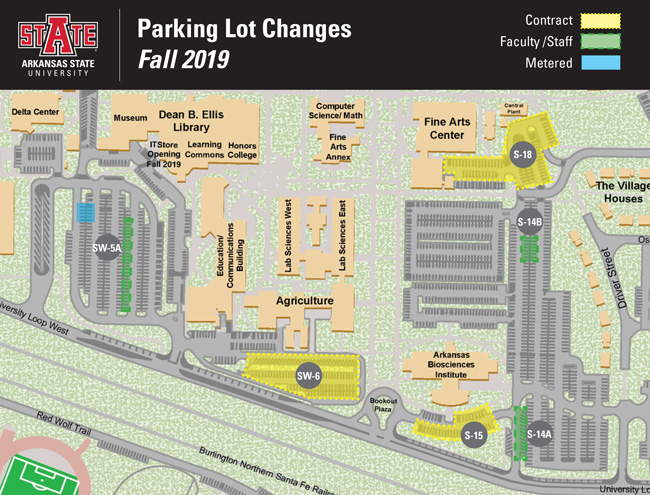 [PDF Version]
With the beginning of another semester, some changes in parking lot designations are important for the campus community to know, according to Dave McKinney, director of parking services.
Additional faculty-staff (FS) parking is available in three lots: 16 more spaces in S-14B (southeast of Fine Arts Center), 12 more spaces in S-14A (southeast of Arkansas Biosciences Institute), and 27 more spaces in SW-5A (south of Ellis Library).
Additional contract parking, clearly marked with signs and numbered spaces (but not gated), has been added in three areas. These are in lots S-18 (south of Fine Arts Center), SW-6 (south of Agriculture Building), and S-15 (south of Arkansas Biosciences Institute). These new lots were announced previously.
Lot SW-5, south of Ellis Library, also will have 12 additional metered spaces on the west side, convenient to Health, Physical Education and Sport Sciences and to the Delta Center for Economic Development.
Open parking areas around Fowler Center and First National Bank Arena are typically underutilized. The campus bicycle share partner, VeoRide, is placing additional bikes around those lots for the convenience of those who park there.