No Time Flatt to perform at KASU's Bluegrass Monday Nov. 27
11/17/2017
JONESBORO – The band No Time Flatt will perform a concert of bluegrass music Monday, Nov. 27, at 7 p.m. at the Collins Theatre, 120 West Emerson Street, in downtown Paragould. The concert is part of the Bluegrass Monday concert series presented by KASU 91.9 FM, the 100,000-watt public broadcasting service of Arkansas State University.
Formed in 2015, No Time Flatt has quickly assembled a large group of devoted fans known as "Flattheads." Based in West Tennessee, this band released its first CD earlier this year. In October, the group was named Bluegrass Band of the Year at the Tennessee Music Awards.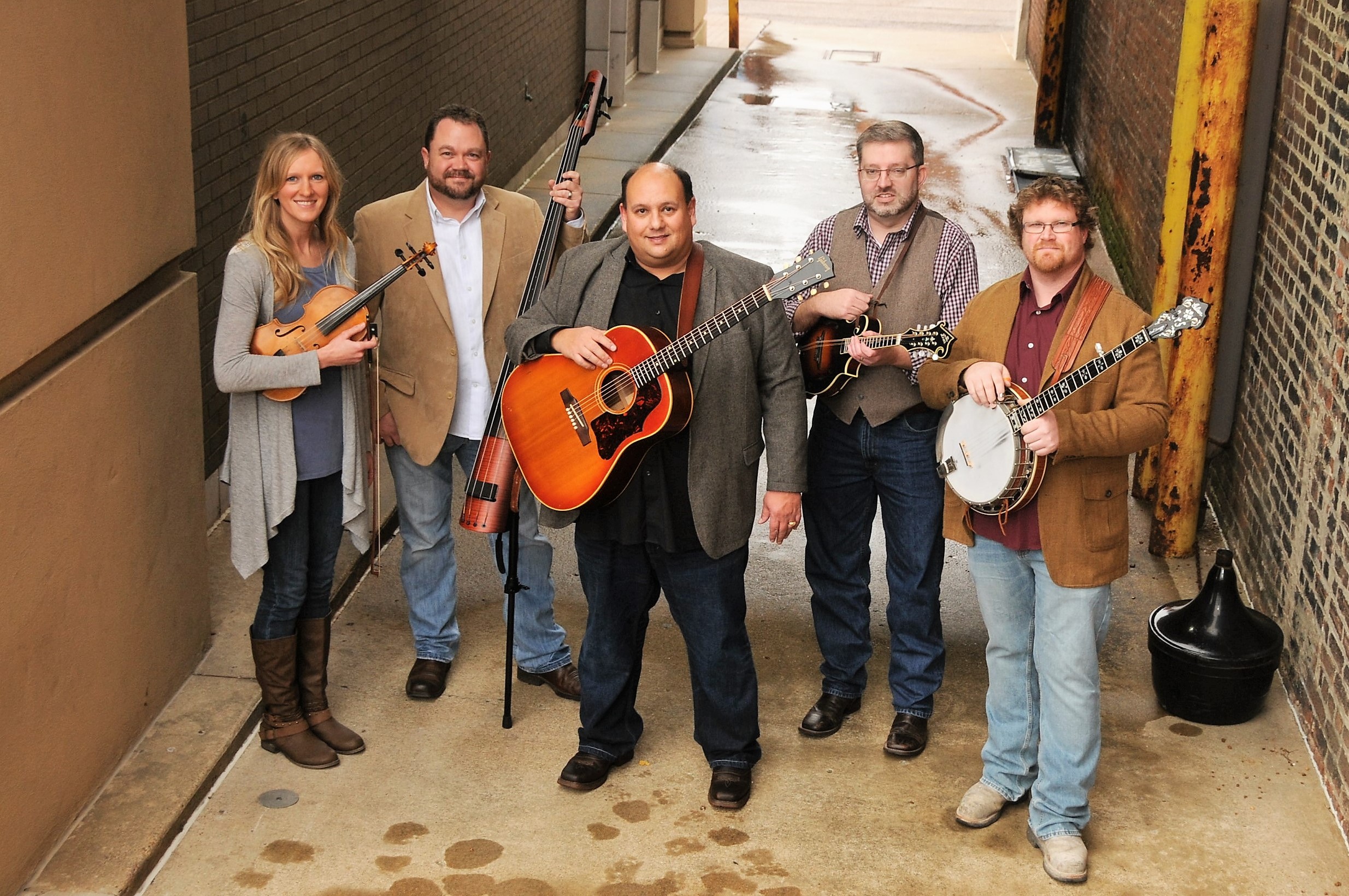 No Time Flatt — (from left) Becky Weaver, Patrick Cupples, Kevin Wright, Kevin Keen and Steve Moore.

No Time Flatt has built a reputation as an outstanding live band known for its highly energetic and audience-engaging concerts featuring the band members' tight, four-part harmonies. The band performs classic bluegrass standards, its own original compositions and bluegrass arrangements of classic country songs.
The band maintains a busy touring and performing schedule, including appearing during 2017 at the Kentucky Opry, the annual convention of the Society for the Preservation of Bluegrass Music of America (SPBGMA), WSM radio's Pickin' On The Plaza concert series at the Ryman Auditorium in Nashville, and the Aquatseli Bluegrass Festival. In 2018, the band will perform at the Mountain View Spring Bluegrass Festival and at Dollywood's Bluegrass and Barbecue Festival.
Band members include Patrick Cupples of Dyersburg, Tenn. He sings and plays bass for the group, and works as a sound engineer for live and recorded music. Kevin Wright of Humboldt, Tenn., sings and plays guitar in the band. Both Wright and Cupples have previously appeared at KASU's Bluegrass Monday as part of Stone County Connection, a band that performed extensively around the region and placed among the top bands at SPBGMA's International Band Competition.
Becky Weaver of Montezuma, Tenn., plays fiddle in the band. She earned a degree in violin performance from the University of Memphis. Kevin Keen of Corinth, Miss., sings and plays mandolin for the group. He has played throughout the region at churches, festival and concerts. Steve Moore of Jackson, Tenn., sings and plays banjo. Moore has played bluegrass music since he was a teenager, performing with a variety of groups across America.
More information about No Time Flatt and samples of the band's music are available at www.notimeflatt.com.
In addition to the concert, Terry's Café, 201 South Pruett Street in Paragould, opens on Bluegrass Monday nights to welcome bluegrass music fans. The café serves a country-style buffet meal beginning at 4:30 p.m. on the evenings of Bluegrass Monday concerts. Concessions are available at the Collins Theatre.
Bluegrass Monday concerts are held on the fourth Monday night of each month, except December. These concerts are presented with support from Bibb Chiropractic Center, the Posey Peddler, Holiday Inn Express and Suites of Paragould, the Northeast Arkansas Bluegrass Association and KASU. KASU will literally "pass the hat" to collect money to pay the group. The suggested donation is $5 per person.
For more information, contact KASU program director Marty Scarbrough at mscarbro@astate.edu or 870-972-2367. Bluegrass Monday is also on Facebook (search "Bluegrass Monday").