New Master's Degree at A-State Features Applied Digital Technology
01/16/2023
JONESBORO – A new master's degree program at Arkansas State University offers a "hands-on" experience with top faculty, providing graduates with cutting-edge knowledge that is in high demand in today's business environment.
The Master of Science in applied digital technology degree offers prospective students new opportunities for developing skills and competencies in innovative areas of technology. This includes a range of technology and business-related fields, according to Dr. Matthew Hill, director of graduate programs in the Neil Griffin College of Business at A-State.
"The courses in this program are very 'hands-on' and the faculty leading the courses are experts in their respective fields," said Hill, who is also is an associate professor of finance. The degree program consists of 33 graduate-level credit hours, and is being offered in-person and online.
In addition to the 12 credit hours of core courses, the master's program includes four emphasis areas: artificial intelligence and machine learning; cloud and cybersecurity; game and app design; and business analytics. The game and app design concentration is offered by the Department of Art + Design.
The new master's degree program courses include "Artificial Intelligence Deployment Solutions," "Internet Security Solutions," "User Experience Design Theory," "Swift Programming," and "Simulation for Predictive Decision-Making."
"Graduates of this program will be well-positioned to enter growing technology-based fields and work in various industries," he emphasized. The federal Bureau of Labor Statistics projects robust salary growth in related careers.
Hill expects the new program will be attractive to individuals aspiring to a broad range of career directions, including machine-learning engineering, business intelligence development, data engineering, scientific research, and cloud and computer security engineering.
Interested students may contact Hill, mdhill@AState.edu, or Jessica McBride, jskinner@AState.edu, assistant registrar for graduate programs, both at the Neil Griffin College of Business, for additional program details.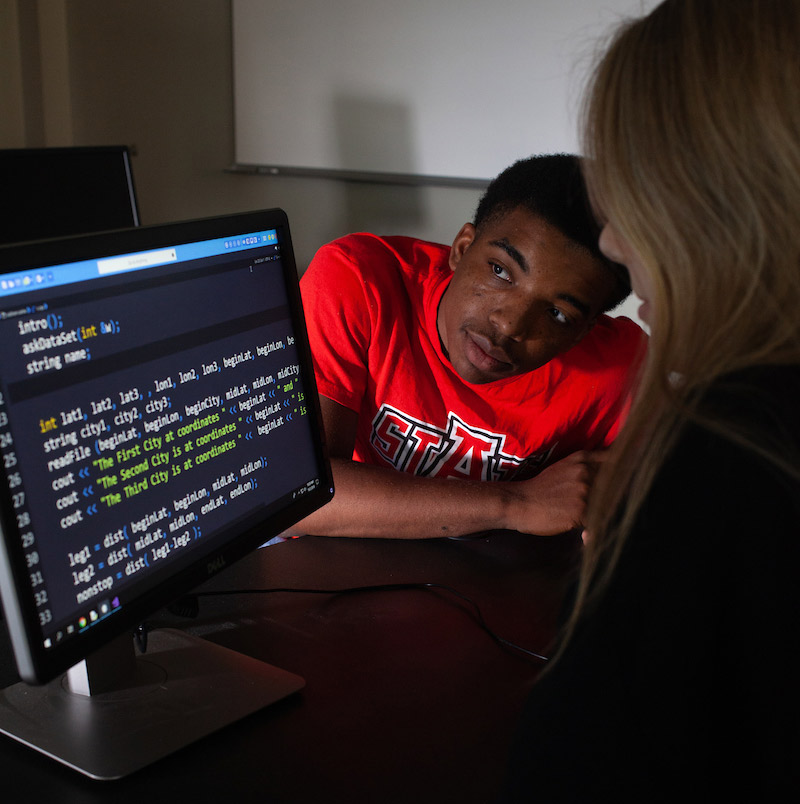 Students collaborate at Arkansas State University