New Certificate Program Creates Name, Image and Likeness (NIL) Opportunities
01/13/2023
JONESBORO – A new program at Arkansas State University is now available to athletes and sports professionals with name, image and likeness (NIL) opportunities.
The certificate program in athlete name, image and likeness promotion will offer benefits to students in multiple areas, not just athletes. It is open to all undergraduate students.
"Specifically, the majors who might be most attracted to this would be those in sport management, strategic communication, and marketing," noted Dr. Holly Hall, professor of strategic communication. "It is also a good fit for any athlete looking to build and benefit from their brand while in college."
Courses in the program include "Sports Promotion and Sales Management," "Legal issues in Sport," and "Strategic Visual Communication."
At the outset of the NCAA's policy change, some expressed concern female athletes would not benefit from the new NIL opportunities.
"Thankfully, that hasn't been the case," Hall continued. She noted that ESPN, the sports media giant, has said, "Women have thrived in the NIL space, not only earning money, but gaining a platform to advance gender equity in college sports and beyond."
Although NIL critics also were concerned that deals would benefit only the top 1% of athletes, Hall again cited ESPN's research. "Athletes, from star players in high-revenue sports to walk-ons to charismatic athletes in lesser-viewed sports, have found the NIL space to be quite lucrative," the network said.
The NIL certificate program cleared the campus Undergraduate Curriculum Council before going to the Arkansas Department of Higher Education for final approval. The proposal said the multidisciplinary certificate is aimed at those involved in work that supports student athletes -- from compliance officers, athletic directors, social media managers, or those working in a business related to student athletes.
"The program provides a means to empower athletes and those interested in helping collegiate athletes build and benefit from their brands," Hall added, "and it is an opportunity for A-State students to potentially mesh in-class learnings with hands-on experience in an innovative area."
For more details, interested students may contact the Departments of Communication, (870) 972-3091; Health, Physical Education, and Sport Sciences, (870) 972-3066; or the Department of Economics and Finance, (870) 972-2280.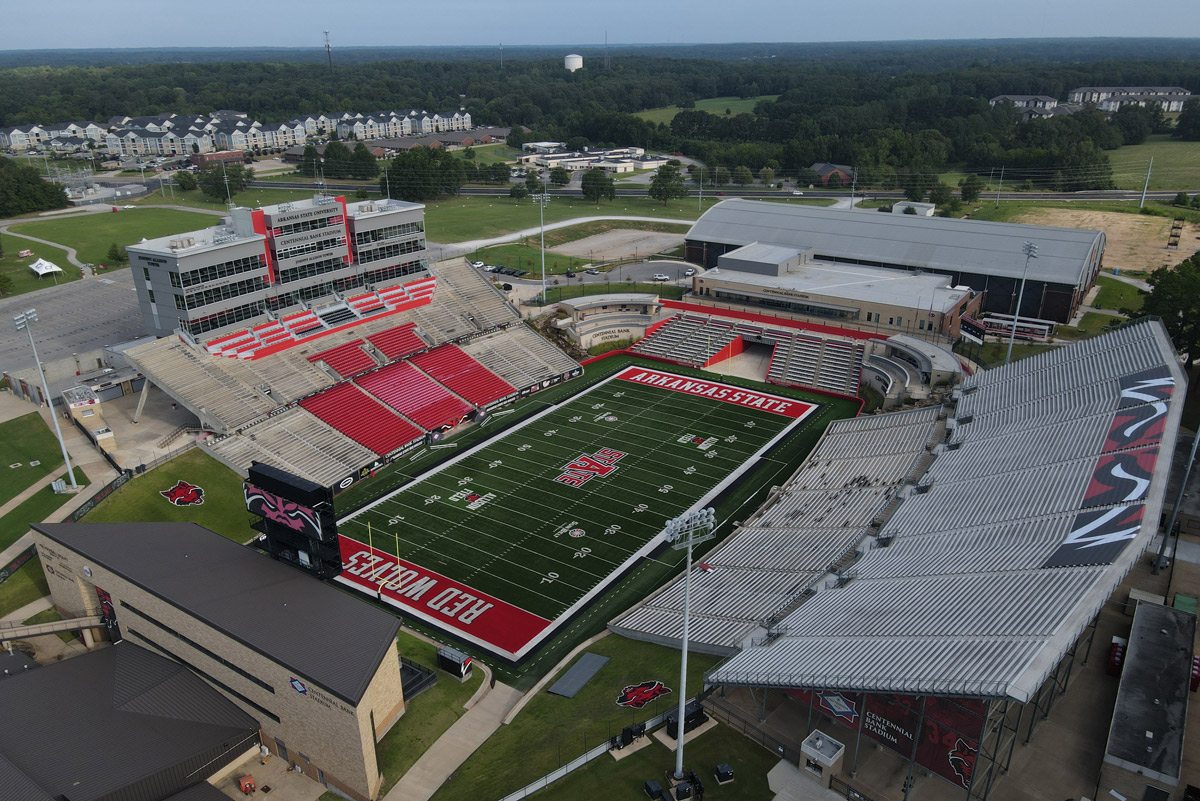 Centennial Bank Stadium