Maring and Bowlin to Perform at KASU Coffeehouse Concert
09/04/2015
JONESBORO – The acoustic Americana duo of singer-songwriter Wil Maring and multi-instrumentalist Robert Bowlin will return to the Coffeehouse Concert, Thursday, Sept. 24, at 7 p.m. at the Arts at 311 where they launched last year's season as the first act of the new series.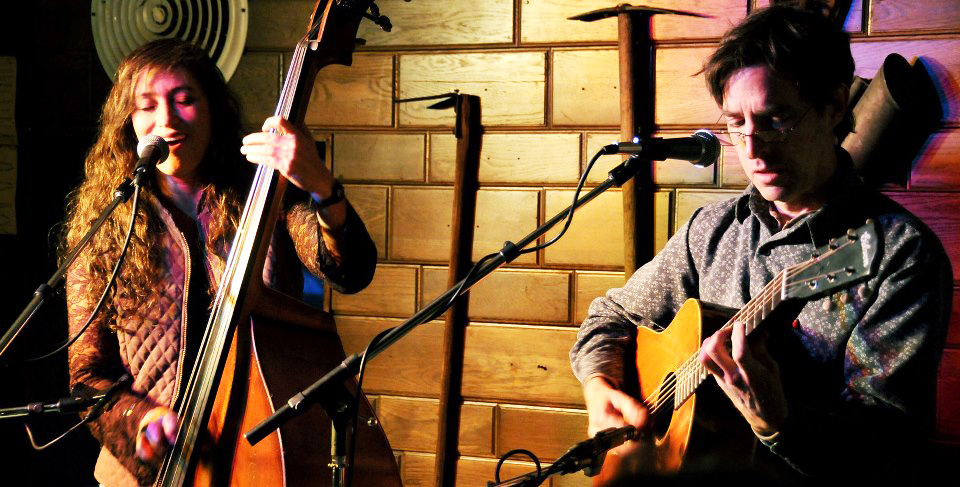 Wil Maring (left) and Robert Bowlin


The Coffeehouse Concert is a series of concerts held by KASU, the Arkansas State University FM and online public media service, and the Arts at 311 at 311 S. Church Street in Jonesboro. The Arts at 311 supports the arts and artists of northeast Arkansas and the surrounding region.
A native of southern Illinois, Wil Maring has performed several times at KASU Bluegrass Monday concerts with her regionally acclaimed group Shady Mix. She toured Europe for 10 years with a European version of that band. Maring became a highly acclaimed songwriter after winning the Chris Austin songwriting contest at North Carolina's "Merlefest" (named for the late Merle Watson, a bluegrass guitarist) and making it to the finals of the Kerrville (Texas) New Folk competition.
Maring's song "Bottomlands" was recorded by the Bankesters of Carbondale, Ill., and the Italian group Red Wine. Progressive bluegrass artist Matt Wingate included the song "Heart of the Sea," written by Maring and Tim Stafford, on his new album "Glimpses."
Robert Bowlin, who grew up in Pocahontas, developed talent as a teenager playing mandolin and banjo. Bowlin is a national guitar fingerpicking champion who placed second in the national guitar flat picking contest.
Bowlin was the last fiddler hired by Bill Monroe to play in the legendary Bluegrass Boys. As a session fiddler and guitarist in Nashville, he played on stage and on hundreds of recordings with renowned musicians such as Ray Price, Kathy Mattea, Tom T. Hall and others.
KASU station manager Mike Doyle said, "I know that northeast Arkansas and southeast Missouri fans will be delighted that Wil and Robert are returning to Arts at 311 for another concert. They aren't bluegrass artists in the traditional sense, although they have strong connections to that genre. You'll hear some light jazz, a little western, some of Robert's great arrangements of American standards, his wonderful guitar compositions and Wil's great original songs. Put Sept. 24 on your calendars."
KASU Coffeehouse Concerts at The Arts at 311 are underwritten by Dr. Richard Stevenson, cardiac, vascular and thoracic surgeon; Dr. Carl Abraham of Jonesboro Infectious Disease and Control Consultants (IDCC); and Gregg-Langford-Bookout Funeral Homes.
Admission is $10 dollars and doors open at 6:30 p.m. the night of performance, or in advance at IDCC between 1 and 4:30 p.m. on Mondays through Thursdays.