Ladies of AGD, AOPi, Chi O, DZ and ZTA Occupy Five New Houses on Sorority Row
08/16/2013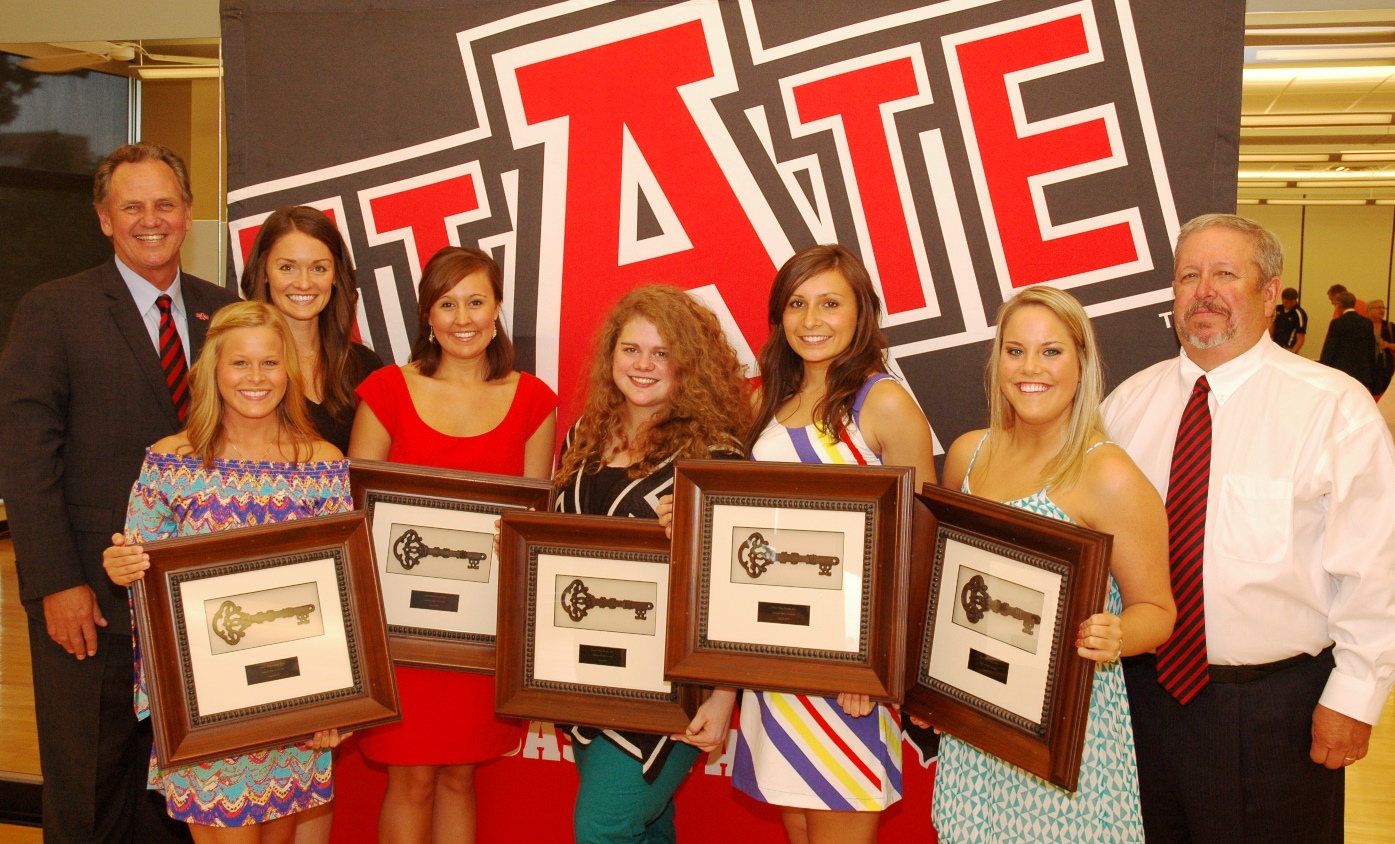 Sorority representatives proudly display the ceremonial keys that were presented to them during Sorority Row Showcase. They are (from left) Marlie Parnell of Chi Omega; Tess Wheetley of Delta Zeta; Cassie Adams of Alpha Omicron Pi; Brittnie Short of Zeta Tau Alpha; and Haley Petrus of Alpha Gamma Delta. With the women are Dr. Tim Hudson, chancellor; Alexis Hurdle, assistant dean for Greek life; and Dr. Rick Stripling, vice chancellor for Student Affairs.
JONESBORO – The construction phase of Sorority Row at Arkansas State University is winding down, but the move-in and occupation phase is about complete!
At what was called a "showcase" event, representatives of the five sororities along with the chapter alumni advisers gathered recently with the architects, contractors, and university officials to accept ceremonial keys to the houses and take a first look at Sorority Row along Aggie Road.
The new residents of Sorority Row moved in Sunday, Aug. 11. The public ribbon-cutting and grand opening will be on Homecoming Weekend, Saturday, Oct. 12, at 11 a.m.
While thanking all those involved for their vision and dedication to completion of the project, Dr. Tim Hudson, chancellor, reminded the audience, especially the sorority members, of what the project really means.
"Thomas Aquinas once said, 'There is nothing to be treasured on earth as much as friendship,' " Dr. Hudson recalled. "So, even though we have beautiful buildings and we're here today to celebrate those beautiful buildings, I think about what's going to happen inside them and the friendships that you will make and that will sustain you and will connect you to your alma mater, Arkansas State."
Although the first campus chapter of a national Greek-letter sorority was founded at Arkansas State 65 years ago, none of the campus sororities had their own house. The university issued bonds to pay for site preparation and construction of the houses, which are leased to the various sororities.
The architectural firms who designed the project are WER of Little Rock and Brackett-Krennerich and Associates of Jonesboro. The contractor is Nabholz Construction Services, with offices in Jonesboro. Representatives from these firms attended the showcase event.
Other program participants included representatives from the Division of Student Affairs, which oversees student life activities at Arkansas State, Dr. Rick Stripling, vice chancellor, and Alexis Hurdle, assistant dean of Greek life. Martha Spack, associate dean, coordinated the event, and Beth Silverthorn, executive assistant to the vice chancellor, made special arrangements.
The five national sorority chapters that occupy the houses, the year founded at A-State, current student president, and their affiliated philanthropic focus are:
Alpha Gamma Delta, 1948 (Alpha Gam): Shelby Brooks of Benton, Juvenile Diabetes.
Alpha Omicron Pi, 1949 (AOPi): Cassie Adams of Jonesboro, Arthritis Research and American Juvenile Arthritis Organization.
Chi Omega, 1961 (Chi O): Sandy Smith of Newport, Make-A-Wish Foundation.
Delta Zeta, 1991 (Delta Zeta): Tess Wheetley of Advance, Mo., Speech and Hearing Impaired Research.
Zeta Tau Alpha, 1968, reinstalled 2012 (Zeta): Allyson Freeman of Newport, Breast Cancer Education and Awareness.
The chapters also enjoy support from volunteer alumnae advisers who work actively with the students.
Each house accommodates 20 students, who pay room and board fees just as they would do in a traditional residence hall. The fees, along with additional support for common spaces from the national chapters, pay off the construction bonds.
Room assignments are handled by the Office of Residence Life, just like other student residential facilities. A "Greek Village Assistant" employed by the university also will live in each house.
After the location for sorority row was planned along Aggie Road, representatives of the groups chose their specific lot in the order the various chapters were established on campus.
Random selection was used for choosing the exterior design and the brick for each house. The interior floor plans are uniform, but some options with interior finishes were available at an extra cost, paid by the sorority. Each house has approximately 8,050 square feet of living and meeting space.
Residents of the houses will park in a gate-controlled parking lot.
Sorority recruitment concludes with bid day, Aug. 26.
# # #