Kays Foundation Unveils New Signage at Cooper Center
06/20/2019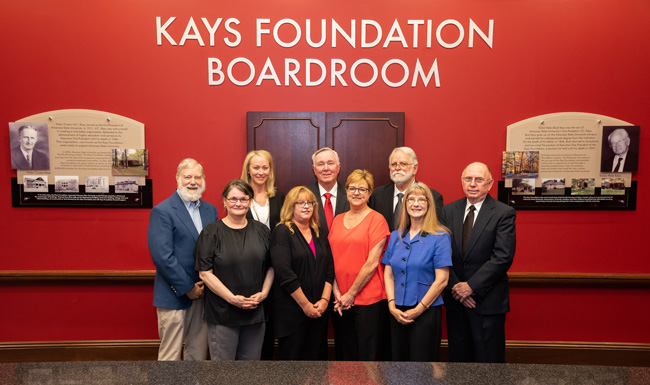 Members of the Kays Foundation board of directors and staff who gathered at the Cooper Alumni Center are (front, from left) Betty Rousey, Maxine Pruitt, Betty Ferralasco Moad and Lucinda McDaniel; (back) Richard Carvell, Sharon Bishop Phillips, Tom Bishop, Terry Carty and Leonard McDaniel.
JONESBORO – The Board of Directors of the Kays Foundation recently unveiled new signage in the Kays Foundation Boardroom at the Cooper Alumni Center on the Arkansas State University campus.
Two displays have been placed that focus on four eras of the Foundation's history, according to Lucinda McDaniel of Jonesboro, president of the Kays Foundation Board of Directors.
One board describes the creation of the Kays Foundation by V.C. Kays, who also served as the founding president of the First District Agricultural School. The school evolved into Arkansas State College in 1933 and Arkansas State University in 1967. It also documents the land and buildings the Foundation donated to the fledgling college.
The second display board depicts the faculty housing provided by the Foundation as incentive to help recruit professors to the institution, and also focuses on the current status of the Foundation as a charitable organization that supports Arkansas State University by providing competitive grants.
Photos of the Pleasance, a garden trail envisioned by long-time executive director and son of V.C. Kays, V.H. "Bud" Kays, are also included. The Pleasance is open to campus constituencies and the public by checking in at the Foundation office, 1212 University Loop East, just south of Johnson Ave.
The Kays Foundation made a $300,000 gift to the A-State Alumni Association to secure naming rights for the Kays Boardroom when the Cooper Alumni Center was built.
# # #