KASU Bluegrass Monday Series will Feature Family Group Williamson Branch
10/14/2022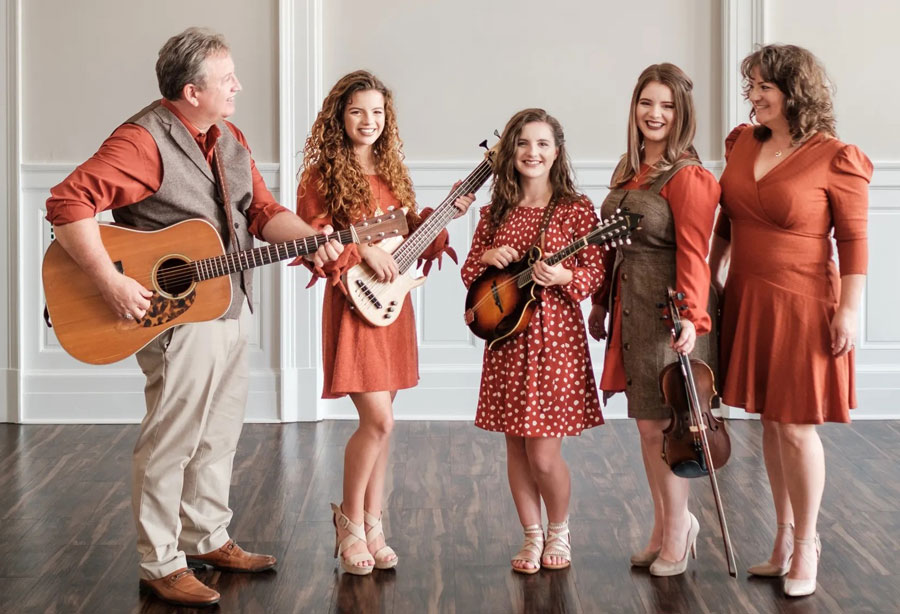 Members of Williamson Branch include (from left) Kevin Williamson, Kadence Williamson, Caroline Williamson, Melody Williamson Keyes and Debbie Williamson.
JONESBORO – Williamson Branch will perform at the next KASU-FM Bluegrass Monday concert, Monday, Oct. 24, at 7 p.m. at the Collins Theatre, 120 West Emerson Street, in downtown Paragould.
Based in Nashville, Williamson Branch is a band consisting of a mom and dad along with their three daughters. The group is a recording artist for the Pinecastle bluegrass record label.
The band members have achieved multiple #1 bluegrass music hit songs in their nine-year career as a professional ensemble. In concert, the family performs a mixture of bluegrass, gospel and country music, and the group is well-known for their high-energy, entertaining, and family-friendly shows.
At the beginning of the pandemic, when the band was unable to tour, the family began to produce daily, live, online videos. In the two years that followed, Williamson Branch gained over 400,000 Facebook followers, and their videos have been viewed over 100 million times.
Dad Kevin Williamson was introduced to bluegrass music as a youth. As a teenager, Kevin played in the bands of acclaimed bluegrass artists Glenn Duncan and Dave Evans, appearing on CDs produced by both of them. Kevin later formed the band Redwing with his father, and that group recorded and toured across North America for a decade. Kevin is also a past member of the Country Gentlemen and the Farm Hands.
Debbie Williamson comes from a musical family, but she was not introduced to bluegrass music until she met Kevin. They were married in 1991, and they formed the band Shadow Ridge. In 1996 Debbie also released a solo CD to critical acclaim.
Oldest daughter Melody Williamson Keyes first appeared onstage with her parents when she was only a toddler. Melody sings and plays fiddle in Williamson Branch, and she serves as the group's onstage emcee. In 2020, she won the International Bluegrass Music Association's (IBMA) Momentum Vocalist of the Year award, an honor given to young, rising stars who bluegrass industry leaders feel will have a long, successful and influential career.
Kadence Williamson plays bass and sings for Williamson Branch. She has participated in Tomorrow's Bluegrass Stars, which is a network of young bluegrass performers, and in the IBMA's Kids in Bluegrass program. Along with her sister Melody, she contributes original melodies to the band's repertoire.
Youngest daughter Caroline Williamson is known to "steal the show" at the band's concerts. She sings and plays fiddle, mandolin and ukulele for the band. She too is a member of Tomorrow's Bluegrass Stars. With her sisters, Caroline incorporates Appalachian clog dancing into the group's live performances.
Seating at the concert is first-come, first-served. Doors to the theatre will open at 6 p.m.
The admission fee is $10 per person, payable by cash at the door the night of the concert. Everyone aged 18 and under will be admitted free. Advance tickets can be purchased at www.kasu.org/tickets. Bluegrass Mondays are a non-profit event, and all of the ticket proceeds go to the performers.
Bluegrass Monday concerts are held on the fourth Monday night of each month. These concerts are presented with support from sponsors including the Paragould Advertising & Promotion Commission, Bibb Chiropractic Center, Gardner-Milner Law Firm, the Posey Peddler, Hyde Park Café, Holiday Inn Express and Suites of Paragould, and KASU.
KASU, the public media service of Arkansas State University broadcasts at 91.9 FM and streams on a variety of online platforms. For more details, one may contact Marty Scarbrough, KASU program director, mscarbro@astate.edu or 870-972-2367. Additional information is also available on the Bluegrass Monday Facebook page.