KASU Bluegrass Monday Concert Series to Feature Jerry Butler and Blu-J's Aug. 26
08/12/2013
JONESBORO, Ark. — Jerry Butler and the Blu-J's will perform a concert of traditional bluegrass and bluegrass-gospel music on Monday, Aug. 26, at 7 p.m. at the Collins Theatre, 120 West Emerson Street, in downtown Paragould, Ark. The concert is part of the Bluegrass Monday concert series presented by KASU 91.9 FM.
KASU will literally "pass the hat" to collect money to pay the group. The suggested donation is $5 per person.
Butler was raised in East Tennessee where he still makes his home, and has been playing in bluegrass bands for nearly four decades. He started his first band at age 12. He has been the lead singer and guitarist for numerous groups including Pine Mountain Railroad, Lorraine Jordan's Carolina Road, Lynwood Lunceford's Misty Valley Boys and the Joe Isaacs Band.
He formed his current group, the Blu-J's, five years ago. The band performs at churches, festivals and bluegrass venues throughout the United States and Canada. They are currently on tour in support of their latest, all-bluegrass-gospel CD entitled, "One Day."
While a member of Pine Mountain Railroad, Butler was lead vocalist on the recording of the song "Beyond The Rain," which was named Bluegrass Gospel Song of the Year by Gospel Singing News magazine.
Butler sings and plays guitar and his band features banjo player Derek Vaden, bassist Lee Chapman and mandolin player Barron Rogers.
In addition to the concert, Terry's Café, 201 South Pruett Street in Paragould, one block to the east of the Collins Theatre, opens on Bluegrass Monday nights and offers a gathering place for bluegrass music fans prior to the concerts. The café serves a buffet meal beginning at 4:30 p.m. on the evenings of Bluegrass Monday concerts. Concessions are also available at the Collins Theatre. Seating at the Collins Theatre is limited, and seats will be available on a first-come, first-served basis.
Bluegrass Monday concerts are held on the fourth Monday night of each month. These non-profit concerts are presented with support from Backbeat Music, Bibb Chiropractic, the Posey Peddler, the Northeast Arkansas Bluegrass Association and KASU.
KASU, 91.9 FM, is the 100,000-watt public broadcasting service of Arkansas State University in Jonesboro. For more information, contact KASU Program Director Marty Scarbrough at mscarbro@astate.edu or 870-972-2367. Bluegrass Monday is also on Facebook (search "Bluegrass Monday").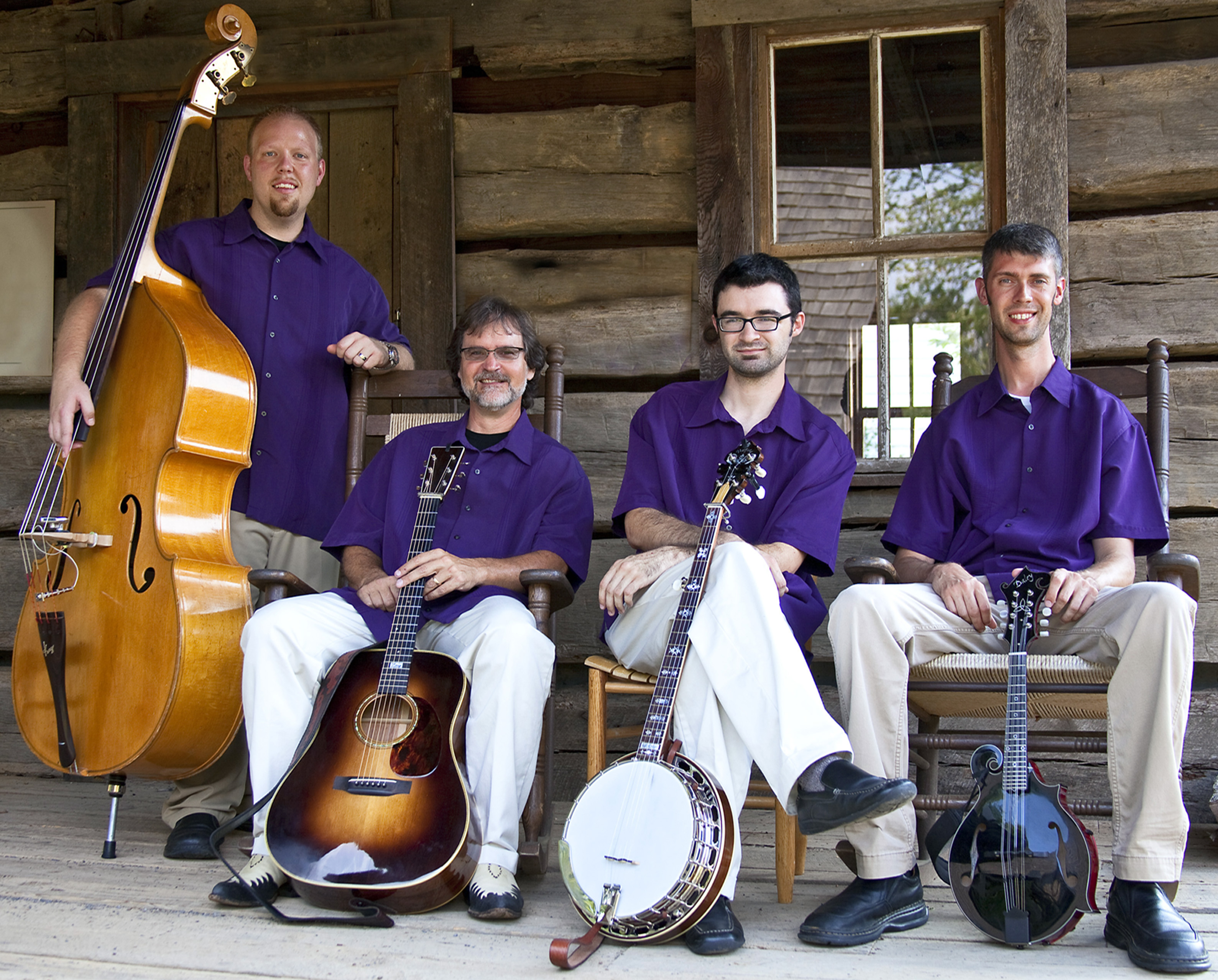 Jerry Butler and the Blu-J's (left to right) Lee Chapman, Jerry Butler, Derek Vaden, Barron Rogers