Inaugural Gonzalez Award Presented to Electrical Engineering Grad at Campus Queretaro
08/11/2021
QUERETARO, MEXICO — Among those with a vision for the first American-style university in Mexico, businessman and entrepreneur Ricardo Gonzalez provided leadership for the campus development in its most crucial early stages.
Like R.E.L. Wilson and his 1930s-era contributions to the blossoming Arkansas State College, in Jonesboro, Gonzalez provided extraordinary support to make the dream in Queretaro a reality.
During the first commencement at A-State Campus Queretaro Saturday, Chancellor Kelly Damphousse announced the creation of the Ricardo Gonzalez Award, designated for the most outstanding graduating student.
"When we opened the campus four years ago, we acknowledged that without the vision and investment of Ricardo Gonzalez, this endeavor would not have gotten off the ground. His commitment to creating something revolutionary for his country was the same shared by R.E.L. Wilson for Arkansas State during our early years," according to Chancellor Damphousse.
"Without his critical investment in A-State, Wilson Hall and what we have become today would not have been possible. For almost eight decades, we have marked that commitment by honoring our top senior with the Wilson Award in Jonesboro, and it only seemed fitting to create a similar Gonzalez Award for the top graduate from Campus Queretaro."
Kevin Ludwin Ramirez Chavez of Celaya, who completed his bachelor's degree in electrical engineering, received the award. He also was valedictorian of the institution's first graduating class and graduated summa cum laude.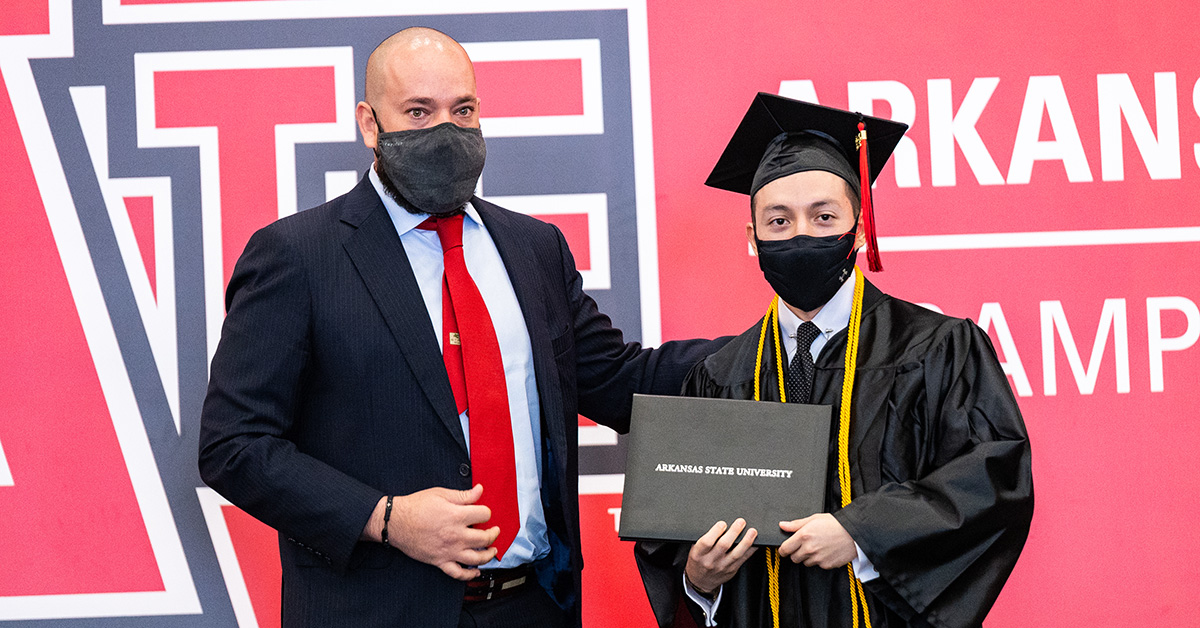 Gonzalez himself attended the commencement to congratulate the first recipient of the award that bears his name and likeness.
Chancellor Damphousse added, "I enjoyed getting to know Kevin before the commencement ceremony. He is a remarkable young man, and he is very deserving to be chosen as the inaugural Gonzalez Award winner. Not only is Kevin the class valedictorian with a 4.00 GPA in electrical engineering, he has also been accepted into graduate school here in the United States at Drexel University."
Prospective students can learn more about Campus Queretaro online, at AState.mx.