Graduate Spotlight: Carli Weathers
05/21/2015
The Spring 2015 commencement was particularly important to graduate Carli Weathers, great-granddaughter of Carl R. Reng. Not only is she building the foundation for a fulfilling career, she is continuing her family's legacy at Arkansas State.
Spring 2015 Commencement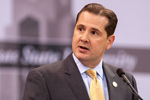 Chris Masingill, federal co-chairman of the Delta Regional Authority, today commended members of Arkansas State University's spring graduating class for overcoming their challenges of life and completing a university education.
Watch the ceremonies >>