Gary Brewer & the Kentucky Ramblers to perform at KASU's Bluegrass Monday
06/20/2022
JONESBORO – Gary Brewer and the Kentucky Ramblers will perform at the next KASU-FM Bluegrass Monday concert. The show will be at 7 p.m. Monday, June 27, at the Collins Theatre, 120 West Emerson Street, in downtown Paragould.
KASU, the public media service of Arkansas State University, broadcasts at 91.9 FM and streams on a variety of online platforms.
Brewer formed the Kentucky Ramblers in 1980 when he was only a teenager. He recorded 29 studio albums for a variety of record labels before establishing his own label, Stretch Grass Music, and producing an additional 21 albums. His most recent CD, 40th Anniversary Celebration, spent 16 weeks at the number one position on Billboard Magazine's bluegrass album sales chart, becoming the third-best-selling bluegrass CD of 2021.
In his career, Brewer has recorded with major bluegrass artists including Bill Monroe, J.D. Crowe, Doyle Lawson, Russell Moore, Sam Bush, and Ralph Stanley II. He has performed in all 50 states, in 19 countries, at the Grand Ole Opry, at the Lincoln Center in New York City, and at numerous noteworthy bluegrass festivals and venues.
Brewer is part of a family whose musical heritage crosses six generations, stretching back to the 1920s. Gary Brewer sings lead vocals and plays both lead guitar and old-time banjo in his band, the Kentucky Ramblers. Two of Gary Brewer's adult sons perform in the band: Wayne, who sings, plays fiddle and plays upright bass, along with Mason who sings, plays mandolin and also plays upright bass. Banjo player Cody Pearman is also a featured member of the band.
In addition to bluegrass music, Brewer and his band perform country music, gospel music and old-time music. More details about the group can be found at www.brewgrass.com.
The admission fee is $10 per person, payable by cash at the door the night of the concert. Everyone aged 18 and under will be admitted free. Advance tickets can be purchased at www.kasu.org/tickets.
Bluegrass Monday concerts are held on the fourth Monday night of each month (with an exception in July 2022 due to the Big Grass Bluegrass Festival being held at the Collins Theatre July 21-23). These concerts are presented with support from sponsors including the Paragould Advertising & Promotion Commission, Bibb Chiropractic Center, Gardner-Milner Law Firm, the Posey Peddler, Hyde Park Café, Holiday Inn Express and Suites of Paragould, and KASU.
For more information, contact KASU Program Director Marty Scarbrough at mscarbro@AState.edu or 870-972-2367. Additional information is also available on the Bluegrass Monday Facebook page.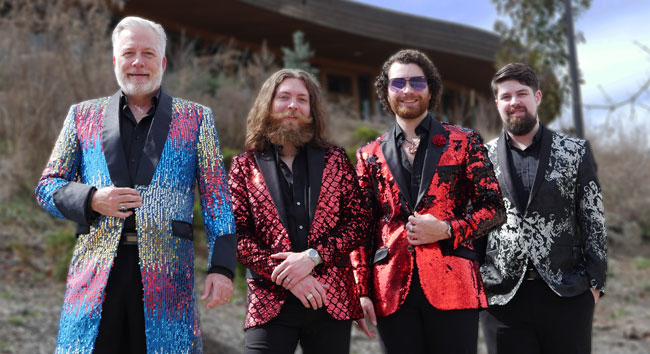 Group members are (from left) Gary Brewer, Wayne Brewer, Mason Brewer and Cody Pearman