Four to Be Inducted Into 2019 ROTC Hall of Heroes
11/07/2019
JONESBORO – Four alumni of Arkansas State University's Reserve Officers' Training Corps (ROTC) program will be inducted into the prestigious Hall of Heroes in a special induction ceremony Saturday, Nov. 16, and recognized at halftime of A-State's football game with Coastal Carolina.
The inductees are Brig. Gen. Bradley J. Cox of Jacksonville, Brig. Gen. Kevin L. Vines of Sherwood, 1st Lt. Charles B. Hinson of Jonesboro (deceased) and Lt. Commander Peter C. Carrothers of Sugar Land, Texas.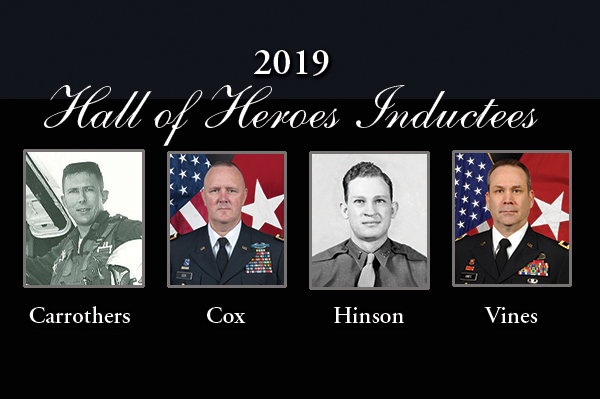 Following a reception at 8:30 a.m. in the Military Science building that includes a tour of facilities and the Hall of Heroes, the induction ceremony will be held at 10:30 a.m. at the Cooper Alumni Center. The honorees will then attend a tailgate party in the Pines until game time at 2 p.m. in Centennial Bank Stadium.
Brig. Gen. Bradley Cox was born in Jonesboro and graduated from Jacksonville High School in Jacksonville in 1987 and earned a bachelor's degree in business administration from Arkansas State in 1991. He earned a master's degree in operations management from the University of Arkansas in 1998 and a master's degree in strategic studies from the U.S. Army War College in 2012.
He enlisted in November 1988 serving with HHC 1-114 aviation battalion and was commissioned a second lieutenant of infantry upon graduation from the Reserve Officer Training Corps program at A-State on July 12, 1991. After completing the infantry officers basic course at Fort Benning, Ga., he served as a platoon leader in Delta Company, 1-153 Infantry.
Cox served in several positions within the 39th Infantry Brigade including Commander of Bravo Company, 1-153, Operations Officer 39th BSB, Brigade Assistant S3, Brigade Intelligence Officer, Commander 1-153 Infantry and Commander 39th Infantry Brigade Combat Team. His headquarters assignments include environmental manager, comptroller, United States property and fiscal officer, National Guard Bureau and Construction and Facilities management officer. Cox currently serves as the land component commander, Arkansas National Guard.
His military education includes infantry officers basic and advanced courses, combined arms services staff school, support operations course, command and general staff officers course, U.S. Army War College, joint commander training course and dual status commanders orientation course.
His military awards and decorations include the Combat Infantryman's Badge, Defense Superior Service Medal, Bronze Star Medal with Oak Leaf Cluster, Meritorious Service Medal with four Oak Leaf Clusters, Army Commendation Medal with three Oak Leaf Clusters, Army Achievement Medal with one Oak Leaf Cluster, Global War on Terrorism Service Medal, Iraqi Campaign Medal, Global War on Terrorism Expeditionary Medal, and the Humanitarian Service Medal.
Brigadier General Cox lives in Jacksonville with his wife, the former Melissa Priest of Jacksonville. They have two daughters, Allison Heffington and her husband Austin and Jordan Cox.
Brig. Gen. Kevin L. Vines began his military career in 1989 when he enlisted as a combat engineer in A CO, 875th Engineer Battalion. He is a 1991 distinguished military graduate from Arkansas State's Reserve Officer Training Corps. He completed the engineer officer basic course and was assigned to the 1st Cavalry Division, Fort Hood, Texas, where he served as an engineer platoon leader and company executive officer in the 91st Engineer Battalion.
Vines was appointed an infantry officer upon joining the Arkansas Army National Guard in 1995 and served in various positions in the 39th Infantry Brigade. These included Platoon Leader, D CO, 2-153 IN, Platoon Leader, B CO, 2-153 IN, Support Platoon Leader, HHC, 1-153 IN, S2, 1-153 IN and Commander, HHC, 1-153 Infantry Battalion.
He rejoined the Engineer Corps when he transferred to the 875th Engineer Battalion in 2000. He has served in various engineer officer positions to include Battalion S2, Battalion Operations Officer and Battalion S3. He served as the 875th Engineer Battalion's Executive Officer during Operation Iraqi Freedom 2006-08 and commanded the battalion from March 2011 to September 2013.
Vines also served as the Brigade S1 and the Brigade Executive Officer for the 87th Troop Command. He has served in various full-time staff positions including; Battalion and Brigade Administrative Officer, Department of Military Support Operations Officer, Deputy G1, Deputy Human Resources Officer (HRO), the HRO and the Chief of Staff for the Arkansas Army National Guard. He currently serves as the Director of the Joint Staff for the Arkansas National Guard.
Vines is a 2016 U.S. Army War College distinguished graduate. He holds a Master of Science degree in strategic studies from the U.S. Army War College, a Master of Science degree in operations management from the University of Arkansas, and a Bachelor of Science degree in finance from Arkansas State.
He has received numerous awards and decorations including the Legion of Merit, the Bronze Star Medal, the Meritorious Service Medal with 1 Silver Oak Leaf Cluster, the Army Commendation Medal with two Bronze Oak Leaf Clusters, the Army Achievement Medal with one Bronze Oak Leaf Cluster, the Arkansas Distinguished Service Medal, the Combat Action Badge and the Parachutist Badge. BG Vines has also been awarded the Army Engineer Association's Bronze Order of the de Fleury Medal.
Vines and his wife, Kim, live in Sherwood.
1st Lt. Charles B. Hinson was born in Black Oak in 1923. He graduated from Jonesboro High School and was a veteran of World War II for 35 months as a dental technician in Europe. After returning home from WWII, Lt. Hinson attended Arkansas State College and graduated as a Distinguished Military Student in the spring of 1948 with a bachelor's degree in business administration and commissioned as a second lieutenant in the U.S. Army, branched Infantry.
Upon commissioning, Lt. Hinson immediately reported for service at Ft. Sill, Okla., followed by training at Ft. Bliss, Texas, where he completed a six-month course in field artillery tactics. Later Lt. Hinson was stationed in Hawaii, deploying to Korea in July 1950 where he served with the famed 5th Infantry Regiment as a member 555th Field Artillery Battalion (triple nickel).
On Aug. 9, 1950, Lt. Hinson was awarded the Silver Star for gallantry in action and valor in the face of the enemy. His battery took lethal and accurate enemy indirect fire killing all other officers and the first sergeant. Hinson was making a report in the area and immediately took command of the battery. He ordered the displacement of the men and reorganized and restructured the remaining forces so they could continue to fight. The valorous and inspiring leadership and initiative by which he prevented further casualties in the unit reflect his greatness in leadership.
Three days after Lt. Hinson received his Silver Star, he was killed in action while fighting the enemy near Pongam-ni (Bloody Gulch), South Korea, on Aug. 12, 1950. Second Lieutenant Hinson was awarded the Silver Star, the Purple Heart, the Korean Service Medal, the United Nations Service Medal, the Korean Presidential Unit Citation and the Republic of Korea War Service Medal.
Lieutenant Commander (LCDR) Peter Carrothers was born in Des Moines, Iowa, but grew up in Jonesboro as the son of Dr. and Mrs. Chester C. Carrothers. LCDR Carrothers graduated from Jonesboro High in 1957 and attended Arkansas State for two years (1957-59) and was a member of the ROTC, Pershing Rifles, recognized as the outstanding sophomore cadet and a member of the Pi Kappa Alpha Fraternity.
He entered the U. S. Naval Academy in 1959, graduating with a Bachelor of Science in 1963, commissioned an Ensign and earned his Naval Flight Officer wings in 1964. LCDR Carrothers deployed on the U.S.S Enterprise flying the RA5C Vigilante, a supersonic high-altitude reconnaissance aircraft flying 66 reconnaissance missions over North Vietnam. LCDR Carrothers was honorably discharged from the Navy on Jan. 24, 1969, and his awards include the Distinguished Flying Cross, the Navy Commendation Medal, and three Air Medals with Combat V.
After the Navy, Carrothers worked for Procter and Gamble for five years and then 21 years with Frito Lay as Vice President of Product Supply and later as Vice President of Logistics while also earning his executive MBA from Dartmouth. He spent his last seven years before retirement serving as the managing director of Imperial Sugar Company in Sugar Land, Texas.
Since retiring in 2001, Carrothers has served three terms as city councilman and one term on the Mustang Water Board. He has been married to the former Nancy Drake Pitcher of Baton Rouge, La., since 1963 and they have two daughters.
The Hall of Heroes provides an opportunity for Arkansas State University to pay tribute to ROTC alumni who have distinguished themselves through heroic service, government service and outstanding representation of the university. The list of members can be found on the A-State website at military-science/hall-of-heroes.