Faculty Achievement Awards for 2015-16 Presented at Convocation of Scholars Ceremony
04/12/2016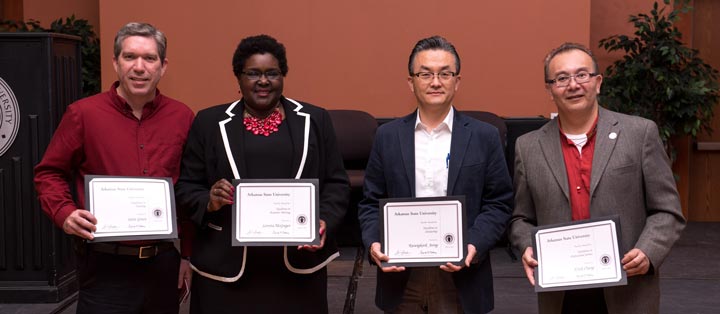 Steven Green, Loretta McGregor, Kwangkook Jeong and Erick Chang
JONESBORO – Four faculty members at Arkansas State University were recognized today as recipients of the Faculty Achievement Awards for 2015-16: Dr. Erick Chang, Dr. Steven Green, Dr. Kwangkook (David) Jeong and Dr. Loretta McGregor.
The awards were presented during the 38th annual Convocation of Scholars to recognize outstanding professional achievement in the categories of scholarship, professional service, teaching and advising.
"Each year we take time to honor the work of our outstanding students across our campus, but we'd be remiss if we didn't also recognize the intellectual leadership of our faculty that makes possible the success of our students," commented Dr. Lynita Cooksey, provost and vice chancellor for Academic Affairs.
Chancellor Tim Hudson also commended the recipients, noting the faculty's crucial role in achieving the institution's highest priority, the students' education. He added, "It is particularly appropriate during the Convocation of Scholars to pause and celebrate the achievements of our faculty members. They are the heart of a university and instrumental to achieving our mission of educating leaders, enhancing intellectual growth and enriching lives."
Excellence in Professional Service
Dr. Erick Chang, associate professor of management, received the Faculty Award for Excellence in Professional Service. Chang, who is chair of the entrepreneurship committee of the College of Business, organized the A-State business plan competition. As faculty resident of the Honors Living and Learning Community, he interacts daily with Honors program students. He participated in the Honors study tour of World War II in Europe and serves as faculty adviser for student teams in the Donald W. Reynolds Governors Cup competition. He completed his doctoral degree at Mississippi State University and joined A-State's faculty in 2007.
Excellence in Teaching
Dr. Steven Green, professor of soil and water conservation, received the Faculty Award for Excellence in Teaching. In the nomination, Green's students said he is always well prepared for class, he returns graded work quickly, and he is very helpful to those who need special assistance. He constantly ask questions to encourage students to think for themselves, and has been recognized for developing innovative teaching methodology. A faculty member at A-State since 2006, he completed his doctoral degree at Purdue University.
Excellence in Scholarship
Dr. Kwangkook (David) Jeong, associate professor of mechanical engineering, is recipient of the Faculty Award for Excellence in Scholarship. Jeong, who co-authored two peer-reviewed journal articles this year, was cited for including undergraduate engineering students in his research. He received a total of $1.22 million in new research funding this year, all as principal investigator, and he continued work on four other externally funded grants. A faculty member since 2010, he completed his doctoral degree at Lehigh University.
Excellence in Advising
Dr. Loretta McGregor, professor of psychology, was recognized as recipient of the Faculty Award for Excellence in Academic Advising. McGregor was recognized for her work with students. She requires her advisees to update their plan of action every semester, and she also advises them on graduate school requirements. She does not stop at commencement; she advises students on job interview expectations and provides tips on surviving the first year of employment. McGregor, who joined the faculty in 2005, completed her doctoral degree at Wichita State University.
# # #