Engineering Students Win 4th Straight Time at Deep South
03/14/2016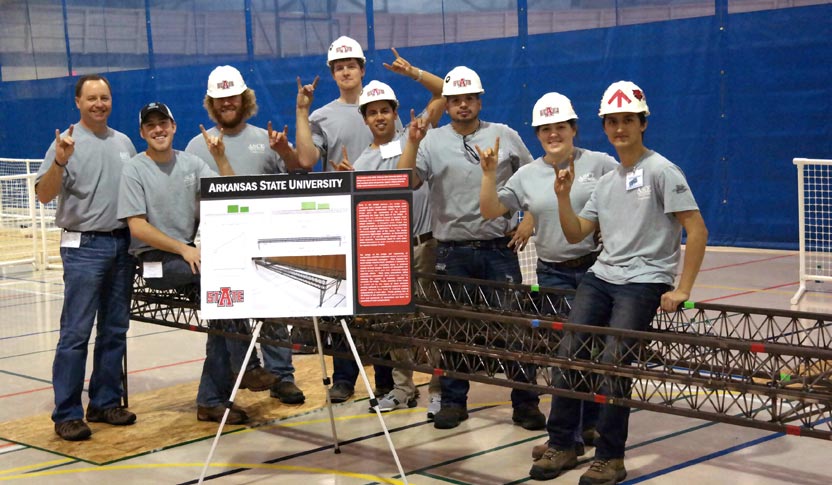 The Deep South winning steel bridge team includes (from left) Jason Stewart, faculty adviser, Carter Andrews of Little Rock, Thad LyBrand of Charleston, Hunter Eastman of Redfield (team co-captain), Eric Zuniga of Dallas, David Rodriguez of Cleveland, Texas, Megan Land of Vilonia and Hunter Egan of Pocahontas (captain).
JONESBORO – For the fourth consecutive year, a team of civil engineering students from Arkansas State University was overall winner in steel bridge construction at their regional competition, earning a trip to the national championship.
The annual Deep South competition, held this year at Lake Charles, La., pits engineering students from American Society of Civil Engineers (ASCE) student chapters in Arkansas, Louisiana, Mississippi and Tennessee.
They also took first place in the concrete bowling ball competition, second place overall in surveying and third place overall in concrete canoe.
For their outstanding efforts, the steel bridge team will compete at the national championship, which will be in late May at Brigham Young University. The contest is sponsored by the American Institute of Steel Construction and ASCE.
"Congratulations to the civil engineering faculty and the students who made this happen," said Dr. Paul Mixon, interim dean of engineering.
Hunter Egan of Pocahontas, a junior civil engineering major, served as captain of this year's team, which also captured first place in the sub-categories of economy, lightness and construction speed.
"Winning was definitely a relief," he said with a smile. "There's lots of stress in the competition. It was very rewarding to see our hard work and many late nights of preparation pay off for us and for Arkansas State. We are very proud to win for our university."
Team co-captain Hunter Eastman of Redfield said they knew A-State had developed a reputation for speed when a crowd formed to watch them assemble their bridge.
"Everything we do is planned and calculated very carefully for the best results," Eastman added. The team's construction time of nine minutes, 19 seconds, was less than half the time spent by the next closest team.
Jason Stewart, instructor of civil engineering and director of the civil engineering program, is faculty adviser to the ASCE students.
"I couldn't be more proud of our student ASCE chapter at A-State. Our civil engineering students take the rules and requirements for each of these competitions, determine who can participate in the different events and categories within the events, and follow through as required at the competitions," Stewart said. "Our students not only learn project and human-resource management skills, but they also demonstrate the principles learned in our engineering curriculum. They represented A-State and the College of Engineering in a very positive way, and they deserve much praise for their efforts, attitudes and abilities."
Taylor McBride of Waukegan, Ill,, was captain of the concrete bowling ball team, and Robert Darrington of Sherwood was in charge of the mix. Eric Zuniga of Dallas and Carter Andrews of Little Rock also were bowlers.
A-State also won second place overall in the surveying competition. Team members are Darrington, Bobby Meier of Pocahontas and Kevin Johnson of Fountain Lake.
In addition to A-State, the schools competing in Deep South events this year included Memphis, Mississippi State, Ole Miss, LSU, New Orleans, Louisiana-Lafayette, Tennessee-Martin, Christian Brothers, UALR, Jackson State, Southern and McNeese.
More from the bridge team
We met with members or last year's Bridge Team to discuss their regional competition and their expectations for the nationals.