Engineering Graduate is 2022 Recipient of Ricardo Gonzalez Award at Campus CQ
06/20/2022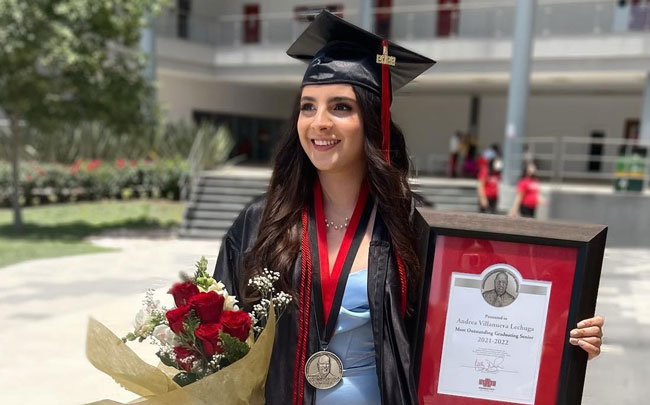 Andrea Villanueva Lechuga, winner of the 2022 Ricardo Gonzalez Award at Arkansas State University Campus Querétaro.
JONESBORO – The 2022 recipient of the highest award to a graduating student at Arkansas State University Campus Querétaro (CQ) is Andrea Villanueva Lechuga. She received the Ricardo Gonzalez Award, designated for the most outstanding graduating student at CQ, during the recent A-State CQ commencement ceremony.
Villanueva earned a bachelor's degree in mechanical engineering. Her future plans are to continue developing her professional career through participation in the Edison Program conducted by General Electric.
A Chancellor's List student for seven semesters, Villanueva attended A-State CQ with a full scholarship provided by American Industries, a private Mexican company. She supplemented her classroom experience through an internship and apprenticeship in heavy duty gas turbine load coupling with General Electric.
Villanueva was on the CQ Wolves Racing team, which contributed to development of a Formula-type vehicle for SAE Mexico, and helped develop the business case in support of the project. Her civic work includes founding Creciéndonos, a non-profit that assists residents, especially children, in poor communities.
Ricardo Gonzalez, a businessman and entrepreneur, was among those with a vision for the first American-style university in Mexico. He provided leadership for the campus development in its most crucial early stages. Like R.E.L. Wilson and his 1930s-era contributions to the blossoming Arkansas State College in Jonesboro, Gonzalez provided extraordinary support to make the campus in Querétaro a reality.
Prospective students can learn more about Campus Queretaro online, at AState.mx.