Educators from Northeast Arkansas Look at P-20 Agenda during Town Hall meeting at A-State
02/25/2014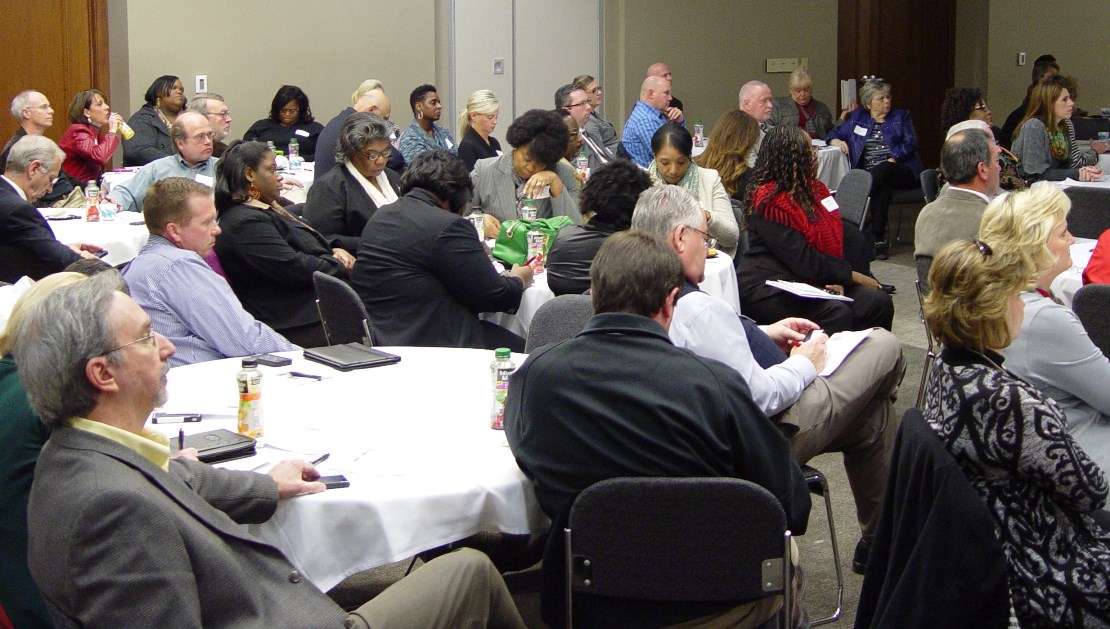 Educators from Northeast Arkansas filled the ballroom at Cooper Alumni Center this morning
for the "Northeast Arkansas Regional P-20 Town Hall" meeting.
JONESBORO – Educators from throughout Northeast Arkansas gathered at Arkansas State University this morning for a "Regional P-20 Town Hall" meeting.
The meeting is jointly presented by the Crowley's Ridge, Great Rivers, and Northeast Arkansas Educational Service Cooperatives, along with the state Department of Education, state Department of Higher Education, Arkansas State University's College of Education and Behavioral Science, and the Education Renewal Zone (ERZ) at A-State.
Dr. Tom Kimbrell, commissioner of Arkansas Department of Education, and Shane Broadway, director of the Arkansas Department of Higher Education, initiated plans for the meeting. Their announced goal was to involve the major providers and stakeholders of educational services, levels P-20, in conversations regarding how to improve the transitions of pre-kindergarten through post-graduate students.
Some of the discussion topics on the agenda included:
What aspects of P-20 education in Arkansas are working well?
Common Core State Standards
Professional Development
P-20 Collaborations
What are the primary challenges facing P-20 education in Arkansas?
Each participating school district sent teams of three to five people. In addition, representatives from many area colleges, vocational schools and universities, as well as business, industry, community leaders and elected officials were invited to attend.
For additional information about the town hall meeting, interested individuals may contact Dr. Rick Hux, rhux@astate.edu, director of the Education Renewal Zone (ERZ) at Arkansas State.
# # #