DNSPE 22 Printmaking Symposium Features Three Artists
02/09/2018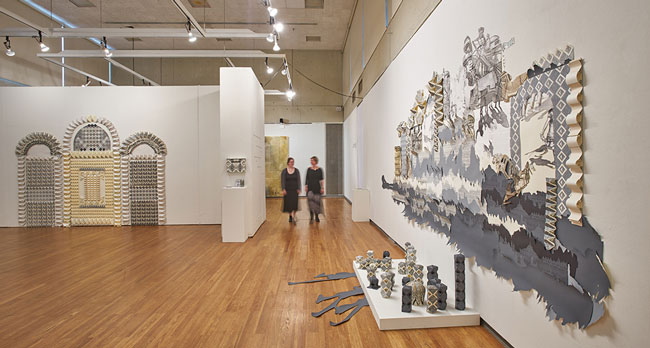 Exhibition by Tatiana Potts
JONESBORO – The Arkansas State University Department of Art and Design printmakers will host a Printmaking Symposium celebrating the 22nd anniversary of the Delta National Small Prints Exhibition (DNSPE) on Friday, Feb. 16, from 9 a.m. until 5 p.m.
The symposium will be in Room 108 of the Fine Arts Center (GPS 2412 Quapaw Way). Admission is free.
A-State printmakers will welcome artists Travis Janssen, Tatiana Potts and Marilee Salvator along with students from Lyon College, Southeast Missouri State University, Western Kentucky University and Arkansas State.
The day will begin with demonstrations by Potts and Salvator. Potts will move participants off the flat surface with her book and folding techniques. Salvator will demonstrate monoprinting using mixed media, an example of which is currently on view in the DNSPE exhibition at Bradbury Art Museum. It received the Chancellor's Purchase Prize.
Janssen will give an artist's lecture about his artwork in print and video. After a break for lunch, the day will continue with a series of short artist's talks by students from Lyon College, Southeast Missouri State University and Western Kentucky University.
An open portfolio and swap will follow. The day will conclude with a special viewing of the DNSPE.
Janssen received an MFA in printmaking from Arizona State University in 2007 and a BFA from the University of Wisconsin, Madison in 2000. His current creative practice, based in Carbondale, Ill., often focuses on bridging the gap between contemporary and historic methods of printmaking as well as forays into video and installation art mediums. He teaches printmaking and 2-D foundations at Southern Illinois University.
Salvator received her BFA from Illinois State University in 2000 and her MFA degree from University of New Mexico in 2004. After teaching at U.S. and Canadian universities, she recently moved to Bowling Green, Ky., where she is an assistant professor at Western Kentucky University, teaching printmaking and design.
Potts, a native of Slovakia, has been living in the USA for the past 15 years. Her series "Tajtania" continues the work from her recent MFA degree from the University of Tennessee. Portions from this series are currently on view at the Mead Art Museum at Amherst College and the Bagwell Center for Media and Art Gallery at Pellissippi State Community College.
# # #