'Delta Symposium XX: Diversities in the Delta' Features Noted Panelists and Musicians, April 2-5
02/27/2014
JONESBORO – One of Arkansas State University's premier events each year, the Delta Symposium, will begin Wednesday, April 2, and continue through Saturday, April 5.
With a theme of "Diversities in the Delta," the 20th annual conference will bring scholars, students, musicians, and artists from across the nation to the A-State campus to explore and experience the Delta's history and culture, according to Dr. Gregory Hansen, co-chair of the Delta Symposium Committee.
Admission to the four-day symposium, packed with interesting speakers, panelists and entertainers, is free. The public is welcome to all sessions, Hansen added.
The symposium is sponsored by A-State's Department of English and Philosophy with additional support from KASU-FM, other campus units and a grant from the National Endowment for the Arts. Most sessions will be in the Mockingbird Room on the third floor of A‑State's Carl R. Reng Student Union, 101 North Caraway Road, and the Roots Music Festival on the final day will be at Jonesboro's City Water and Light Park.
The complete schedule of Delta Symposium events is available at http://altweb.astate.edu/blues.
Wednesday, April 2: Forum, Legends and Music Showcase
The symposium will commence at 12 noon on Wednesday, April 2, with a forum called "Conversations from the Delta." The university's Multicultural Center will host a forum designed to open a dialogue on the variety of people and cultural traditions of the region. "Arkansas Roots Music and its Diverse Branches" will follow this activity with a presentation on musical history within Arkansas.
At 4:30, "Diverse Legends and the Contributions to Arkansas State University" will culminate the afternoon activities with tributes to important contributions made by individuals who have been long-standing members of the university community.
Wednesday evening concludes with the Delta Symposium's first musical performance. A "Blues and Roots Music Showcase" event will be held in downtown Jonesboro at The Arts @ 311, 311 S. Church St., at 7:30 p.m. Local musicians will perform in a showcase style that highlights the excellence and variety of musicians in the Jonesboro community. Some of the musicians will also be featured in other events throughout the symposium.
Thursday, April 3: Panels, Keynote, and Performance
Thursday's events begin at 8 a.m. with a session on music, architecture and food in Arkansas. Next is a panel session on diversity within Southern writing. Authors and scholars, Claudia I. H. Drieling, Jason Barrett-Fox, Adam Long, and C. D. Mitchell will present their research and writing on a range of Southern writers including Gloria Naylor, William Faulkner and Flannery O'Connor.
At 12, Guy Lancaster of the Encyclopedia of Arkansas will coordinate a panel that reflects on the various representations of diversity within Arkansas. At the completion of this panel, diversity in the broader Southern region is explored in a panel that begins at 2. James Baird, Amy and Kelby Ouchley, and Susan Probasco will explore diverse topics including music, ecology and historical memory in the Delta.
The Delta Symposium will host its keynote speaker at 4 p.m. in the Student Union's Mockingbird Room. Professor Adam Gussow of the University of Mississippi will give an address on the history and culture of blues music. Gussow is the author of numerous books and articles on blues, and he performs as a harmonica player with the blues duo "The Blues Doctors."
Thursday's activities conclude with another featured presentation. Performance artist Terri Galloway will create a presentation that focuses on diversity and disability studies. She will stage her one-woman show at 7 in the Reng Student Union Auditorium.
Friday, April 4: Performance/Lecture, Acclaimed Film, Poetry Reading
Friday, April 4, begins with a panel session at 9:15 a.m. Arkansas writer Janis F. Kearney will participate in a session on Delta memoirs with Sheilah Hamilton Pantin. The focus will be on the place of life histories within the region. Kearney will provide special focus on the memoir of her centenarian father, and Hamilton Pantin will discuss the autobiography of Mary Hamilton – her great-granddaughter and author of "The Trials of the Earth."
Kyle James, a teacher in Helena, will bring his student in for a special presentation at 10:45 on "Teach for America." This session looks at diversity within education and provides high schools students opportunities to share their perspectives on education in the Delta.
At noon, award-winning author and musician Stephen Wade will combine musical performance with a lecture on his new book, "The Beautiful Music All Around Us." The session will take place in the Mockingbird Room and will provide special focus on the musical traditions documented in the Arkansas and Mississippi Deltas.
At 1:15, a featured panel called "Diversities in Blues Music" will explore the vibrancy and diversity of this iconic Delta tradition. Professor Alan Brown will give a profile of bluesman R. L. Burnside. Dr. Mitsutoshi Inaba of Eugene, Ore., will make a presentation on bluesman Otis Redding. Professor Andrew Scheiber of the University of St. Thomas will focus on Mose Allison, and Dr. Liz Wilkinson, also of University of St. Thomas, will look at Native American influences on blues.
A unique event for this year's Delta Symposium begins at 3:45. The director of the Center for Southern Folklore, Judy Peiser, will screen her widely acclaimed film "All Day and All Night: Memories of Beale Street Musicians."
Friday's activities conclude with a reading by another noted poet, Professor Yusef Komunyakaa of New York University. He will be reading from his work during a 5 p.m. session at Wilson Hall auditorium. Komunyakaa is a highly revered poet who has won numerous major poetry awards and is widely studied in poetry and literature classes around the world.
Saturday, April 5: Architectural Walking Tour, Roots Music Festival
Saturday's events will be in Jonesboro's West End neighborhood. At 10 a.m., the Symposium literally moves through the city of Jonesboro. Jonesboro architects and design professionals will lead an architectural walking tour of the historic West End neighborhood. Libii Fairhead, Jim Little, and John Mixon will meet those who wish to go on the tour at the Craighead County Courthouse. They will show how the buildings reflect the history and culture of Jonesboro, and they'll invite participants to ask questions about the unique qualities of the city's built environment. The tour will conclude at 11:30.
On Saturday afternoon, the symposium will conclude with the "Delta Roots Music Festival." This outdoor event will feature roots music in a range of genres at Jonesboro's City Water and Light Park. The event begins at 12 with a Blues and Roots Music Showcase presentation of local talent. The main acts scheduled to appear throughout the afternoon begin with the United Voices Gospel Choir of Arkansas State University. To celebrate 20 years of the Delta Symposium, long-time presenters and friends of the symposium will play in a musical showcase that begins at 1:30. Featured musicians include the Blues Doctors, David Evans, Wilkson James, Stephen Wade, and Mitsutoshi Inaba and the Delta Symposium jam band.
The eclectic Arkansas group, Justin Heskett Band, will perform rockabilly, country, and rock 'n' roll at 4. They'll be followed by renowned bluesman and recording artist John Hammond, who is performing will support from the A-State Lecture-Concert Series.
The park is located at the intersection of Culberhouse and Cherry Streets, and admission is free. The festival is co-sponsored by the West End Neighborhood Association with support from KASU, the Arkansas Arts Council and the National Endowment for the Arts. In case of rain, Saturday's events will be moved to the Reng Student Union Auditorium.
Delta Blues Symposium XX is sponsored by the Department of English and Philosophy. For further information, one may contact the department at (870) 972-3043 or visit the Web site http://altweb.astate.edu/blues/ or the Delta Symposium's Facebook page.
For more information, one may contact Dr. Gregory Hansen, Department of English and Philosophy, co-chair, Symposium Committee, at (870) 972-3043, or e-mail him at ghansen@astate.edu.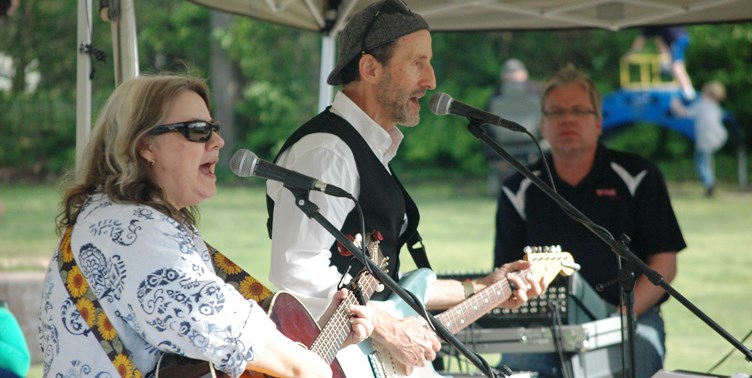 Roots Music Festival, Delta Symposium XIX