Concrete Canoe Team Prepares for National Competition
06/01/2021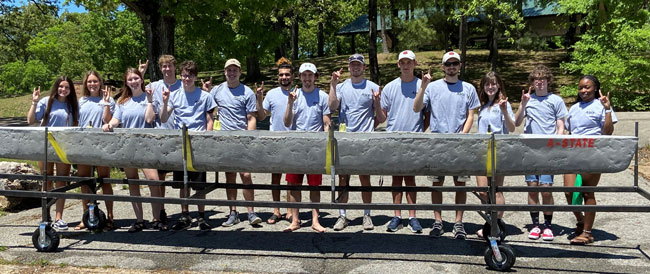 A-State's concrete canoe competition team includes (from left) McKenzie Cornell of Wrightwood, Calif., Emily Efurd of Springdale, Erin Bowie of Cabot, Riley Cornett of Locust Grove, Jacob Oster of Bay, Justus Sawyer of Jonesboro, Ahmed Alsunbul of Saudi Arabia, Jonathan Sorensen of Cave City, Nate Wetzel of Metropolis, Ill., Kyle Green of Conway, Mason Keeling of Jerusalem, Shannon Hughes of West Plains, Mo., Liam Van Houtte of Russellville and Aronana Brown of Forrest City.


JONESBORO – The student chapter of the American Society of Civil Engineers (ASCE) at Arkansas State University is getting ready for their next challenge, at the ASCE National Concrete Canoe Competition in late June following historic success at the regional level.

The A-State team recently finished first in the Deep South Conference competition with other student chapters from universities throughout the Mississippi River Delta region. While A-State teams have turned in many quality performances in previous years, this first-place finish represents the first time the chapter has finished first in the regional contest.

The top finish qualifies the team for the national competition to be held June 25-27 in a virtual format hosted by the University of Wisconsin-Platteville.

John "Justus" Sawyer IV of Jonesboro served as team captain for regional competition, while Jonathan Sorensen of Cave City was mix design captain, and Ahmed Alsunbul of Al Qatif, Saudi Arabia, was the quality control and quality assurance captain. Numerous other ASCE student chapter members assisted, particularly with the fabrication and then demolding of the concrete canoe itself.

Following graduation, Sawyer will go to work as a civil engineer with Fisher Arnold consulting engineers in Jonesboro. Sorenson plans to become a civil engineer with the Arkansas Department of Transportation. Alsunbul also plans a career in civil engineering, eventually hoping to start his own business.

Other schools in the Deep South Conference are University of Tennessee – Martin, University of Memphis, Christian Brothers University, University of Arkansas at Little Rock, University of Mississippi, Mississippi State University, Jackson State University, University of New Orleans, Louisiana Tech University, University of Louisiana at Lafayette, McNeese State, Louisiana State University and Southern University.
# # #