College of Agriculture Celebrates Public Support for Strategic Initiatives
05/10/2023
JONESBORO – Friends and financial supporters of Arkansas State University's College of Agriculture gathered for Donor Day and an update on the college's strategic plan, along with the generous financial commitments that will make educational initiatives possible.
Citing the year-long process in which the faculty and external stakeholders participated, Dean Mickey LaTour noted, "The only way something of this magnitude happens is through careful planning, execution and generosity. On behalf of the College of Agriculture, I am very grateful."
The College of Agriculture strategic plan emphasizes student experiences, especially experiential learning, through an Agriculture Academy that will focus on a range of approaches to possible experiences.
"Our goal is for students to experience multidimensional challenges as they prepare for life beyond the classroom," he added. "As a college, we believe our students will learn best through an active hands-on experience that pushes them beyond the traditional classroom."
Speakers for the event included Duane Weems of Peco Foods; Mike Gibson of the Judd Hill Foundation; Randall Pope, representing the Pope Family Endowment; Bill Midkiff of Greenway Equipment; Blake Swindle of AgHeritage Farm Credit Services; and Dan Douglas of the Arkansas Department of Agriculture.
In addition to new gifts, LaTour also recognized donors whose significant generosity has been recognized in recent months: Judd Hill Foundation, Peco Foods, and Randall and Jeannette Pope.
After the donation announcements, those attending enjoyed a walk-through of the broiler house, meat laboratory and the expanded Judd Hill Farmers' Market.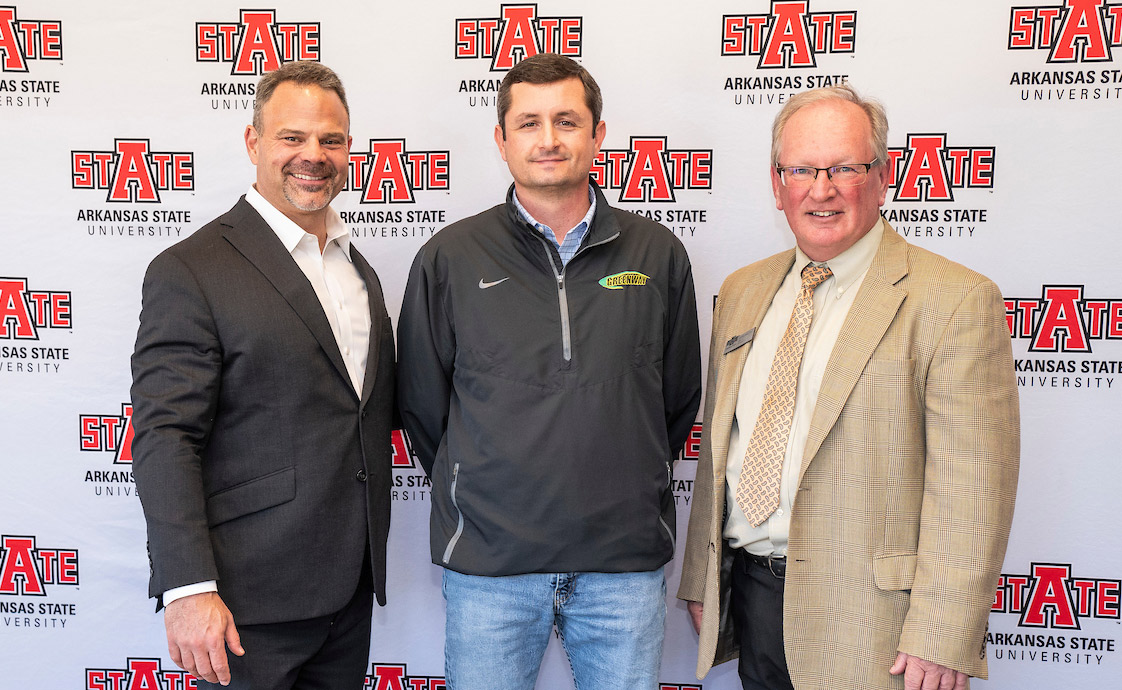 Chancellor Todd Shields (left) and Dean Mickey LaTour (right) visit with Bill Midkiff, representing Greenway Equipment, which has given $200,000 toward the Agriculture Academy, Greenway Targeted Scholarships, and the meat lab, along with a $252,130 gift-in-kind equipment lease.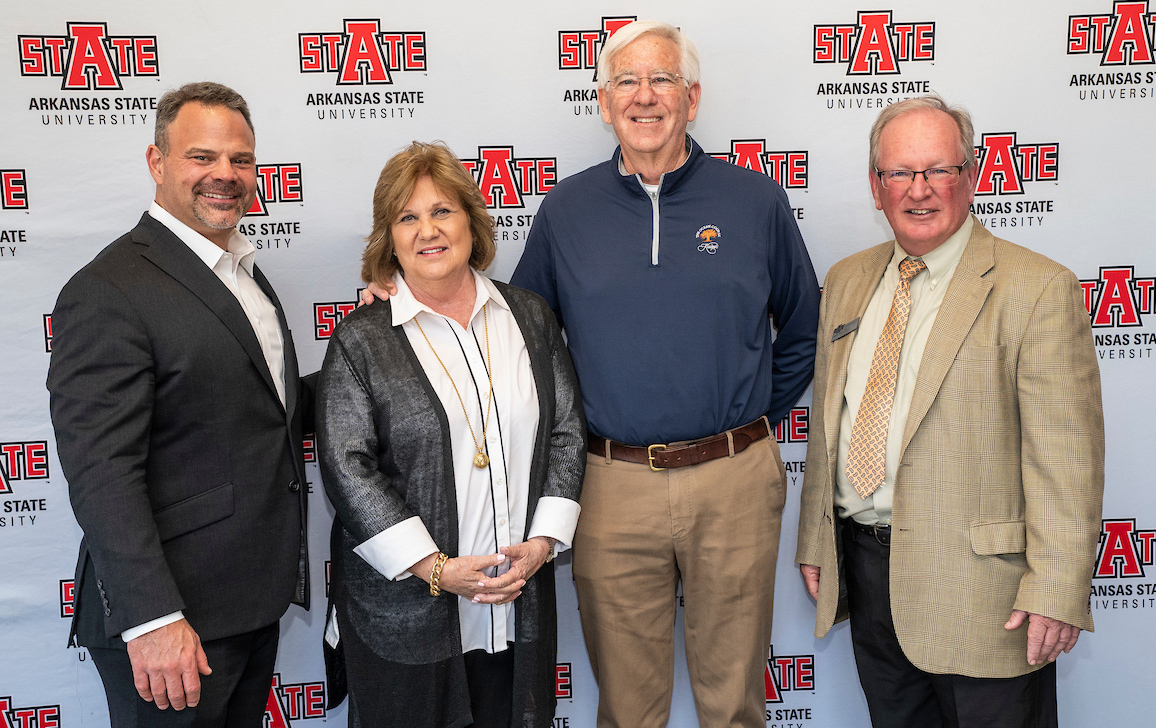 Joy and Randy McNeil (center) are thanked by Chancellor Todd Shields and Dean Mickey LaTour for the couple's gift of $100,000 to support the Agriculture Academy. The McNeils also represented Poinsett Rice and Grain to present a second gift of $100,000, also to support the Academy.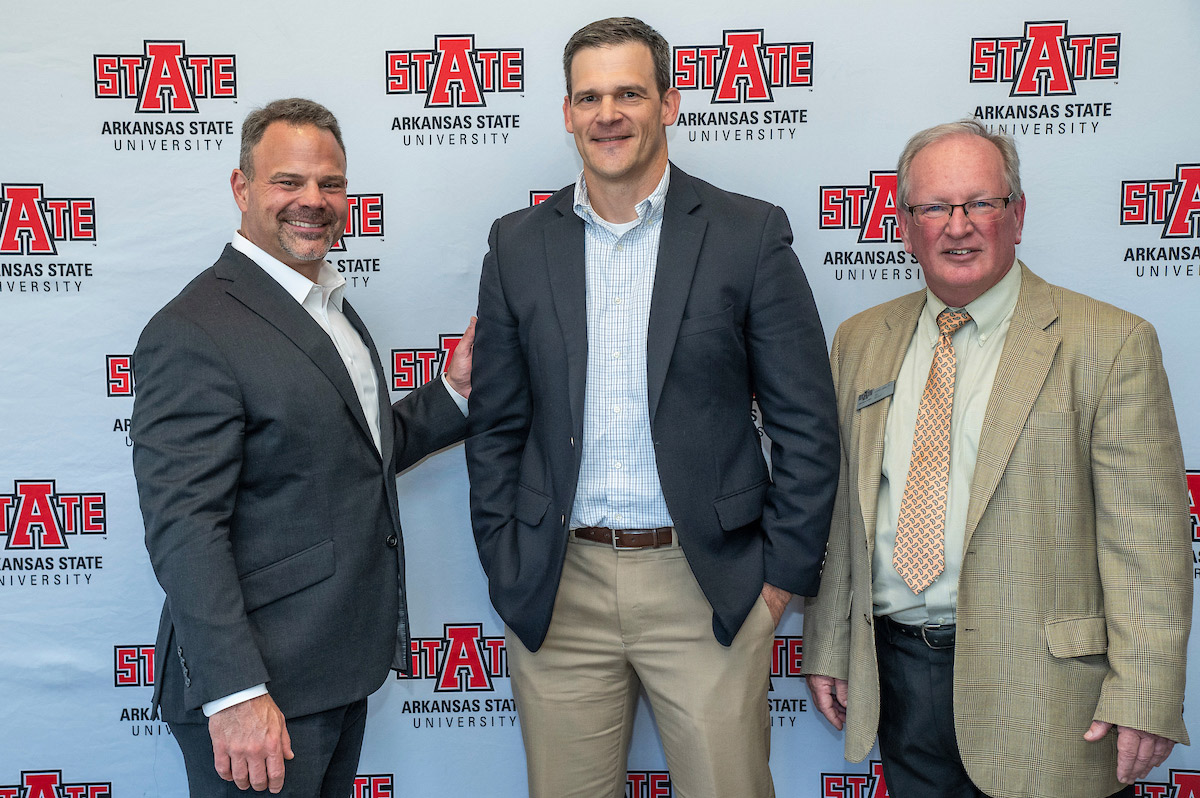 Chancellor Shields and Dean LaTour express appreciation to Blake Swindle (center), representing AgHeritage Farm Credit Services, which made a $25,000 gift for the Agriculture Academy..