Children's Theatre Production of 'Stuart Little' Opens July 26
07/19/2018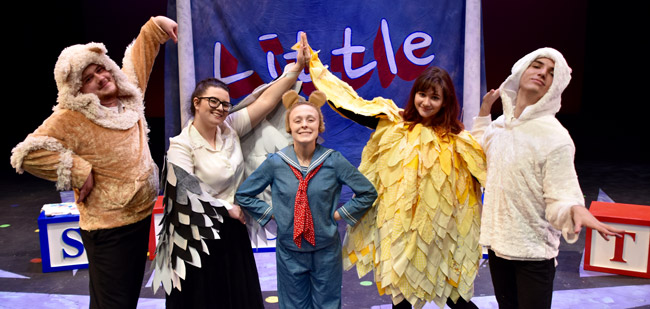 Cast (from left): David Norris as Angie, Katelyn Stanton as Pigeon, Kassidy Ratz as Stuart, Whitley Fore Newman as Margalo, and Phillip Powell as Snowbell.
JONESBORO – The second production of the 2018 Summer Children's Theatre season starts Tuesday, July 26, at Fowler Center, 201 Olympic Drive, on the Arkansas State University campus.
The 25th season of children's theatre will continue with "Stuart Little" by Joseph Robinette, adapted from the story by E.B. White. The endearing classic is about a mouse, Stuart Little, born into an ordinary New York family. The story evolves around the marvelous maneuverings of a mild-mannered mouse.
Performance dates are Thursday, July 26, at 10 a.m. and 2 p.m.; Friday, July 27, at 10 a.m. and 2 p.m.; and Saturday, July 28, at 10 a.m. This production of "Stuart Little" is sponsored by The Golden Grotto.
"Stuart Little" will be produced by A-State Theatre students under the direction of Jeff McLaughlin, assistant professor of theatre.
The performers include David Norris of Southside as Mr. Little, Katelyn Stanton of Trumann as Mrs. Little, Whitley Newman of Harrisburg as Margalo, Phillip Powell of Jonesboro as Snowbell, and Kassidy Ratz of Beebe as Stuart. Stage management and properties master will be Lauren Wilcox of Jonesboro.
Costume and makeup will be under the supervision of Claire Abernathy, associate professor of theatre. Scenic design, lighting design and technical direction will be supervised by Jeff McLaughlin.
All seating is reserved. Tickets may be purchased in advance for $5 through the Central Box Office in the First National Bank Arena, or by calling 972-ASU1. Tickets also may be purchased at the door (if available) on the day of the performance for $7 each. Reservations are highly recommended.
Parking is available on the north side of the Fowler Center.
The performances are produced by special arrangement with the Dramatic Publishing Co. of Woodstock, Ill.
# # #