Catalyst Quartet to Perform in Fowler Center Series
01/13/2022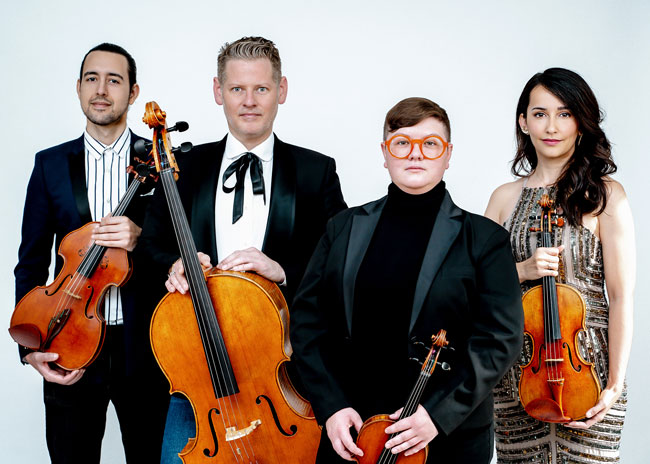 Members of Catalyst Quartet are (from left) Paul Laraia, Karlos Rodriguez, Abi Fayette and Karla Donehew-Perez. Photo credit: Ricardo Quinones.
JONESBORO — Arkansas State University's Fowler Center will present Catalyst Quartet in concert at 7 p.m., Thursday, Jan. 27. The performance in Riceland Hall is part of Fowler Center's performing arts series.
Tickets to the event at Fowler Center, 201 Olympic Dr. on the university campus, are now on sale.
"We are excited to be able to bring a group of this caliber to the region. I am impressed by their commitment to diversity and education in the development of their projects," said Garry Holstein, Fowler Center director. "We are fortunately able to offer a fantastic example of this dedication from their 'Uncovered' project, which seeks to connect artists who are overlooked due to race or gender to a wider audience."
The Grammy Award-winning Catalyst Quartet, founded by the internationally acclaimed Sphinx Organization in 2010, has toured extensively throughout the United States and abroad, including sold-out performances at the Kennedy Center in Washington D.C., Chicago's Harris Theater, Miami's New World Center, and Stern Auditorium at Carnegie Hall in New York City.
The program at Arkansas State features works by William Grant Still, Joseph Bologne, Chevalier de St. Georges, and Florence B. Price, composers whose work the group believes deserves attention from a wider audience.
The ensemble serves as principal faculty at the Sphinx Performance Academy based in Detroit. Members of the quartet are Karla Donehew Perez, violin; Abi Fayette, violin; Paul Laraia, viola; and Karlos Rodriguez, cello. They hold degrees from the Cleveland Institute of Music, The Juilliard School, The Curtis Institute of Music, and New England Conservatory.
Fowler Center will follow safe-seating guidelines. Tickets, ranging from $18 to $33, are available through the A-State Box Office, AState.edu/tickets.
For more details about this performance and other activities, one may contact Fowler Center at (870) 972-3687 or see the university calendar.